Four-star Malik Hall in no rush to decide after 'crazy' spring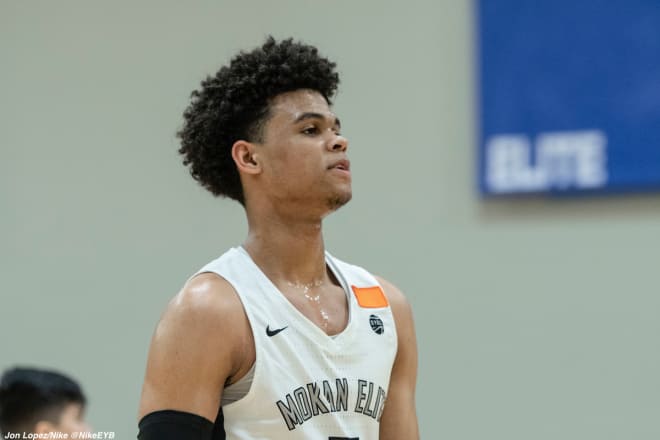 HAMPTON, Va. – One of the most heavily recruited prospects in the frontcourt this spring, Malik Hall showed just why he is valued at the final session of the Nike EYBL over the weekend. A 6-foot-7 forward that can play multiple positions, Hall is far from coming to a college commitment as potential suitors continue to emerge.
Nearing his senior summer, Hall recapped how the spring has gone.
"Things started to pick up a little bit after the first session. It has been crazy," he said. "A lot of new schools have been jumping in and schools that I had been talking to before ended up offering and are beginning to pick up their communication a little more."
While Hall told Rivals.com that there were too many schools involved to name off the top of his head, he did say Oregon, Purdue and Iowa were among the many in strong pursuit.
IN HIS OWN WORDS
Oregon: "I am just looking forward to getting out there and seeing the campus and what they have to offer. I kind of want to look at their plays, watch their defense and highlights of how they really run things out there."
Iowa: "It has a great family feel out there, for sure. Everyone there is super close and makes it feel like home all the time. I talk to Pat (McCaffery) sometimes about it and he tells me that he wants me in the black and gold, but also his dad (Fran McCaffery) and coach (Andrew) Francis, they just show love and the fans, too. It is just great."
Purdue: "I have a great connection with the coaches. I had a great feel for things whenever I was on campus there. It is super nice. I actually went there twice to watch a game with Sunrise (Christian Academy) and my other visit back in December around Christmas. It was just super nice and it was good to see how their plays are similar to my high school team and the stuff they run, along with our defenses."
Missouri: "I talk to them every once in a while. It isn't super deep with them but I talk to coach (Cuonzo) Martin and he sends me luck before sessions and he will send me some stuff about the playoffs. Wwe will chat a little bit."
Kansas: "They talk to me every once in a while, like every two weeks. Nothing super serious there but they are still in there."
WHAT'S NEXT?
Hall will complete his senior summer on the Nike EYBL circuit with the MoKan Elite 17-under unit.
He has a plan in place for when he wants to produce a cut list.
"I want to probably narrow it down a little bit after the summer and towards the beginning of the school year I will cut it down so that I don't have to worry about it as much throughout the year," he said. "I will probably go to a couple of places coming up in June. I am definitely going to Oregon on Thursday for an unofficial visit."
RIVALS' REACTION
Hall is a do-it-all type that has come of age at the ideal time where the small ball power forward role, one that he fits perfectly, has become as valuable as ever. During his time on the Nike EYBL circuit this spring, Hall has posted averages of 14.5 points, 4.7 rebounds and 2.4 assists, all while making over half of his field goal tries and making close to one 3-pointer per game.
The four-star prospect's recruitment touches both sides of the nation. A college commitment will likely not occur until after July as some of the very best do their all to gain the commitment out of the top-50 forward during the 2019 recruiting cycle.