Iowa offers Erie CB Terry Roberts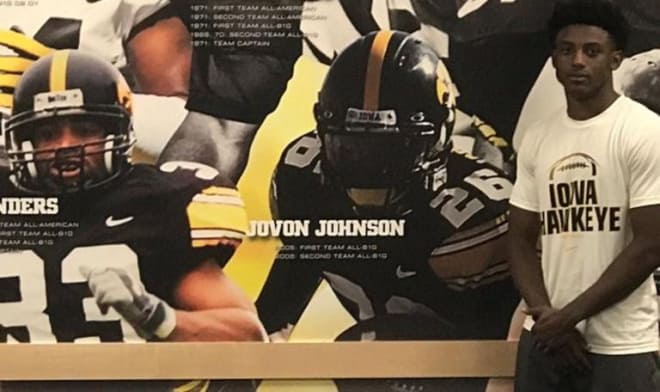 The Iowa Hawkeyes are back recruiting Erie, Pennsylvania. Or rather, Erie came to them on Saturday as Cathedral Prep cornerback Terry Roberts made the trip to Iowa City to attend the Hawkeyes' camp. The 5-foot-10, 169-pound Roberts quickly impressed the Iowa coaching staff and walked away with a new scholarship offer.
"I was shocked," said Roberts. "Coach Ferentz caught me off guard when he told me they are offering me a full ride scholarship. It's an amazing feeling."
Early on in Kirk Ferentz's tenure at Iowa, the Hawkeyes had quite a bit of success in Erie, landing Bob Sanders and Ed Hinkel from Cathedral Prep and Jovon Johnson from Mercyhurst in the early 2000's. Back then, Ken O'Keefe was Iowa's lead recruiter in Erie and with him back on the coaching staff, it may a regular stop for the Hawkeyes again.
While all of that happened some time ago now, Roberts is very familiar with those players and has actually worked with two of them.
"Bob Sanders is a close friend of ours," Roberts said. "We used to train together when I was little. Also, Jovon Johnson, I've been training with him since I was 8 years old and we still workout together. Jovon taught me everything that I know about cornerback."
Now, the Class of 2018 prospect may be following in their footsteps as Iowa sits at the top of his list after this weekend's visit to the Hawkeye State.
"Everything Jovon said about the program and the coaching staff was true," said Roberts. "I love the coaching staff and the football environment."
"Coach Phil Parker is a great coach," he continued. "He is hilarious, but when it comes to football, he's all business."
It was Parker that Roberts impressed on Saturday as he showed the defensive coordinator his cover skills at cornerback.
"I think it was my speed, my footwork, my hips, and just my overall performance," Roberts said.
Afterwards, Iowa director of recruiting Tyler Barnes told Roberts why he might be a good fit for the Hawkeye program.
"Coach Barnes told me that they don't care about your height and weight," said Roberts. "They only care about the type of player you are."
Roberts, who also has an offer from Duquesne, will likely be making his college decision in the near future.