Marble talks NBA selection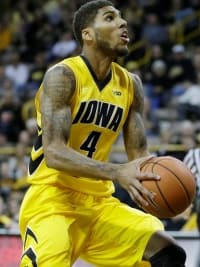 It was a long wait for
Devyn Marble
on Thursday evening, but it was worth it as the former Hawkeye finally heard his name called at the NBA Draft. Marble talks about the emotions of the moment when he finally learned that he was selected in the NBA Draft and what this might do for the Iowa program.
Q: When you got the call, who did you get it from? Orlando or Denver?
MARBLE: I heard from B.J. (Armstrong) first. Then I heard from Orlando. I already knew I was going to Orlando because I knew about the trade.
Q: What was it like when you got the call and seeing your dream come true?
MARBLE: It was surreal at first. I was just happy and felt blessed to be taken off the board. I think Orlando is a great organization and they have some great young talent on their team and I think it's a good spot for me.
Q: Did you even workout for Orlando?
MARBLE: I did not workout for Orlando. They did have interest in me, but we felt that their draft position and projections weren't matching up with mine. I ended up going there anyway. I think it will be a good fit for me. They were interested but the positioning didn't make sense.
Q: Since they took Payton in the first round, Orlando is probably looking at you as a two or a three? Have they told you that?
MARBLE: They haven't told me that, but I am pretty sure they are looking at me as a two or a three. That's where most teams felt I would be, a two or a three. As I get stronger, teams felt I could play the three. I think they probably want to use my versatility as a wing player rather than a point guard.
Q: What was the moment like for you?
MARBLE: It was very emotional and I'm not an emotional guy. I was happy because to come this far and so much hard work was put into it and to have this moment…I don't think people realize how much work was put in to get where I am today. I am just so blessed and happy to be in this position.
Q: What is the next step? When do you head to Orlando?
MARBLE: I am going to Orlando tomorrow morning for a press conference. Then I will head back to Detroit for the weekend and then head back to Orlando on Monday or Tuesday for a team dinner.
Q: Was there a moment during the draft tonight as it went along where you started to worry that you might not be picked? Did you always have a feeling that you were going to be picked?
MARBLE: A little bit of both. It would be naïve to say that I didn't think both ways. I was pretty confident that I would because there were teams that were really interested. We thought I would go higher, but as the number of picks left got shorter and shorter, you wondered what was going on. I am just happy that I got picked and I'm with a great organization with a great chance to be on their roster in the fall. I am just enjoying the moment.
Q: The entire coaching staff was there. Melsahn and Anthony Clemmons were there. Your family was there. Can you talk about all that support from people who were with you your entire career?
MARBLE: I was unbelieveable. I was so happy that all those guys could come in and support me. It just shows how much love and support we have for one another. It was a blessing to have people around you that care about you and love and support you and your success. They are a big part of the reason that I am here today and it meant a lot to me.
Q: How many people were there with you tonight?
MARBLE: Probably 20 to 25 people were there with me, including family and friends. Some people showed up afterwards too. It was great to share that moment with them.
Q: What did Coach McCaffery say to you after you were picked? What was that like to share it with him?
MARBLE: It was cool. He just embraced me, gave me a hug, and told me he was proud of me. He told me this was just one more step towards your goal. I am just trying to take these steps to get to the end result, which is to be on the roster this fall.
Q: What do you think being drafted will do for the Iowa program? What kind of an impact do you think it will have?
I think it's going to have a huge impact. I think recruits will look at it and see that Coach McCaffery does have a formula to get players into the draft. Aaron White going to the Durant camp is also very helpful. I think it will help with recruiting and help them get the players that they want.