Tuesdays With Torbee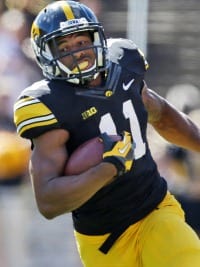 With around two minutes left in the third quarter of the Iowa-Western Michigan game last Saturday, my 11-year-old son leaned over and told me he was bored and wanted to go get ice cream.
Never has boredom felt so good.
It had been nearly a full year - during the Gopher game blowout last season - since Hawkeye fans have enjoyed a stress-free game with their favorite team looking dominant.
Not only was the game against the Broncos never in doubt, Iowa actually put up style points and made big time highlight plays.
Much has been made of the fact that the three teams Iowa has defeated so far this year have a combined record of 0-9. The Hawkeyes certainly haven't faced a murderer's row. That said, each week the team has seemed to improve and you can tell the enthusiasm and confidence of the Hawkeye players are growing.
To me, the massive score differential wasn't even the most encouraging aspect of this past Saturday's game. Rather, it was the fact that seeming weaknesses - a paltry pass rush, shaky special teams and a leaky secondary - all improved dramatically.
Although they didn't register a sack, Iowa's defensive line regularly got in the Bronco quarterback's face and knocked him around with regularity. That was good, but the turnaround on special teams was jaw-dropping.
A few weeks ago, I was worried Kevonte Martin-Manley might fair catch every single punt sent his way this season. All he did Saturday was return two punts for touchdowns in less than a minute and come up a mere 18 yards shy of breaking Nile Kinnick's school record for return yards in a single game. I wonder if Kirk Ferentz subbed for him so Iowa wasn't faced with the prospect of needing to rename the stadium!
Not to be outdone, B.J. Lowery notched a pair of pick six interceptions, one week after his ESPN Top 10 highlight takeaway against Iowa State. I'm not ready to declare Iowa's secondary an ironclad force, but it too appears to be growing stronger by the week.
The last few years, it seemed the Iowa football program had lost its propensity for gradually improving as the season wore on. Though the quality of opponents is suspect, this year's team has the feel of one that will continue improving - barring major injury problems - setting up what should be a very compelling conference battle. It's been too long since Iowa had a November to remember.
Adding to the excitement is the fact the Hawkeye's division foes haven't really set the world on fire either. Both Northwestern and Michigan State struggled more against Western Michigan than the Hawkeyes did. Michigan barely dodged disaster two weeks in a row against mediocre-at-best opponents. Nebraska fans' marriage with their mentally abusive head coach is definitely on the rocks. And Minnesota remains, well, Minnesota.
I'm not predicting Iowa to win the Leaders division. But I feel much more confident that they will be a player in the division race than I did when the season started.
It's unlikely that 2013 will go down in the annals of Hawkeye history as a great season. But it sure feels like the program is trending back up after bottoming out at 4-8 last year. And after that debacle, all signs of life are more than welcome.
Follow me on Twitter @ToryBrecht and follow the 12 Saturdays podcast @12 Saturdays.