Tuesdays with Torbee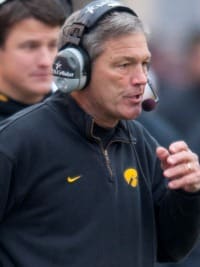 Autumn in the Midwest. Is there anything finer? Crisp, cool air. Red and gold leaves rustling in the air as the brisk fall winds tickle through the trees. Drinking apple cider, hiking along rippling rivers. Ahh, nothing finer.
10:12 first quarter. Hawkeyes' third procedure penalty on a single series. This in game nine. Really?
Halloween is always a fun time of the year. All the kids dressed up in their cute costumes. Spooky yard decorations. Carving pumpkins and baking the seeds in the oven for a crunchy, salty treat.
14:10 second quarter. James Vandenberg fires a ball at seemingly 100 mph past his receiver on third down and seven. This followed up by a stellar 21-yard punt.
Chili is always a delicious autumn meal. Try simmering it in a crockpot with some smoked chipotle peppers and making it with rib meat instead of the traditional hamburger. A bold flavor experience!
.47 second quarter. Sure, make Cameron Coffman look like Tom Brady with five straight completions, including a touchdown. Hey, wait. They LET you use two quarterbacks in college football? Who knew?!
Few things are more sublime than a fall foliage tour along the Great River Road. Get lost in a corn maze! When the sun sets, watch farmers work into the night using the bright lights on their combines under a fat harvest moon.
10:35 third quarter. Don't worry about that receiver being double-covered there in the end zone, James. Fire it in there. It's not like we need the points from a field goal clinging to a four-point lead. Oops! Interception. You've got to be freaking kidding me.
Autumn is a great time for beer drinkers as well. Fresh-hopped harvest ales, Oktoberfest offerings, spiced pumpkin stouts. Tip a bottle back and toast the change of seasons.
9:25 third quarter. No safety help in what is allegedly a Cover 2 scheme and a third-and-nine for Indiana turns into a touchdown and the lead. Remember the part where Iowa bends-but-doesn't break and never gives up the big play? Yeah, me neither.
Backyard bonfires are a sure-fire way to entertain your friends this time of year (pun definitely intended!) The kids love roasting marshmallows, so snuggle up with the family around the fire pit and enjoy.
7:11third quarter. Well you just gave up a touchdown, so you might as well run that ineffective dive play with no fullback right into Indiana's defensive tackles who are the only good players on that side of the ball. Again. And again. And again.
Raking leaves and cleaning out gutters doesn't sound like a lot of fun, but why not try doing it for an elderly neighbor and seeing how that makes you feel? They will be grateful and you will set a great example for others.
4:45 third quarter. Good news! Hoosiers in third and long and a play is made. Oh, except for that supremely idiotic late hit on the quarterback to allow them to keep the drive alive. It's not like Iowa needed the ball back there.
I think Thanksgiving is my favorite of all holidays. So much great food, enjoyed with family and loved ones. Pass the stuffing!
10:58 fourth quarter. Four plays. 60 yards. No pass rush. One touchdown.
The ground may look barren and cold, but now is the time to plant bulbs for the spring! What a great lesson in patience: bury them now and enjoy the color explosion after the icy winds of winter melt away.
5:00 fourth quarter. Fourth down and maybe a foot to go. Game is literally on the line. Haven't stopped Indiana offense entire second half. And Kirk Ferentz elects to punt. Click. Television off. To hell with it. If he's giving up, so am I.
Ahh, autumn in the Midwest. Nothing finer.
Follow me on Twitter @ToryBrecht and follow the 12 Saturdays podcast on Twitter @12Saturdays