Tuesdays with Torbee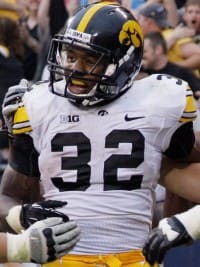 "War is peace.
Freedom is slavery.
Ignorance is strength."
--George Orwell, 1984
Pardon me for going all literary on you, but sitting in the upper deck of Soldier Field late Saturday afternoon watching the ballyhooed Iowa pass offense sputter and give up sacks, unheralded running back Damon Bullock channel his inner Shonn Greene and the unknown defense stymie a MAC attack, this is the first thing that popped into my mind.
The Hawkeyes' strengths are weaknesses, the weaknesses strengths. The new Iowa coordinators have nothing on Orwell's Ministry of Truth. The question is, is what we saw an illusion or reality?
I don't think it was on purpose, but I have to think there were some smirks among the Iowa coaching staff when Iowa flipped the script and snuck away with a win behind a grinding, powerful running game and a stout defense that stepped up when it absolutely had to. You know, those two elements that every pundit and armchair quarterback said wouldn't be there this season.
That's the good news, of course. The bad news is the expected dynamic offense led by a savvy and experienced senior quarterback just couldn't put the ball in the end zone for much of a gray, dreary day.
But before we panic and concede defeat to what, admittedly, looks like a pretty decent Iowa State squad, I think it bears taking a closer look at some of the less-than-obvious positives from the battle against the Fightin' Huskies of Greater DeKalb.
First of all, never dismiss a program that knows how to win. Yes, NIU was breaking in a new quarterback and offensive line, but the Huskies did come into the Iowa game with the nation's longest winning streak and on the heels of back-to-back 11 win seasons. Iowa, on the other hand, has been a hard luck case - especially in fourth quarters - in game, after game, after game the past two seasons.
For the Hawkeyes to come up off the mat, stick with a game plan, and pull victory from the jaws of defeat is huge. It's what the Minnesotas and Iowa States have been doing to them recently. I predict this will pay dividends down the road.
Secondly, while scoring was an issue (understatement alert), the offense did look different, more dynamic and unpredictable.
When I went back and watched the game on television, I was impressed at the multiple sets Greg Davis put the offense in, and the plays run out of it (passes out of I, runs out of shotgun spread, etc.). There were at least three wide receiver screens that would have sprung had the receiver beat one guy. Some of these plays will pop going forward.
Iowa's offense - four trips into the redzone with only 6 points - was like a golfer who can smash a ball 300 yards, pop it up on the green, and then three putts for bogey. Last season, Iowa scored touchdowns on 63 percent of its trips to redzone. Saturday, they hit exactly 0 percent. Expect that number to return to the mean.
Other positives:
• Very few dumb penalties or clock management issues, considering it was game one
• Press coverage at times that worked!
• Iowa got ball back with 1:10 in half and ran hurry-up, shotgun offense instead of kneeling out. Baby steps, you guys.
• Vandenberg didn't have a great game, but he showed toughness. Took a few very hard hits and hung in and kept working. Team leader.
• Weisman! Who doesn't love an old school fullback, and they let him run.
• Defensive ends played big when it mattered... Alvis and Gaglione with sacks in the second half, and Bigach providing pressure when NIU was backed up on the goal line on third down late in the game.
• The Iowa fans. Always loud and proud, but during that goal line stand and throughout the fourth quarter, I think they really gave the team a lift.
Now, I'm an admitted wide-eyed optimist. My glass isn't half-full, it's filled to the brim and leaking over the lip. And some of the doom-and-gloom crowd makes legitimate points.
But I've seen some good Iowa teams struggle mightily with alleged lesser teams in September (Orange Bowl winners needing two blocked field goals to squeak by a middling Northern Iowa team comes to mind). And I've seen some mediocre Hawkeye teams destroy MAC teams and then limp to the finish line. So I'm going to accept the conventional wisdom that teams improve the most between week one and week two and look forward to a tough home game against the Cyclones.
As George Orwell might have said, Winning ugly is pretty.