2024 Four-Star Recruit Donnie Freeman Has Iowa in Top 5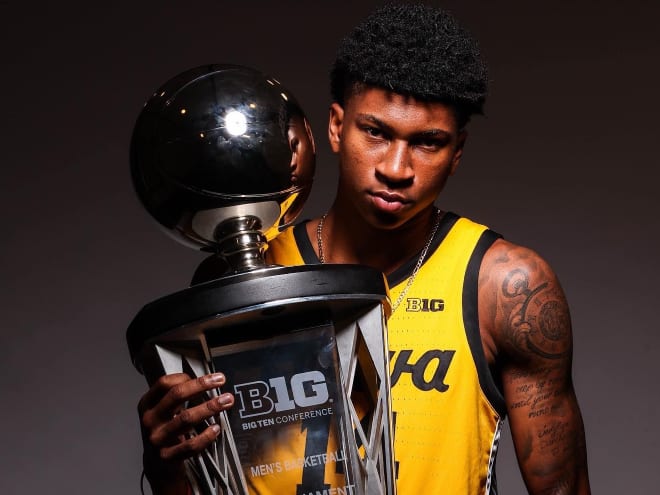 Those five schools beat out the other 14 to offer him a scholarship, including programs like Xavier, Kansas State, Rutgers, Maryland, Marquette, Virginia Tech and more.
Over the last eight months, Freeman has taken official visits to Iowa, Texas, Syracuse and Alabama. His visit to Iowa came last September.
A few weeks after Freeman's official visit to Syracuse last month, three Rivals analysts FutureCasted Freeman to land with the Orange. His early April official visit to Syracuse was the last official visit he took before announcing his top five.
Should the tide turn and Freeman choose the Hawkeyes, he'd bring a wide variety of skills to Iowa City. Last season, Freeman averaged 21 points and 8.5 rebounds per game. He also led the first Nike Elite Youth Basketball League (EYBL) session in blocked shots en route to being named to the All-Defensive Team.
His frame lends itself to being an elite defender and rim protector, as well as being a potentially strong rebounder in the Big Ten. Pair that with his timing in blocking shots and the DC native could be a force defensively.
Offensively, Freeman can score off the dribble, using his length to get to the hoop quickly and either throw down a dunk or drop in an easy lay-up. He can also pull up on a mid-range jumper if the lane is clogged, though that isn't the strongest part of his game at this point. Though he can do both of those things, coaches likely won't want him to put the ball on the floor too much at the next level.
That mid-range jump shot can also extend past the three-point line as he can catch and shoot it from deep on a consistent basis -- though his release is a bit long for now. That's certainly something that can improve with practice.
He often gets swarmed because of his talent on offense, and he has shown the ability to pass the ball to the open man when that happens.
Freeman's length and versatility are strongest parts of his offensive game at this time, but he has a lot of tools to work with as well, which would make him a very strong addition to any team's roster.
As noted, Freeman plans to announce his commitment decision this Thursday (May 11) at 2:30 PM CT.