A quicker Antonio Williams is ready to contribute
COLUMBUS, Ohio – The running back position has received a lot of notice during the offseason for the Buckeyes but Antonio Williams has not heard his name mentioned all that much by fans who are excited to see the position take it to the next level.
That has not slowed down the true sophomore running back out of North Carolina however as he works to find his spot in what could be a crowded backfield for the Buckeyes with Mike Weber returning and J.K. Dobbins taking the position by storm.
Even with an injury-plagued spring and recent hamstring injury, Williams is excited about the opportunity and is in the best shape of his life.
RELATED: Dobbins is impressing Buckeye Nation
"I have lost some weight," Williams said. "I am just playing at a really high level rather than I was last year."

Don't call Williams a power-back any longer, he has shed weight and picked up a lot of speed.
"I came in originally at 227 and I am down to 210 now," Williams added. "It helped a lot, I am able to hit edges and take off. My 40 is down tremendously. Kept a lot of strength and I kept everything, just got a lot faster. Went from like a 4.8 or 4.7 to a 4.4."
Williams admitted that last year he was only about running over people but now he feels that he can make the guy miss and get into the open field and go. Much like a former Buckeye running back who went in the top-five of the NFL Draft just a few short years ago.
"Zeke (Elliott) was able to outrun guys, run over guys, whatever he wanted to do," Williams said. "I was one-dimensional last year. I could just run guys over, I could not really outrun anybody at this level. I just knew that I needed to do that to be successful here."
Even with the transformation, it is not going to be an easy depth chart to breakthrough on. Weber, despite a hamstring injury of his own is the de factor starter while Dobbins and Demario McCall are both vying for the touches that Williams hopes to get.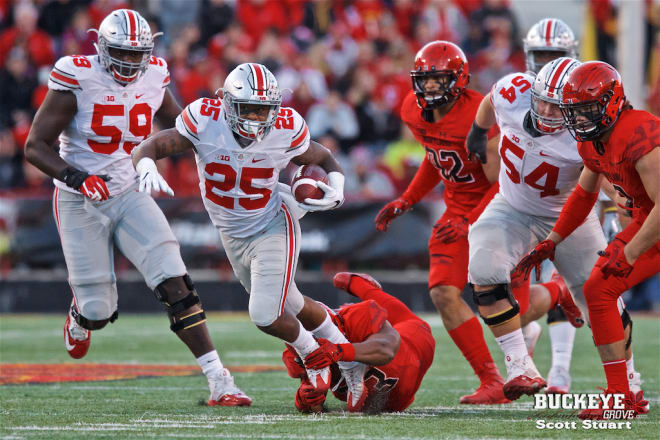 "It is very competitive. You have got guys who know their stuff now, it is not guys that are just figuring things out," Williams said. "We know what is going on and we are all trying to get on the field and play a little bit."
It will all be part of a new-look offense for the Buckeyes under Kevin Wilson. While Williams would not get into specifics about how the offense is going to operate, he did say that there are some noticeable changes.
"That confidence, last year we lacked a little bit of confidence as the season went on," Williams said. "I think that we have a lot of confidence right now. Just with confidence, it is going to be quicker because we believe we can do it quicker because of that confidence. Just things like that."
ALSO: Can the corners keep up their success after another overhaul?
Williams is getting healthy from his latest injury, one that has slowed him for the past week-plus and is back to doing almost everything with the team. It was a tough blow after missing valuable time in spring ball as well. But Williams has used to the time to work on all aspects of his game and has the right attitude about things to see a good translation to the field if/when his number is called.
"I reacted as getting better in that time of injury and come back stronger, that is what I definitely did," Williams said. "I am having a great camp, I am down with a hamstring now, but from my camp so far, I think that I am doing pretty well."