A Trip Down Memory Lane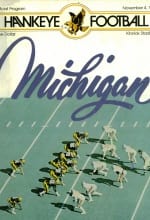 Sometimes it is helpful to relive painful moments. It helps in appreciating the good moments. Of course, Iowa football's painful moments lasted close to 20 years. This time is part of Iowa football history, and I think it is beneficial for younger fans to examine the depths that the program had reached prior to the arrival of John Hayden Fry.
It was 1978, the fifth and final year of the Bob Commings'era. After back to back 5-6 seasons, Iowa fans could be excused if they thought that a winning season was due in 1978, the first winning season since 1961.
After a strong opening win over Northwestern, Iowa reverted to its old form losing six straight. Enter the eighth ranked team in the nation, the Michigan Wolverines. Not the place for losing streaks to end.
Michigan was led by its do-everything senior quarterback, Rick Leach. Leach had thrown for over 600 yards and eight touchdowns and he rushed for over 400 yards and another nine scores.
Michigan's vaunted option attack accounted for 1,972 yards rushing or 400 yards more than Iowa had gained in total offense. Harlan Huckleby led the Wolves with 532 yards rushing followed by Leach and fullback Russell Davis added 353 yards. Jon Lazar led Iowa with 324 yards rushing.
Neither team passed much; in fact none of Iowa's top four signal callers had an aerial TD to their name. Leach's nine scores were split between Ralph Clayton (5) and Doug Marsh (4).
It would not be a pleasant afternoon for the 49,120 Kinnick faithful with a Michigan defense that allowed only 65 points (three shutouts) facing an Iowa offense that had scored only 66 points in seven game.
There is no way to sugar coat the day's action. The Wolves manhandled the Hawks. Iowa could only muster four yards rushing on thirty carries. Add in 65 yards passing and the Hawks were held to 69 yards of total offense on the day.
Iowa didn't even reach Michigan territory until the fourth quarter when a Pete Gales pass to Doug Dunham brought Iowa to Michigan's 46. A Jon Lazar run netted five yards as did a short pass to tight end, Jim Swift. Could this be an Iowa drive for a score? Sadly, this question was answered on the next play when Gales was sacked for a 14 yard loss.
While the Iowa offense struggled mightily against a Michigan defense that Bob Commings called the fastest he had ever seen, the Iowa defense had some success. Most of the good news came from the run defense that held Leach to 11 yards on 7 carries.
After the game Bo Schembechler gave credit to the Iowa run stoppers saying you can't run on Iowa. Backup tailback Roosevelt Smith said Iowa was the hardest hitting team he'd faced in both of the last two seasons. Pat Dean led the Hawkeyes with 9 solo tackles, a sack and a recovered fumble.
Unfortunately, what Leach couldn't earn on the ground, he took through the air. Michigan was a stout 8-14 on third down conversions and 2-2 on fourth down conversions, as Leach threw for three touchdown passes in the 34-0 victory for the Wolverines.
In his post game press conference, Bob Commings made a prophetic statement. Commings insisted Iowa was headed in the right direction and pointed to his freshman class as proof of that (the freshmen included Bob Stoops, Tracy Crocker, Phil Blatcher, Lou King, Dave Oakes, Dave Mayhan, Bill Bradley, Mel Cole, Todd Simonson, and Clay Ulenhake).
"The thing that upsets me is that whoever is coaching, there's going to be a lot of good football players at Iowa." Commings said. "If I leave, some turkey's going to come in (and win) and people will say he's a coaching genius."
Truer words were never spoken as Comming's one-year contract was not renewed following this 2-9 season. Hayden Fry would be the "turkey" that stepped in and people did indeed hail him as a "coaching genius."
Note: Rick Leach would go on to play 10 years in the major leagues, mostly for the Detroit Tigers and the Toronto Blue jays. (Leach bio)
TE - Swift 6-5, 238 Wozniak 6-6, 220
LT - Ward- 6-4, 257 DeVilder 6-2, 271
LG - Willey 6-2, 244 Hager 6-5, 267
C - Hilgenberg 6-2, 242 Oakes 6-3, 236
RG - Grayson 6-3, 234 Mayer 6-2, 250
RT - Palladino 6-2, 245 Postler 6-3, 236
SE - Reid 5-11, 170 Dunham 6-1, 192
QB - Dolan 6-0, 200 Gales 6-3, 170
TB - Burke 6-1, 194 Mosley 5-10, 176
FB - Lazar 6-1, 215 McKillip 6-1, 227
WB - Morton 5-11, 185, Crocker 5-10, 178
LE - Hobbs 6-5, 242 Dean 6-1, 229
LT - Mahmens 6-2, 250, Schultz 6-3 262
RT - Benschoter 6-3, 250 Harty 6-5, 263
RE - Vazquez 6-1, 227 Woodland 6-1, 236
LLB - Weiss 6-2, 215 Skradis 6-1, 213
MLB - Rusk 6-2, 224 Simonsen 6-2, 217
RLB - Gutshall 6-0, 205 Molini 6-4, 228
SS - Becker 6-2, 190 Kent Ellis 6-2, 182
FS - King 6-2, 174 Shaw 6-0, 192
SC - Danzy 5-11, 192 Kevin Ellis 6-2, 184
WC - Pace 5-11, 180 Steverson 5-10, 169