A trip down memory lane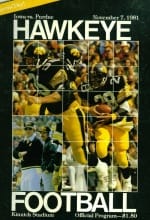 If there's something strange
Coming into the November 11, 1981 game with Purdue, Iowa had a chance to break two long streaks.
With a win, the 5-3 Hawkeyes would guarantee themselves a winning season, the first winning season in 19 years.
A win would also break a horrible 20 season losing streak to Purdue.
But Iowa was coming into the game with a two game losing streak. Minnesota had knocked the Hawks off in Kinnick and the following week Iowa played poorly in a Halloween loss at Illinois.
Hayden Fry chose this game to unveil something not often seen in the Big Ten in those days. Iowa would run the shotgun.
The Hawks got the ball first and moved past midfield before Purdue stopped them at the Boilermaker 25.
Fry called on his freshman place kicker and Tommy Nichol drilled the 42 yards field goal. Iowa led 3-0.
Purdue put together a couple of first downs, but Iowa held them at midfield. Then the Hawks got a break when the Boiler punter shanked a 15 yard punt.
Gordy Bohannon got the Hawk offense revved up with a 26 yard strike to Jeff Brown. Phil Blatcher then ripped off a 21 yard run and suddenly Iowa was nearing the PU red zone. Iowa drove within the Purdue ten and faced a first and goal. The Boiler defense stiffened until on 3rd down Dave Moritz caught a slant near the goal line. Then Iowa averted a calamity as Moritz fumbled the ball away only to recover his own bobble at the Purdue one. Faced with fourth and goal, Hayden sent Phil Blatcher over guard for the score and Iowa lead 10-0.
The teams traded short drives until late in the first quarter when Bohannon began to work some magic. Taking over at the Purdue 45, Bohannon took the shotgun snap and hit Blatcher out of the backfield. Blatcher broke a pair of tackles and roared down to the 12 yard line.
On first and ten, Iowa again lined up in the shotgun. Bohannon took the snap and put the ball up as if intending to pass before tucking it in and sprinting to pay dirt on a 12 yard quarterback draw. Nichol added the PAT and Iowa led 17-0 after one quarter.
Iowa was rolling along heading into the second quarter when the special teams decided to share in the fun. After the Iowa defense held Purdue to a three and out series deep in their own territory, linebacker James Erb got a big piece of a Boiler punt and when the dust settled Tracy Crocker was cradling the pigskin in the end zone for the score. Nichols PAT went wide, but Iowa now led 23-0.
Purdue's high powered offense finally got into gear behind QB Scott Campbell and drove down to the Iowa 9 yard line. There the Hawks put up a brick wall and suddenly Purdue was faced with a fourth and goal. Trailing by 23 coach Jim Young is left with one alternative. Go for the touchdown.
Campbell dropped back and was forced to break the pocket by a strong middle rush. He avoided one tackler, but could not avoid DE Brad Webb who hauled Campbell down for a 13 yard loss.
Iowa got one first down but was forced to punt. Reggie Roby uncorked one his usual towering 53 yarders and Purdue was forced to try and get a last minute score from its own 25.
Campbell dropped back and the Iowa line applied the pressure, Campbell escaped Tippett, Bortz, and company, but the pressure forced him to hurry his throw into the arms of Iowa linebacker, Todd Simonsen.
Iowa took over on the Purdue 23 with thirty seconds to go. Hawkeyes fans were expecting Fry to try and get a first down and then bring in Nichol for a field goal. Iowa fans hadn't counted on the running of Gordy Bohannon. Bohannon called for the QB draw and he slithered down to the seven yard line. With less than ten seconds Iowa called a timeout, but instead of Tom Nichols, it was Bohannon and company that trotted out on to the field.
It was déjà vu all over again as Fry called for the QB draw. Bohannon spun away from one tackler and stumbled into the end zone for a Hawkeye score. Nichol's PAT made it 30-0 Iowa at half.
The second half was uneventful. Nichol added a 48 yard field goal and Purdue finally got on the board with a late TD against the Iowa subs.
The Hawks broke both streaks in convincing fashion, beating Purdue 33-7.
Scouts from the Sun and Peach bowls were there and both felt one more win would cinch a bowl berth for the Hawkeyes.
It was a great day for this lifelong Hawkeye fan as 19 years of frustration melted away in historic Kinnick Stadium.
I usually do some research to supplement my inconsistent memory and read that the Hawkeye basketball team was in the midst of their three game intra-squad tour. The White team led by freshman Michael Payne's 29 points and 12 boards beat Bobby Hansen's Black team before 4,100 in Council Bluffs. Kenny Arnold tallied 20 for the White while Hansen led the Black with 25. The Hawks also played an intra-squad game at the Five Seasons Center here in Cedar Rapids. I was one of the sellout crowd that night. The final game was played at Fort Dodge.
I'm not sure why this practice was discontinued (probably an NCAA ruling), but it was a great way for Hawk fans around the state to see their heroes up close.
SE - Moritz 6-1, 185 Brown 5-10, 175
LT - Mayhan 6-4, 245 Gerleman 6-4, 230
LG - Levelis 6-5, 280 Roehlk 6-2, 240
C - Bailey 6-2, 245 Oakes 6-3, 235
RG - Hallstrom 6-6, 286 Humphrey 6-3, 240
RT - Postler 6-4, 240 Miller 6-7, 260
TE - Hufford 6-3, 240 Alt 6-7, 255
QB - Bohannon 6-2, 195 Gales 6-3, 175
RB - Blatcher 5-9, 188 Phillips 6-1, 190
FB - Granger 6-1, 205 Forte 6-0, 217
WB - I Webb 6-0, 187 Strobel 6-4, 220
LE - Tippett 6-4, 235 Joseph 6-2, 220
LT - Bortz 6-6, 265 Uhlenhake 6-3, 261
NG - Dean 6-2, 260 Bradley 6-4, 240
RT - Pekar 6-4, 265 Browne 6-1, 260
RE - B Webb 6-1, 220 Skradis 6-2, 213
LB - Cole 6-2, 230 Spitzig 6-3, 210
LB - Simonsen 6-3, 235 Erb 6-2, 225
LC - King 6-2, 190 Hunter 6-0, 190
SS - B Stoops 6-0, 180 M. Stoops 6-2, 175
FS - Frazier 5-9, 190 Bachmann 6-2, 175
RC - Crocker 6-0, 193 Corbin 6-3, 195