A Trip Down Memory Lane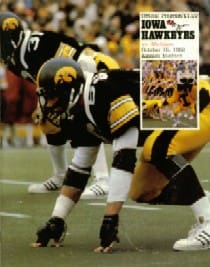 The year 1982 saw a euphoric Hawkeye fan base seriously energized for the first time in decades. The Hawkeyes were coming off an improbable season that saw them finish as Big Ten co-champions in Pasadena.
The Hawkeyes, however, were an inexperienced lot returning only 15 starters. Crucial losses on offense were at quarterback where co-starters Gordy Bohannon and Pete Gales graduated and offensive line where Ron Hallstrom went to Green Bay in the first round. On defense, losses included All-Americans Andre Tippett and Pat Dean (second team), All-Big Ten cornerback Lou King, and linebackers Mel Cole and Todd Simonsen. In all, the Hawkeyes had to replace nine starters on a defensive unit that held eight opponents to seven points or less.
1982 also saw that favorite Iowa controversy, who should start at QB? Coming out of spring drills, redshirt freshman Chuck Long held down the number one slot. Long struggled mightily in the season opener, a 42-7 loss at Nebraska.
Coach Hayden Fry switched gears for the following game, the home opener versus Iowa State. Tom Grogan didn't fare any better though as Iowa State won 19-7. The only Hawkeye TD was on an interception by defensive end, Tony Wancket. Long won the starting job back the following week at Tucson when Iowa upset the favored Wildcats 17-14, behind two Long TD passes.
Coming into the game against Michigan, the Hawks enjoyed a three game winning streak as they added wins over Northwestern and Indiana. The Wolverines also came into the game with a 3-2 record having beaten Wisconsin, Michigan State and Indiana while losing close games to UCLA and Notre Dame.
Iowa's ground game was led by a trio of backs, Eddie Phillips (324, 4.8), Norm Granger (228, 6.9) and Owen "Baby Bull" Gill (223, 5.9). Dave Moritz led Iowa receivers with 13 receptions at 14.6 a catch.
Michigan's rushing attack featured Larry Ricks (517, 4.9) as its primary back while Anthony Carter (16, 18.1) and Craig Dunaway (16, 10.5) led the Wolverines through the air.
The game was not close on the scoreboard as Michigan ran away with a 29-7 win, but to many Iowa fans the game turned on a Wolverine defensive stand in the second quarter.
After a scoreless first quarter, Long led Iowa deep into Michigan territory. There, disaster struck as Owen Gill fumbled the ball a foot or less away from the goal line. Iowa never recovered from that turnover and Michigan ran off 29 straight points.
Iowa had been averaging over 180 yards rushing per game, but was held to a paltry 47 yards by Michigan's stout front seven. The only Hawkeye TD came in the fourth quarter when Chuck Long found Mike Hufford for an eight yard TD.
Iowa would rebound from that loss with victories over Minnesota and Illinois and finish 8-4 with a victory over Tennessee in the Peach Bowl.
Here are the two deeps from the 1982 game with our weekly photo feature linked at the bottom.
SE - Dave Moritz (6-0, 180), Bill Happel (6-0, 185)
LT - John Alt (6-7, 275), Carl Peiffer (6-7, 275)
LG - Loren Gerleman (6-4, 255), Joe Levelis (6-5, 280)
C - Joel Hilgenberg (6-3, 240), Bailey (6-2, 250)
RG - Jon Roehlk (6-2, 255), Kirk Banks (6-3, 250)
RT - Brett Miller (6-7, 275), Tim Hanna (6-3, 255)
TE - Mike Hufford (6-3, 245), Jonathan Hayes (6-5, 225)
QB - Chuck Long (6-4, 185), Tom Grogan (6-3, 190)
RB - Eddie Phillips (6-1, 202), Owen Gill (6-2, 212)
FB - Norm Granger (5-11, 215), Glenn Buggs (6-0, 200)
WB - J.C. Love-Jordan (5-11, 180), Ronnie Harmon (6-1, 195)
Punter - Reggie Roby (6-3, 230)
LE - Tony Wancket (6-3, 220), George Millett (6-1, 222)
LT - Mark Bortz (6-6, 265), Paul Hufford (6-3, 255)
NG - Dave Browne (6-1, 260), Hap Peterson (6-2, 250)
RT - Clay Uhenhake (6-3, 265), George Little (6-4, 235)
RE - Dave Strobel (6-4, 235), Mike Hooks (6-2, 225)
LB - Mike Yacullo (6-2, 227), James Erb (6-2, 225)
LB - Larry Station (6-1, 225), Erric Hedgeman (6-4, 210)
LC - Devon Mitchell (6-2, 175), Keith Hunter (6-0, 190)
SS - Bob Stoops (6-0. 180), Dave Chambers (6-3, 190)
FS - Ron Hawley (5-11, 180), Treye Jackson (6-1, 180)
RC - Zane Corbin (6-2, 195), Nate Creer (6-1, 172)
PK - Tom Nichol (5-11, 195)