A Trip Down Memory Lane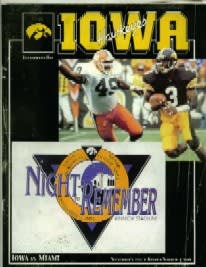 It's that time again - time for "A Trip Down Memory Lane."
I was mildly chastised last season for featuring too many Hawkeye losses, but hey, about half of my 47 years the Hawks had losing records. Anyway, I'm at it again, featuring another "L". However, this was a memorable game. In fact, the University declared it a "Night to Remember."
Back in the 1970's, former Iowa Athletic Director, Bump Elliott, and his brother Pete, the University of Miami Athletic Director, made an agreement to have their two schools meet in the near future. Now this was back in the days of Frank X. Lautebur at Iowa. The Canes were equally dismal on the gridiron. I know this is hard for younger fans to believe, but as bad as Iowa was back then, Miami was equally abysmal.
The first game was supposed to be played in the early 1980s, but was pushed back to 1990 when the highly ranked Hurricanes beat Iowa 48-21 in Miami. This was no meeting of lightly regarded teams. Miami was one of the top teams in the nation and Iowa was to go on and win the Big Ten title.
Two years later the preseason number one Miami Hurricanes traveled to Iowa City to face a rebuilding Iowa team. Iowa was coming off of a fantastic 10-1-1 season and hopes were high in Hawkeye hearts.
The season started off slowly with a 24-14 loss to North Carolina State in the Kickoff Classic. Danan Hughes caught two touchdown passes from Jim Hartlieb (22-34 for 212), breaking the team record for TD catches (17). Robert Smith was the previous leader. That was about the only highlight though.
Fast-forward ahead to September 5th and the first night game held in legendary Kinnick Stadium.
Miami was led by head coach Dennis Erickson, All-American quarterback Gino Torretta, and linebacker Jesse Armstead. Also, a quick flip through their roster shows a freshman named Warren Sapp (6'3" and only 230 lbs!)
I remember going to this game and being excited about facing a great team like Miami and excited about the revved up atmosphere in Kinnick stadium. We've had numerous night games since that day, and we know how exciting Kinnick can be for such games, but back then it was new and the atmosphere was much like the first night game at Wrigley Field must have been.
The game itself was not a fun one as Miami won 24-7 behind the Torretta led spread offense. Gino was 31-51 and had an astounding 433 yards. Jim Hartlieb was 26-38 with 266 yards, but was sacked three times and generally harassed on every pass attempt.
Let's take a look at the two deeps for Iowa from this 1992 contest against the Miami Hurricanes. Below the two deeps are links to this week's photos from the 1992 game program.
SE - Harold Jasper 5'10 165, Jeff Antilla 6'0" 183
LT - Scott Davis 6'4" 290, Bill Lange 6'&' 285
LG - Ted Velicer 6'4" 285, Matt Purdy 6'2" 275
C - Mike Devlin 6'3" 280, Hal Mady 6'4" 280
RG - Mike Ferroni 6'2' 280, Fritz Frequiere 6'4 284
RT - Bob Rees 6'7" 275, Jeremy Troug 6'6" 250
TE - Alan Cross 6'4" 235, Matt Whitaker 6'4" 240
QB - Jim Hartlieb 6'2" 210, Matt Eyde 6'4" 212
WB - Danan Hughes 6'2" 202, Anthony Dean 6'1" 185
RB - Marvin Lampkin 5'10" 202, Ryan Terry 6'0" 203
FB - Lew Montgomery 6'0" 212, Paul Kujawa 6'0" 218
LE - Larry Blue 6'2" 235, Doug Laufenberg 6'4" 225
LT - Jeff Nelson 6'5" 275, Scott Sether 6'5" 265
NG - Bret Bielema 6'3" 265, Maurea Crain 6'3" 255
RT - Mike Wells 6'4" 280, Jason Dumont 6'4" 262
RE - John Hartlieb 6'2" 225, George Bennett 6'1" 210
LB - Mike Dailey 6'1" 230, Tyrone Boudreaux 5'11" 233
LB - Teddy Jo Faley 6'3" 236, Matt Hilliard 6'2" 232
RC - Carlos James 5'11 185, Tom Knight 5'11 180
SS - Jason Olejniczak 6'0" 195, Chris Greene 6'3" 205
FS - Doug Buch 6'2" 190, Bo Porter 6'1" 185
LC - Scott Plate 5'11" 195, Chris Jackson 6'2" 185
PK - Todd Romano 6'2" 190