A Trip Down Memory Lane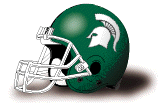 Where were you on November 21, 1981? I'm sure many of you weren't even a glimmer in your father's eye. For some of us lucky geezers, we were in a frigid Kinnick Stadium watching the Hawkeyes close out a magical season against the Michigan State Spartans.
We all know how that Cinderella season ended. The long non-winning streak had ended with a bang. The co-Big Ten champion Hawkeyes represented the league against the University of Washington in the 1982 Rose Bowl in Pasadena.
I have a collection of game programs dating back to the early 1960s. Since MSU is our opponent this seemed like the perfect time to get out a program from a classic game. Especially since many posters see a parallel between the 1981 Hawks and the 2003 team.
Going into the game the Hawks had a 7-3 record. The offense obviously carried the team…NOT. Iowa had 157 first downs compared to MSU's 215. However, the defense had only allowed 143 first downs compared to 193 for MSU.
Eddie Phillips and Phil Blatcher shared the rushing duties, Phillips with 467 yards on 103 carries and Blatcher with 461 yards on 118 carries.
Gordy Bohannon and Pete Gales split the QB position with Gordy accounting for two thirds of the attempts and all six passing touchdowns. That's right. You heard correctly. Six passing TDs!!
The receptions were spread around with five players having more than ten, but less than twenty coming into the season finale. Jeff Brown led the way with nineteen catches and two scores. Dave Moritz was the deep threat as evidenced by his 22.4 ypc.
Since it's clear that the defense dominated, had dominating was it? How about only 919 yards rushing through ten games? Pretty salty statistics from a run happy year.
What else could be found inside this program? Plenty of syndicated articles and columns as well as a look ahead to the Iowa basketball season. The Hawks had been to their third consecutive NCAA tournament, something no other team in the league could claim. Remember, this was back before the 65 team field we have today.
Iowa had lost its starting frontcourt to graduation. Brookins, Waite and Krafcisin played their last game and would be replaced by the heralded Twin Towers class. Greg Stokes and Michael Payne were joined by Iowa's Mr. Basketball, Todd Berkenpas and California JUCO player of the year, Jerry Dennard.
Hopes were high for coach Lute Olson's cagers.
Looking at the roster you could see the future would be bright for the football team as the following players were true freshman; Chuck Long, Devon Mitchell, Nate Creer, Owen Gill, Jon Hayes, Howard (Hap) Peterson, George Little and Mike Haight.
Other notables include two defensive backs from Youngstown, Ohio, Bobby and Mike Stoops.
The team also had a little used backup that became famous as the answer of a trivia question. Name a player that was a member of a Final Four team and a Rose Bowl team. He also was the member of co-champions in basketball and football.
The player? Tom Grogan.
Other football related tidbits. There were only sixteen bowl games starting with the Independence Bowl on December 12 and ending with the big five on New Years' Day.
Looking at coach Muddy Waters' Michigan State coaching staff you can see some familiar faces including Sherman Lewis and Tyrone Willingham.
For those of you with a love for the famous HMB, the bands selections for halftime included "Stars and Stripes Forever", "In the Mood" and "White Christmas."
The only song I can recall from that great day though was the Iowa Fight Song as we giddy Hawkeye fans sang until we couldn't sing no more.
Iowa Two Deeps vs. MSU in 1981
IOWA OFFENSE
SE - J. Brown, Moritz
LT - Mayhan, Gerleman
LG - Levelis, Roehlk
C - Bailey, Oakes
RG - Hallstrom, Humphrey
RT - Postler, Miller
TE - Alt, M. Hufford
QB - Bohannon, Gales
RB - Blatcher, Phillips
FB - Granger, Forte
WB - I. Webb, Campbell
IOWA DEFENSE
LE - Tippett, Joseph
LT - Bortz, Ulenhake
NG - Dean, Bradley
RT - Pekar, Browne
RE - B. Webb, Skradis
LB - Simonsen, Erb
LB - Cole, Spitzig
LC - King, Hunter
SS - B. Stoops, M. Stoops
FS - Frazier, Bachmann
RC - Crocker, Corbin
PK - Nichol
P - Roby