A trip down memory lane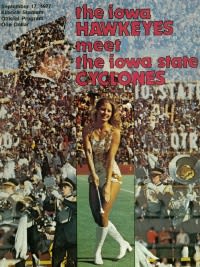 Note: I did this Memory Lane a few years ago, but now I have former Hawkeye great Jon Lazar as a resource, so I thought I would reprint the article and include a Q&A with Jon.
Somewhere in my house I have an empty 1970 era Pepsi bottle. I'm not crazy and I'm not alone.
The bottle commemorates the Hawkeyes' 12-10 victory in 1977 over the Cyclones in the first game of the series renewal.
A little backdrop to the series.
Iowa and Iowa State played their first game in 1894 with ISU winning 16-8 in Iowa City. The series ended briefly in 1920 with Iowa holding a 15-7 series lead.
According to a November 22 article in the Iowa City Press-Citizen, "Iowa has all to lose and nothing to gain in the battle with her sister institution."
The series was renewed in 1934 with ISU pounding Iowa 31-6. Prior to the game Iowa coach Ossie Salem stated that the two teams wouldn't be playing in 1935 but would be playing again in the near future.
The near future morphed into years and the two wouldn't meet on the gridiron again until 1977 in Iowa City.
Iowa State was coming off of an 8-3 season in 1976 and Earle Bruce and company were confident that another great season was in the offing.
Dexter Green was one of the most exciting running backs in the country and the Clones had a stout defense led by defensive linemen Mike Stensrud and Tom Randall and linebacker Tom Boskey.
ISU also brought with them a little confidence and attitude as evidenced by the "Beat Iowa" on their jerseys.
Iowa was coming off of the best year in the Bob Commings era. After consecutive 3-8 seasons, the Hawkeyes went 5-6 in 1976.
Unlike Iowa State, Iowa made its bones on a defense that was ranked third in the Big Ten in 1976. The Iowa defense was led by a stout linebacking corps of Dean Moore, Tom Rusk, and Andre Jackson.
So on September 17, 1977, an unstoppable force in cardinal and gold ran into Kinnick Stadium to face an immovable object in black and gold.
This time the immovable object would win.
Iowa State struck first on a long punt return for a touchdown. When a team known for its defense gets down 7-0, palms start to get sweaty…unless that team has a bullet known as Dennis Mosley.
I remember sitting in my end zone seat and screaming as Mosley took off and became a black and gold dot screaming towards the ISU end zone on a 77-yard touchdown run. A missed extra point kept ISU on top until late in the first quarter when Iowa's Jon Lazar smashed into the end zone to give the Hawks a 12-7 lead.
If memory serves me right and it often doesn't, Iowa tried for the two point PAT and failed, so the scored stayed at 12-7 until ISU hit a field goal to cut the lead to 12-10.
After that the Iowa defense stiffened and time and time again turned away the Cyclone offense.
Late in the game, Iowa punter Dave Hosclaw nailed a long punt to pin ISU back to their 10-yard line. With less than a minute to go, Iowa State tried to drive into field goal range but failed. The Hawkeyes held and Kinnick was rocking with jubilant Iowa fans.
On this day, the immovable object had won. The only ISU touchdown had come on a special teams play. Iowa out gained Iowa State 192-96 and held the magnificent Dexter Green to only 46 yards on 21 carries.
Hawkeye fans were on top of the world, at least for one day.
Iowa would finish the year 5-6. A 34-14 loss to UCLA would be turned around by a forfeit.
Iowa State would regain its stride to finish 8-3 and play in the Peach Bowl.
But on that beautiful September day, the Hawkeyes were the champions of the state of Iowa.
TE - Jim Swift 6'4", 235. Matt Petrzelka 6'6", 240
LT - Barry Tomasetti 6'3", 255, Aaron Leonard 6'2", 268
LG - Mike Mayer 6'2", 241, Lemuel Grayson 6'3", 217
C - Jim Hilgenberg 6'2", 230, Mark Callaghan 5'11", 224
RG - Doug Benschoter 6'3", 256, John Rushton 6'2", 230
RT - Sam Palladino 6'2", 255, Jeff DeVilder 6'3", 240
SE - Mike Brady 5'10", 180, Brad Reid 5'11", 170 (Go Linn-Mar!!)
QB - Bob Commings, Jr. 6'1", 195, Jeff Green 6'0" 183/ Pete Gales 6'3", 165
TB - Ernie Sheeler 6'0", 192, Dennis Mosley 5'9", 175/ Tom Renn 5'9", 182
FB - Jon Lazar 6'1", 210, Jim Arkeilpane 6'0", 214
WB - Jesse Cook 5'11", 160, Chris Mackey 5'11", 183
PK - Scott Schilling 6'0", 220
LE - Steve Wagner 6'3", 220, Darrell Hobbs 6'6", 249
LT - Joe Willis 6'4", 264, Joe Stephenson 6'5", 235
RT - Joe Hufford 6'2", 238, John Harty 6'6", 260
RE - Steve Vazquez 6'2", 235, Jim Molini 6'4", 225
LLB - Dean Moore 6'2" 210, Gene Holtorf 6'2", 210
MLB - Tom Rusk 6'2", 232, Tim Gutshall 6'), 197
RLB - Andre Jackson 6'0", 195, Leven Weiss 6'3", 205
CB - Rod Sears 6'0", 185, Mario Pace 6'0", 172
SS - Cedric Shaw 6'0", 190, Shanty Burks 6'0", 185
FS - Dave Becker 6'2", 188, Cedric Shaw 6'0", 190
CB - Roger Stech 6'0", 185, Chuck Sodergren 6'2", 193
P - Dave Hosclaw 6'2", 193.
TE - Guy Preston 6'7", 206, Mickey Leafblad 6'4", 220
LT - Dick Cuvelier 6'3", 266, Tom Stonerook 6'2", 233
LG - Maek Boehm 6'1", 230, Al Grissinger 6'4", 244
C - Denny Engel 6'0", 206, Dave Rom 6'1", 236
RG - Kevin Cunningham 6'4", 248, Jim Wilson 6'1", 227
RT - Tim Stonerook 6'7", 236, Brian Neal 6'3", 250
SE - Stan Hixon 6'0", 165, Tom Buck 5'10", 180
QB - Terry Rubley, 6'1", 172, Vinny Cerrato 5'11", 173
TB - Dexter Green 5'9", 162, Jeff Curry 5'8", 177
FB - Cal Cummins 5'11", 185, Pat Kennedy 5'11", 192
SB - John Solomon 5'9", 177, Ray Hardee 6'0", 187
PK - Scott Kollman 5'11", 174
LE - Rick White 6'1", 200, Steve Weidemann 6'2", 193
LT - Mike Stensrud 6'4", 265, Greg Rensink 6'4", 220
NG - Ron McFarland 6'1", 256, Jim Sweeney 6'2", 235
RT - Tom Randall 6'6", 251, Kenny Neil 6'4", 233
RE - Craig Volkens 6'2", 212, Terry Earnest 6'4", 206
LB - Tom Boskey 6'1", 211, Mike Leaders 6'1", 209
LB - Mark Settle 6'3", 216, Scott Cole 6'1", 200
R - Tom Perticone 5'10", 183, Dam Dummermuth 6'3", 190
SC - Kevin Hart 5'11", 180, Jerry Washington 5'11", 190
WC - Mike Clemons 6'1", 184, Brian Johnson 6'2", 190
S - Mike Schwartz 6'0", 172, Larry Crawford 6'0", 160
P - Rick Blabolil 6'0", 185
Q: If I recall correctly, you were recruited heavily by Iowa State as well as Iowa. Why did you choose a down Iowa program over what was at the time a strong ISU program?
LAZAR: I went to Iowa because my family has history in the Big Ten. My father played at Northwestern, my uncle and cousin played at Illinois, and I got to know the Iowa staff as they were recruiting Mark Fetter from South Tama a few years ahead of me.
Q: What was the feeling of the players during the buildup to the big game?
LAZAR: Our team really wanted to put it to Iowa State. We knew they were a bowl team and with fewer bowls at that time, you had to be pretty good to get any bid. Today, there are more bowls than you can count. Stopping Dexter Green was our first worry. We did and we won.
Q: How did the coaches treat the preparation for this game?
LAZAR: The coaches were as uptight as were the players. Coach Commings was a smash mouth coach and he harped on intensity and mental toughness. He always used the term "controlled maniac" and that is how we needed to play to win.
Q: How did you and the team feel when you all they saw the "Beat Iowa" jerseys?
LAZAR: When we came out to play the game and ISU ran out with their "Beat Iowa" jerseys, I think that really set me in more of an intense mood to want to knock their heads off. I thought, "What an insult." That really put me in a foul mood fast. I was ready to hit someone.
Q: Iowa State scored first on a long punt return. How did the team rebound from that quick score?
LAZAR: We knew that ISU had a good punt returner in Tom Buck. Once that happened, we just got back on the ball and did what we originally planned to do. We just came back out with our normal game plan and then Dennis Mosley broke the long run.
Q: Can you describe what happened on Mosley's run and what you felt as he broke away?
LAZAR: I was on the sidelines at that time, but have watched the run over and over. Dennis took the run to the right and then cut back and got a few good blocks, which was all he needed to get in the open and out run everyone. Those downfield blocks sprung him and we were back in the game.
Q: You scored the second touchdown late in the first half. What are your memories of that drive and that play in particular?
LAZAR: Later in the second quarter, ISU was on the 20-yard line and they tried an option with Terry Rubley at QB. Terry turned to run down the line and he got nailed by a linebacker and fumbled the ball. We got the ball on the 20. The play came into the huddle and it was a trap straight ahead to me. I was a little leery of the call as ISU had McFarland, Stensrud, and Tom Randall on the defensive line. All were all Big 8 honored players. When I got the ball, I saw the line push right and with that the ISU players as they were over-pursuing. I cutback and I had a lane in which to run. I got to the 10-yard line. The next play that came in from the sidelines was the same as before. My initial thoughts were that ISU would never go for this twice. I exploded off the ball and it again opened up as before. Once I got to the four, I jumped in the air. I felt if I jumped going the speed in which I was that any hit would not stop me. I was getting in the end zone and if I am in the air at that point I was landing for a TD. We scored and took the lead.
Q: Can you describe the scene on the sideline as the game ended? What was running through your mind?
LAZAR: I was proud and relieved. I was very sore as I had sprained my ankle in that game, so I was happy but also concerned about my injury. I think that kept me out the next game. I was eager to get together with the players later downtown to celebrate a little after the ISU win.
Q: Coach Ferentz has a 24-hour rule. One day to celebrate or agonize and then on to business. What did Coach Commings want to the team to do following the game?
LAZAR: The same. Commings was not one to let us rest for long. He wanted us back to work and after Sunday back to business. He never discouraged us going out after that win or even the other big one against Penn State. He just told us to use good judgment. He was like a father to a lot of us that were tuned in.
Thank you to Jon Lazar for his recollections.