Clayborn gives back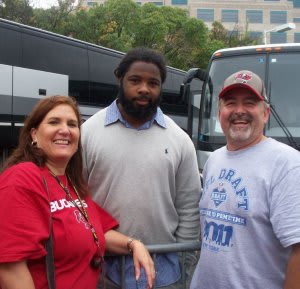 One year ago Jim Heims was sitting in Radio City Music Hall as a guest of Adrian Clayborn. He sat with pride as he watched his friend walk across the stage as a first round draft pick of the Tampa Bay Buccaneers. His wife, Cindy, was back home watching the draft and enjoying seeing a family they have grown close with celebrate a one in a lifetime opportunity being realized.
A lot can change in one year and it has for Jim and Cindy Heims and Adrian Clayborn. What hasn't changed is the bond that will last a lifetime.
One year ago Jim and Cindy were showing support for Adrian.
Less than one year later, Cindy was diagnosed with pancreatic cancer in December and is now undergoing costly and difficult chemotherapy and radiation treatments.
On Friday night, Adrian will be showing support for Jim and Cindy Heims by hosting a benefit at Tailgators (450 1st Ave, Coralville, IA) with all proceeds going to help with medical expense from the cancer treatments.
The friendship between Adrian and his family and the Heims began shortly after he arrived on the Iowa campus. Jim and Cindy had become friends with Kenny Iwebema's parents (Kenneth and Veronica) and every Saturday during football season they would gather at the Heims tailgate location near Kinnick Stadium and spend time together.
Every Saturday they would meet the team bus as it arrived and show support for the Hawkeyes.
As you would imagine, those football friendships grew into meaningful and lifelong friendships. The circle of that friendship also grew to include Clayborn's mom, Tracie, and Jacody Coleman and his mother. It continued to expand to include Adam Gettis and his family, Christian Ballard and his family, and many more.
The Iowa Football parents, many of whom lived hundreds of miles away from their children, now had friends that they could count on to help their children at a moment's notice when needed and they took comfort in that fact.
The Iowa players and their parents would use Jim and Cindy's tailgate location as a gathering spot after every game, win or lose. It was a bond that many have made over the years and one that will certainly last a lifetime.
"Now this has sort of come full circle," Jim Heims said. "We have been so fortunate to make so many wonderful friendships with all of them over the years and they have reached out to us in so many ways. It's really been so touching to hear from all of them offering positive messages of support."
Adrian Clayborn has taken his support to another level more than once.
If there was one moment that showed just how much Jim and Cindy mean to Adrian Clayborn it was back in January, following his rookie season in the NFL. Clayborn was back in the Midwest attending a wedding . Cindy had started her cancer treatments and adjusting to life that revolved around chemotherapy. Clayborn and his girlfriend decided it was time to head to Iowa City and pay a surprise visit to Cindy and Jim.
"I got a call from Adrian's mom, Tracie, and she said that he was on his way to visit Cindy," Jim Heims said. "Cindy was going through some early chemo treatments and he wanted it to be a surprise."
A short time later, there was Adrian at their front door and as you would imagine, it was an emotional moment for everyone.
"The doorbell rang and it was a complete surprise to me," said Cindy Heims. "I couldn't believe it and I just started crying and hugging him. They stayed for a few hours and we just sat and talked. It was such a wonderful moment for me, so uplifting. He didn't have to do something like that and he did. That tells you about the type of person Adrian is."
It was Adrian's idea to host the benefit on Friday night for Cindy and Jim to help with their medical expenses. The cost is $25 for adults and $15 for children and includes a tailgate style dinner and drinks, along with a silent auction.
"I've gotten to know Jim and Cindy over the years and they have supported me unconditionally in my time at Iowa and as I transitioned to Tampa Bay," Clayborn said. "They both have an extremely positive outlook on life and are two of the nicest and most genuine people I know. I am forever grateful for the love and support they have provided for me and I am happy to host the event at Tailgators for them."
It says a lot about Adrian Clayborn that he would lend his name to this event and come back to the Iowa City area to support his friends. He probably wouldn't do this for anyone. That tells you a lot about Jim and Cindy Heims and the type of people they are, selfless, kind, and generous. It tells you about the impact they had on Clayborn and his life while he was at the University of Iowa. They have done so much for so many over the years and now it's our turn to lend a helping hand.
Hope to see many of you at Tailgators on Friday evening to support Cindy, Jim, and Adrian.