Ellingson watches Hawks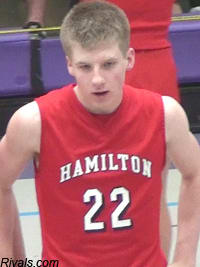 Brady Ellingson
has been watching his future college team play on television all season. On Saturday afternoon, the 6-foot-3 guard finally had the opportunity to see the Hawkeyes in person. Ellingson made the trip down from the Milwaukee area to watch Iowa defeat Northwestern at Welch-Ryan Arena and was very excited to be there.
"This is the first time that I've see Iowa play in person and it's really exciting," Ellingson said. "Before the game I got to talk with Coach McCaffery, Coach Dillard, and Coach Taylor and we had a short, but good visit."
The Wisconsin native was planning to be in Madison earlier this month to watch the Hawkeyes play the Badgers, but illness prevented him from attending.
"My dad and I had tickets to go, but a few days before the game I was diagnosed with mono, so I couldn't go," he said. "I heard about it afterwards from my friends because of what happened with Coach McCaffery in the game."
Ellingson said some of his Wisconsin friends are also full of praise for the Hawkeyes this season thanks to their 16-4 start to the season.
"I am just so pumped to get to Iowa and play for the Hawkeyes. A lot of my friends tell me how impressed they are with Iowa and the way they are playing this year."
While Ellingson watched the Hawkeyes on Saturday, he was certainly zeroed in on what one Iowa player was doing on the floor because he will be trying to follow in his footsteps starting next season.
"I watch Josh Oglesby a lot when he's out there," Ellingson said. "He and I play the same position, so I'm watching him to see how he handles certain situations and moves without the ball. He's been playing really well since he came back from his injury."
Ellingson is in the heart of his senior season right now and his while the record of his Hamilton High School squad isn't what he hoped, he feels he is playing well, averaging 25 points per game.
"Right now we are 8-5 on the season and we have lost to some good teams and lost a couple of games when I was out with mono," he said. "I feel like I'm playing pretty well. I have to do more this year and try to get him teammates involved, rebound, and I have to score as well."
When Ellingson does have an off weekend, he says he plans to make his first trip to Carver-Hawkeye for a basketball game this season, but he hasn't zeroed in on a date yet.