Ettore Ewen Makes the Move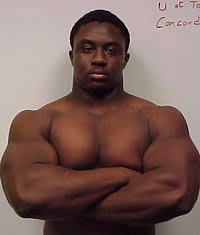 As HawkeyeReport.com reported last month, the Iowa Hawkeye coaching staff landed a late addition to the Class of 2004 in Florida defensive tackle Ettore Ewen. The 6-foot and 280-pound Ewen transferred to Tampa's Wharton High School his senior year, which was his only season of high school football.
This week Ewen makes the move from Tampa to Iowa City to begin his college career at Iowa. We caught up with him this afternoon for an update on what he looks foward to in joining the Iowa program, his prospects of playing early in his career, and much, much more.
Q: You leave for Iowa City this weekend?
EWEN: I leave Sunday and I arrive in Iowa City at about 5 o'clock.
Q: Are you staying with some other players this summer?
EWEN: I'm going to be staying with George Eshareturi for the four weeks until I get into the dorms.
Q: Do you already know some of the other players at Iowa?
EWEN: I do know a couple. I actually wrestled Edmond Miles in high school once and I met Chris Brevi at a weight room in Temple Terrace, which is around the area.
Q: When did you and Edmond Miles wrestle?
EWEN: It was when he was a senior and I was a sophomore at a wrestling tournament in Brandon.
Q: How did that match turn out?
EWEN: Not very well for me. He physically dominated me because I wasn't very mature physically at that point and he was just stronger than me. I lasted until the second period and he ended up pinning me.
Q: You mentioned maturing physically. When did you become so involved in weight lifting?
EWEN: Since eighth grade. Actually my wrestling coach was the one that really got me into it and because of him I started learning how to properly lift and everything. I just really enjoy it.
Q: What type of training and nutrition program did you use to add weight in your senior year?
EWEN: I still use the same diet and training process, but I just consume more calories. Essentially I went on a high calorie diet, basically a high everything diet. I increased my protein amounts to about 280 grams per day and I just kept lifting about 3 or 4 hours a day.
Q: Did you see significant strength gains during that time?
EWEN: I have. My bench when I first arrived at Wharton for my senior year was about 340 and it went up to about 420 right now. My squat went up by about 100 pounds as well over the year.
Q: Are you still at 6-foot and 280 pounds?
EWEN: Right. I haven't been to the doctor yet to get my physical, but I'm right around 6-foot, 280.
Q: What weight do you see yourself playing at in college?
EWEN: Right now, I'm actually thinking I might stay at the same weight. Coach Aiken told me he definitely wants more athletic defensive linemen and he'd rather that I stay at about the same weight.
Q: You mentioned Coach Aiken. What do you look forward to learning from him during your first year at Iowa?
EWEN: My first year, I just want to go in and absorb as much knowledge as possible from the more experienced guys and Coach Aiken and just learn as much as I can. I'm going in with the mindset, after talking with my coaches, of trying to make the two deep and trying to get a starting spot. I want to go and just learn as much as I can about the position. I know I'm a little raw right now, but I'm just eager to go in and try to prove myself and learn the system.
Q: Do you think you will redshirt or play as a true freshman?
EWEN: I talked to Coach Aiken about that as well and he told me it's all going to be dependent on how well I do when I get into camp, so right now I'm hoping not to redshirt. Originally, I thought I would be redshirted because of my lack of experience and whatnot, but I've been preparing to do well in camp and to start off strong, so I'm hoping to not have to redshirt.
Q: What do you look forward to in moving to Iowa and starting college?
EWEN: Well, I mean obviously football is going to be a big part of my college experience, but just getting out and getting to know new people. It'll be the first time I've been in the Midwest, so I'm looking forward to meeting people in Iowa and enjoying the college experience and football as well. My biggest thing is getting to be an independent individual and just stepping out from childhood and trying to grow into an adult.
Q: Are you still looking into an English major with the possibility of medical school down the road?
EWEN: Right, that's what I'm leaning to. Either that or possibly exercise science, but right now I'm leaning more towards English and medical school.
Q: What are you looking forward to in the four weeks you will be in Iowa City before August camp starts?
EWEN: In that month, just trying to get acclimated as soon as possible and getting into the training and getting into really working with Coach Doyle. I think the biggest thing for me is going to be able to learn the system. During the four weeks my focus is to really learn my alignment, learning where I'm supposed to be, and just learn and absorb as much as possible. Also, to get an understanding of how college football is going to be because obviously there's going to be a big difference between high school and college. During the four weeks, get used to my surroundings and attack the playbook and prepare myself.