Evans adds first Big Ten offer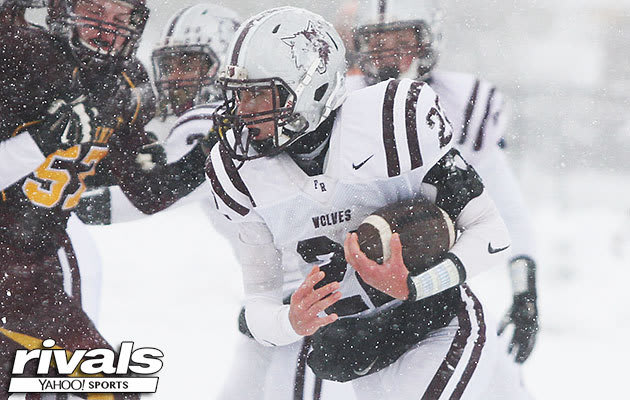 After a standout junior year that saw him rush for 2,211 yards and 43 touchdowns in leading Prairie Ridge to a state title, Samson Evans is picking up major college interest in the Class of 2018. On Thursday, the 6-foot-1, 196-pound Illinois native added his fifth offer and first from the Big Ten, which came from the Iowa Hawkeyes.
"It's almost unreal," said Evans. "Going into today, I had no clue that I was going to get another offer let alone one from Iowa."
"I was sitting in my last period class, doing my homework, when my coach called me out and the rest is history," Evans continued. "When they told me they wanted to offer me, it was just an amazing feeling and how they recognized all my hard work and thought I'd fit in well in their program."
An option quarterback in high school, Evans could play on either side of the ball in college. Iowa's offer is just as an athlete right now with a specific position to be determined later whether it might be wide receiver or defensive back.
"They told me they are just offering me as a football player," Evans said.
"I'm open to any position," he continued. "I'd rather have the ball in my hands and be able to make plays, but I'm open to anywhere."
Evans, who ran a 4.46 forty at Illinois' camp last summer, now has offers from Iowa, Army, Northern Illinois, Central Michigan, and Ball State, and is excited to see how the rest of the recruiting process plays out.
"It's my fifth offer and first Power 5 offer," said Evans. "Honestly, it feels great."
"Iowa is an amazing school," he continued. "It means a lot to me that they where the first big time school to see that I have what it takes."
"It's really just an amazing feeling. I'm excited to see what the future holds."
See highlights from Evan's junior year at Prairie Ridge High School in the video below.