Gunnerson's recruiting is taking off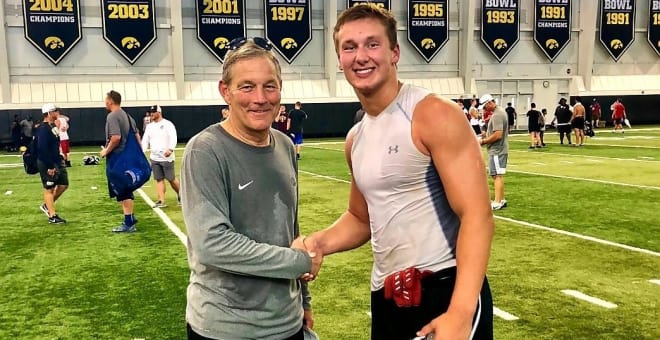 It only took Class of 2020 Kuemper Catholic defensive end Blaise Gunnerson two summer camps to see his offer total grow from zero to three almost overnight.
"Iowa State Big Man camp was my first," said Gunnerson. "(It) went very well. I ran a good 40-time, but I think I can improve that. Pass rush one-on-ones is where I thought I did my best. It was obviously cool getting recognized as an MVP and getting two offers. My second was the Iowa camp. Although it was hot, I thought the coaches still brought high intensity and were hard on us. Yet again, I did pretty well in the speed drills and the pass rush section. I was blessed to talk to Coach Ferentz after and receive an offer."
The scholarships, especially from the larger schools, were something that Gunnerson did not see coming.
"Complete surprise mostly," Gunnerson said. "SDSU showed a lot of interest, so thought I could get an offer from them. Iowa and Iowa State came as a complete surprise."
Gunnerson knows that it was a special thing to receive the attention from the Hawkeyes.
"(I was) honored to receive an offer from a high-end DI program."
His time in Iowa City has been limited, but Gunnerson likes what he has seen thus far.
"I haven't taken a tour of the campus or facilities, but it seems like a friendly environment with very good coaching."
Gunnerson's performance at the camp is what pushed the Hawkeye coaches to extend the scholarship shortly after camp wrapped up.
"After camp, I talked to some assistant coaches and they eventually led me to Ferentz who offered me on the field after the camp."
The Cyclone scholarship was special as well for Gunnerson, who grew up as a Cyclone fan.
"I was impressed by Campbell's personality to not only be a successful coach, but (he) also helped me understand how important it is to be a football player and successful in academics at Iowa State."
Gunnerson remains unclear of when he will make his final college decision.
"As of right now, (I) have no idea."
There are three main factors that Gunnerson is looking for in his future school.
"How the coaches treat me, finding somewhere where the coaches will maximize my potential, and having a great community."
Gunnerson has a trio of college evaluating him that have not offered him to this point.
"Notre Dame, Nebraska, and NDSU."
A camp and a visit are all that Gunnerson has currently on the schedule as of now.
"UNI on July 27th. And (I'm) heading up to Iowa State this Saturday."
Gunnerson is preparing himself for what could be a strong year junior year this fall with the Knights.
"Although our offense is basically replacing all personnel, we had a successful JV squad and have been dedicated this summer," said Gunnerson. "On defense, we are returning almost everyone including (Kyle) Snyder and (Nate) Wendl, which is huge for us. They're the leaders of this team and behind them our potential is unlimited."