Hawkeyes land DT Noah Shannon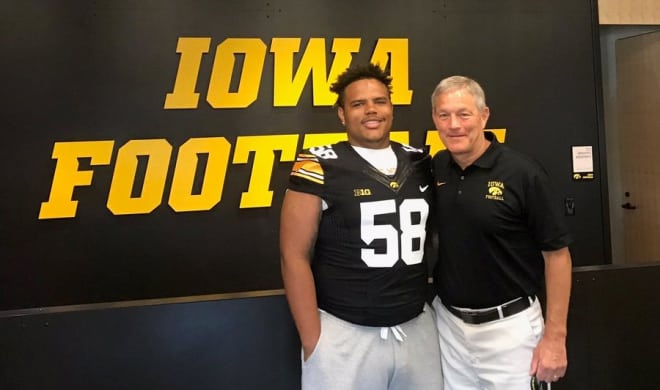 After wrestling with his college decision for a few weeks now, Illinois defensive tackle Noah Shannon has finally come to a conclusion. The 6-foot-2, 285-pound Shannon has decided to join the Iowa Hawkeyes, giving his verbal commitment to Coach Kirk Ferentz and staff today on the 4th of July.
"These past few weeks I've thought long and hard about where I'll be attending college and playing football for the next four years," Shannon said in a statement.
"I'd like to personally thank all the programs that took their time to recruit me and offer me the opportunity to play the game I love."
"After many conversations with my parents and family, I have finally decided to further my academic and football career at the University of Iowa."
A three-star prospect, Shannon initially gave a verbal commitment to Minnesota in early May, but then reopened his recruiting again and took another visit to Iowa in June. Since then, he has been weighing the pros and cons of the two Big Ten schools and decided on Iowa this time around.
In addition to Iowa and Minnesota, Shannon held scholarship offers from Arkansas, Missouri, Michigan State, Purdue, Duke, Virginia, Iowa State, Kansas State, Memphis, Cincinnati, Rutgers, Syracuse, and Washington State, among others.
Out of all those offers, the Hawkeyes were the first to the table, extending a scholarship back in November of 2016.
Overall, Shannon is commitment No. 10 for the Iowa coaching staff in the Class of 2018.
See highlights from Shannon's junior year, which saw him rack up 56 tackles, 13 TFL, 3.5 sacks, and 5 forced fumbles for Oswego, in the video below.