Hawkeyes offer in-state 2020 DE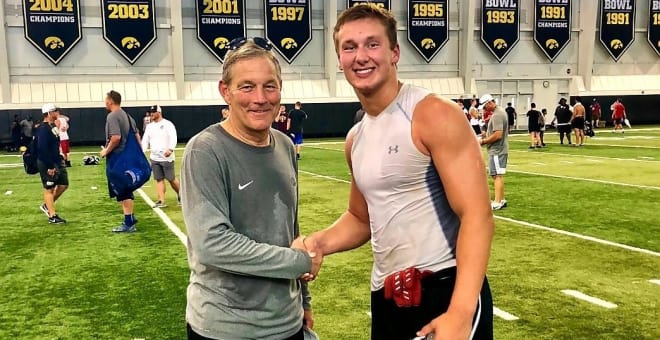 A week ago, Class of 2020 defensive end Blaise Gunnerson picked up a scholarship offer from Iowa State and this week he earned one from Iowa. The 6-foot-5, 237-pound Carroll native was in Iowa City on Saturday for Iowa's camp and received the offer from the Hawkeye coaching staff following a standout performance.
"I thought I did pretty well," said Gunnerson. "My hip injury started acting up, but I just pushed through. After camp, Coach Ferentz and some of the other coaches came up and said they wanted me to become a Hawkeye and then offered me a full ride."
Gunnerson now has offers from Iowa, Iowa State, and South Dakota State, and recently started receiving interest from Nebraska and Notre Dame as well. For the Class of 2020 prospect, seeing his recruiting suddenly take off this month has been a pleasant surprise.
"It's crazy that my life has changed like this in two weeks," Gunnerson said. "I knew the countless hours in the weight room would pay off, but I never expected this."
Right now, Gunnerson says he is taking it all in and plans to stay patient with the recruiting process as he gets ready to begin his junior year at Kuemper Catholic High School in Carroll.
"No early decision," said Gunnerson. "I'm going to research and gather information on all the schools that have shown early interest. The older and more mature I am before making the decision, the more likely I will make the right decision in the end."
See highlights from Gunnerson's sophomore year at Kuemper Catholic in the video below.