Hawks land 2016 QB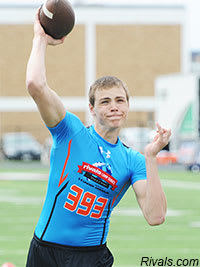 The Iowa Hawkeyes have landed their first verbal commitment in the Class of 2016. Quarterback Nathan Stanley, a 6-foot-4, 193-pound junior from Menomonie, Wisconsin, announced his intentions to play college football for the University of Iowa this afternoon.
"It was a very hard decision, but in the end I chose Iowa," said Stanley.
The Iowa coaching staff offered a scholarship to Stanley this past summer after seeing him throw in person at their camp. Pittsburgh, whose head coach Paul Chryst is originally from the state of Wisconsin, also offered, but it was the chance to stay in the Midwest and play in the Big Ten that ultimately won out.
"It's close to my relatives, they have a very good physical therapy program, and the coaching staff is great," Stanley said. "It truly felt like a family when I've been there on visits."
Stanley is coming off a junior year that saw him miss half the season after breaking his throwing hand in week one. After being forced to sit out six games, he made it back just in time to help clinch a playoff berth for Menomonie, leading them to three straight wins at the end of the regular season. That included a week nine performance of 18/31 passing for 284 yards and three touchdowns in a must win game for his team.
For the year, Stanley played in just a total of five games his junior season due to the injury, finishing 42/100 passing for 670 yards and six touchdowns. He also had 17 carries for 95 yards and one touchdown on the ground as well. Last year, as a sophomore, Stanley was 68/145 passing for 1,148 yards and 14 touchdowns. He also plays basketball and baseball at Menomonie in addition to football.
While there was no pressure on Stanley to make an early decision, the Class of 2016 prospect says he wanted to make sure that he take advantage of the opportunity before him and is happy to have his college choice out of the way.
"I felt very confident with Iowa, so nothing was going to change my mind," said Stanley. "I wanted to commit while the opportunity was still available."
Stanley is the first verbal commitment for the Iowa Hawkeyes in the Class of 2016.