Huckstorf sparks record setting rally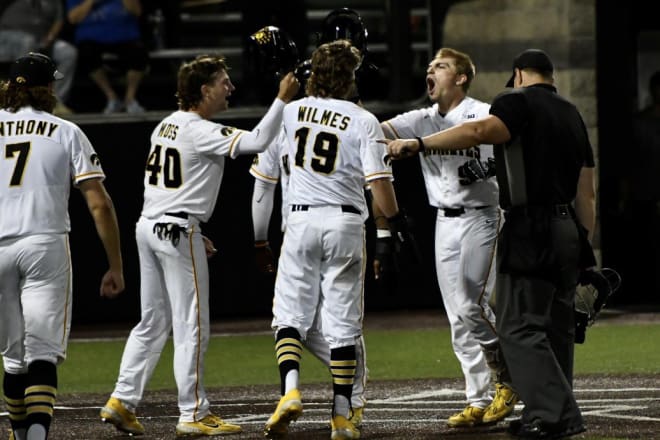 *exhale*
Absurd. Impossible. Mind-blowing. Insane. Unthinkable. Unscriptable.
All words to describe the game that just unfolded at Duane Banks Field. In fact, it is nearly impossible to fully digest what just transpired, but one thing is certain…The Iowa Hawkeyes came away victorious.
On a night, where Adam Mazur was tattooed by the Indiana lineup, the Hawkeye offense delivered with more runs than some football games have, which included a historic effort at the plate from redshirt sophomore Kyle Huckstorf. After four hours and 35 minutes, Iowa walked away with a 30-16 series opening victory over the Hoosiers.
"The biggest point is just how our team didn't give up and how we fought back," said Coach Rick Heller. "Tonight, was a big maturity moment for our team."
For a while, it looked like the Hawkeyes were going to watch their at-large hopes sail out the window with a blowout loss. The same Adam Mazur who has shut down every Big Ten opponent he has faced was knocked around for nine runs on nine hits in just two innings, including five extra base hits.
"They had a really good plan on Mazur, and they jumped on us fast," said Heller. "It was just a rough outing. They were on. We've all seen games where you just felt like it wasn't your night."
Unfortunately, for the Hawkeyes, they were on Cam Baumann too when he entered from the bullpen. The Hoosiers blew the lead open even larger on a Josh Pyne grand slam to make it 13-2 in the third inning. In the fourth inning, Indiana was threatening to add on, but Kyle Huckstorf made a diving grab in the gap to likely keep a couple of runs off the board and it gave the Hawkeyes a much-needed spark.
Sam Petersen opened the bottom of the inning with a bunt single and from there, Iowa started lighting up the scoreboard. Kyle Huckstorf clubbed a three-run home run, which was later followed with a Keaton Anthony two-run home run to cut the Indiana lead down to 13-7. Fast forward a little bit further in the inning and Huckstorf found himself at the plate in a 13-9 game with runners on base again. He delivered again. Another three-run home run off the bat of Huckstorf cut the Hoosiers lead all the way down to 13-12 and at that point it was anyone's ballgame.
"Mazur's been awesome for us all year and it was really our time to pick him up because he's picked us up a lot this year," said Huckstorf.
Indiana was able to scratch a run across in the fifth inning on an infield single from Phillip Glasser to make it 14-12, but it was no match for what the Hawkeyes had in store.
With the bases loaded in the bottom of the inning, Kyle Huckstorf made his way to the plate again and did the impossible. The Waterford, Wisconsin native connected for a grand slam to fully erase the early deficit and give Iowa the 16-14 lead.
"That's why you keep playing," said Heller. "Huckstorf was incredible. You don't see that. It's a once or twice in a career type game. In a game that is meaningful against a quality opponent."
From there, the ball was handed to Duncan Davitt out of the Iowa bullpen, and he held Indiana to just two runs over the last 4.1 innings, including four strikeouts. While the game will be remembered for the offensive statistics, it was equally important for Davitt to go out and put some zeros on the board to smother the Indiana attack.
"At the end of the day, it's really just going out there and trying to throw strikes and believing in yourself," said Davitt. "Trusting your stuff, trusting yourself and trusting the defense behind you."
While the Hoosiers offense was, for the most part, stifled by Davitt down the stretch, the same could not be said for the Iowa offense. In the seventh inning, the Hawks started to pull away, starting with a two-run single from Ben Wilmes. Sam Petersen would later follow with a mammoth three-run home run over the scoreboard in left field to push the lead to 25-15. At that point, the Hawkeyes were just having fun.
Kyle Huckstorf decided to add on a two-run single for good measure in the eighth inning, which gave him a Big Ten record 12 RBIs for the night. His six hits tied a Big Ten record for most in a game, while it set an Iowa single game record. His batting average jumped from .250 to .277 after the game.
"Come out here with the same goal in mind every day. Just try to barrel up the ball, hit it hard and as you can see today, good things happen," said Huckstorf. "This is going to stick with me forever and I'll take it until I die."
Up and down the lineup, it is crazy stat after crazy stat. Keaton Anthony, Ben Wilmes and Sam Petersen followed Huckstorf's six hits with three of their own. Peyton Williams and Sam Hojnar each had a pair of hits, while Michael Seegers and Izaya Fullard combined for eight walks. Seven Iowa starters scored 3+ times, while 12 players crossed the plate at least one time. The Hawkeyes were an incredible 14/29 (.483) with runners in scoring position.
"The tone (postgame) was, that was a tremendous team effort and that shows a lot about our team and our toughness," said Coach Heller. "We have to come out and match that energy tomorrow."
The 30 runs scored is the most runs scored by an Iowa team since 1989 when they defeated Quincy by a final score of 32-0. The 46 combined runs in the game appears to be the most ever in an Iowa Baseball game.
With the win, the Hawkeyes move to 31-17 on the season and 15-7 in Big Ten play. Iowa jumps up three spots in the RPI rankings to #63 with the opportunity to sneak up to as high as #60 if they can continue their winning ways this weekend.
"To me at this point we need to take care of ourselves and try to win every game that we can," said Heller. "I think if you are looking at it the right way and not just the RPI, we are in a good place…I'd like to hope we are in a better place than what people say we are…We have won seven of our last eight series."
It will be Dylan Nedved on the mound for the Hawkeyes tomorrow, as they try to clinch another series victory. The Hoosiers will send normal series opener starter Jack Perkins to the mound for the Friday start. The game is at 6:05pm and will be streamed on BTN+.