Iowa 90, No. 15 Indiana 68: Flame On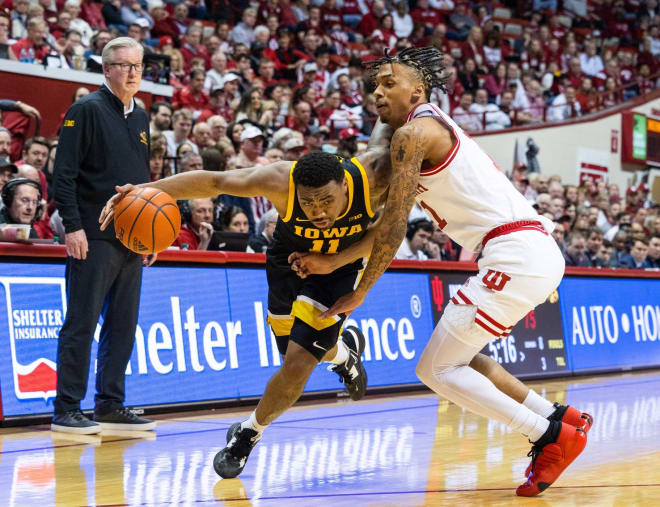 On paper, Iowa's game on Tuesday night looked like one of the toughest tests of the season for the Hawkeyes: a road game against an Indiana team that was 14-1 at home, ranked 15th in the nation, and coming off one of the most impressive road wins of the season over Big Ten-leading Purdue.
Suffice to say, Iowa aced that test.
The Hawkeyes maintained the same red-hot offense that fueled their improbable comeback win over Michigan State on Saturday, built a big early lead on the Hoosiers and never looked back, coasting to a 90-68 victory. Iowa improves to 19-11 overall and into fifth place in the Big Ten at 11-8.
RECAP
How dominant was this victory for Iowa?
* The Hawkeyes led for 39:21 and never trailed in the game.
* The Iowa lead dipped under 10 points once in the final 28 minutes -- for all of 25 seconds (then Kris Murray hit a 3-pointer to put Iowa up 12).
* Iowa scored 47 points in the first half (most by any team in the Big Ten this season).
* Iowa scored 90 points on the road; only three other IU opponents had cracked 70 points at Assembly Hall this season.
* Indiana was 14-1 at Assembly Hall this season prior to this game and the one loss came by just one point; Iowa won by 22.
The tone of the game was set from the very beginning: Indiana missed its first four shots, while Iowa made its first three to jump out to an 8-0 lead. Even better than the lead was the fact that two of Iowa's first three made buckets were three-pointers (both by Kris Murray). Iowa's three-point shooting woes on the road have been discussed ad nauseum for the past month, but for good reason: the Hawkeyes were apocalyptically terrible from 3 in their first four February road games (16/83, or 19.2%). On Tuesday: 13/23 (56.5%) from 3-point range.
Indiana called timeout after that 8-0 Iowa lead, but it had little impact. Iowa's lead ballooned to 16-7 by the first media timeout. The Hoosiers made a few mini-runs and got as close as 21-18 -- which prompted a 13-3 Iowa run over the next 4:30 of game time.
After cutting the Iowa lead to 11 at half (47-36), the Hoosiers' best chance to get back in the game was a fast start out of halftime. Indiana started the second half with a full-court press look that flustered Iowa into a few early turnovers and led to an Indiana basket that dropped Iowa's lead back to single digits since the 9:06 mark in the first half, sending Assembly Hall back to full volume.
Instead of caving to the sudden road pressure, Iowa responded with a 12-2 run that seemed to break Indiana's spirit in the game. While there were still almost 16 minutes to play, the Hoosiers' body language wore the 61-40 deficit like a lead coat, and the game was effectively over. Indeed, Indiana never got closer than 19 points in the final 17 minutes of the game, and Iowa rolled to one of its easiest wins of the season.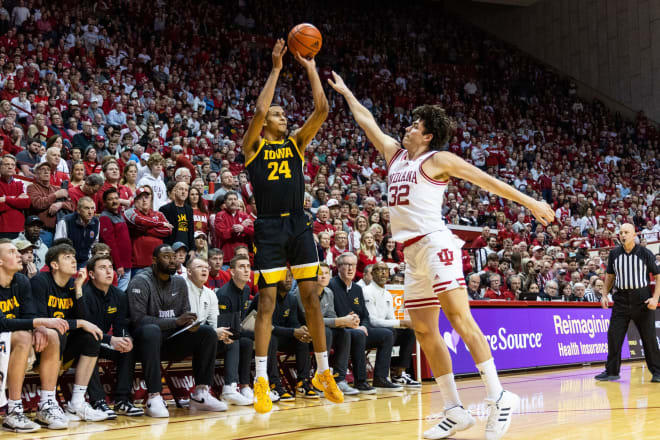 BOX SCORIN'
Both Iowa-Indiana games this season have produced spectacular results from Kris Murray and Trayce Jackson-Davis, but we can discuss them in a minute. We have to start this section with an appreciation for Tony Perkins, who was absolutely brilliant in this game. Perkins, a kid from Indianapolis, Indiana, who wasn't recruited by the Hoosiers, was playing his second game in Assembly Hall with Iowa and he played it like a man with a point to prove and a chip on his shoulder.
Perkins spent a fair amount of time jawing with the Indiana crowd in this game, but he didn't just talk the talk -- he absolutely walked the walk as well. He finished with 23 points, 10 rebounds, and a career-high 8 assists. He shot 7/12 from the floor (1/2 from 3-point range) and 8/10 from the free throw line. Perkins absolutely tore Indiana to pieces on defense, in every way possible.
With the ball in his hands, he was elite as both a distributor (setting teammates up with good looks and easy buckets for those 8 assists) and an attacker (finishing multiple drives at the rim with a basket or drawing a foul -- and draining the subsequent free throws).
Perkins was just as dangerous without the ball in his hands; his off-ball movement and back cuts to the basket were lethal against an IU defense that seemed flummoxed by everything Iowa did. Perkins has had some very good games for Iowa in the past, but it's hard to think of a more complete performance than this one.
Kris Murray was also very good -- he and Jackson-Davis finished with 30 points apiece in their first meeting this season, and they finished with 26 points apiece in this game. Murray went 9/16 from the floor and 5/8 from 3-point range, to go along with 7 rebounds and 3 assists. Fifteen of Murray's 26 points came in the first half, and his hot shooting early absolutely set the tone for Iowa's entire offense. Murray had endured some rough shooting nights in recent games, especially on the road (he was 5/20 from 3-point range in his last four road games), but he broke out of that slump in a huge way tonight.
Filip Rebraca was a standout as the Robin to Murray's Batman tonight as well -- Rebraca finished with 16 points on 6/8 shooting (4/5 at the free throw line), along with 8 rebounds and 2 assists. That was really the main difference between Murray and Jackson-Davis in this game -- Murray was great and got a lot of help from his teammates; Jackson-Davis was great and got no help. He finished with 26 points, 13 rebounds, and 5 assists on 10/16 shooting, but only one other Hoosier had at least 10 points in the game (Malik Reneau).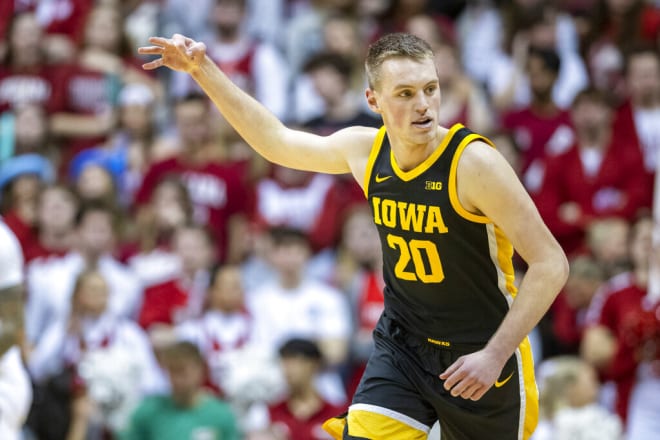 THE CLAMPS
Credit is also due to Iowa's defense, which got a much-needed regression to the norm against the Hoosiers. Iowa only forced nine turnovers on the day, including just one steal, but the zone defense goaded Indiana into bad shots and left the Hoosiers shooting just 2/11 from deep and 43% as a whole. Trayce Jackson-Davis encountered little difficulty in the post, as usual for him; he finished 10/16, but that meant that everyone else around him shot 36% for the day.
Iowa also took care of the glass on defense to a better degree than usual. Iowa collected 28 of 34 chances on defensive rebounds, limiting second-chance opportunities and leading to more stops and transition opportunities. The Hawkeyes spent nearly the whole game in control of the pace of play, and that all starts with controlling possession.
RIVALRY SPICE
The heat of the Iowa-Indiana basketball rivalry has waxed and waned over the years, but it's definitely been getting rekindled in recent seasons -- and Tuesday night's game likely added plenty of fuel to that fire.
Mike Woodson has had plenty to say this season about Fran's on-court behavior, especially in Iowa and Indiana's first meeting, which certainly hasn't sat well in Iowa City. Woodson's own technical late in the game won't bring the sides any closer.
Tony Perkins looked like a man on a mission to demoralize every Indiana player and fan in the building, making play after play — and talking relentlessly through the second half as the Hoosiers' spirits faltered. Perkins wears his confidence as loudly as anyone in the Big Ten, and he made sure everyone knew it tonight.
And then Payton Sandfort went and earned a permanent spot on Indiana fans' hate list.
Sandfort added even more firepower to Iowa's locked-in offense, shooting 5/9 from 3 (5/12 overall) to finish with 16 points. It wasn't just the points and the shots that IU fans will remember with vitriol -- it was the extra flourishes he put on the game. Sandfort celebrated one play emphatically late in Iowa's win:
A few minutes later, Sandfort made his fifth 3-pointer of the game, held a pose -- and blew a kiss to the crowd.
That earned him a technical foul (and an immediate spot on the bench), but honestly? Worth it. Moments like that are the spice that rivalries thrive on. It's also a sign of Sandfort's burgeoning confidence -- he's already shown no fear in taking big shots this season (he took and made the biggest shot of Iowa's season three days ago) and he's showing no fear in becoming the object of ire for an entire fanbase.
BIG TEN TOURNAMENT BOOST
Iowa's ability to finish in the top-four in the Big Ten standings and earn a double-bye in the Big Ten Tournament were fading fast after back-to-back road losses to Ohio State and Wisconsin a week ago. After scoring a combined 201 points in wins over Michigan State and Indiana for back-to-back wins, the Hawkeyes have supercharged their hopes of a top-four finish.
This win improved Iowa to 11-8 in Big Ten games and tied them with Indiana for fifth place in the standings. Except Iowa is 2-0 against the Hoosiers this year, which gives them the head-to-head tiebreaker. Iowa also has head-to-head tiebreakers with two teams right below them in the standings (Rutgers and Illinois) and two teams above them in the standings (Maryland and Michigan). The Hawkeyes are also 1-1 against another team ahead of them in the standings (Northwestern).
If Iowa beats Nebraska in its regular season finale on Sunday, the Hawkeyes will finish the regular season at 12-8. In order to keep Iowa out of a top-four finish, Maryland, Michigan, and Northwestern would all have to win out, given Iowa's tiebreaker strength.
Maryland: at Ohio State (3/1), at Penn State (3/5)
Michigan: at Illinois (3/2), at Indiana (3/5)
Northwestern: Penn State (3/1), at at Rutgers (3/5)
All three teams have some difficult opponents remaining (especially Michigan) -- and five of those six games are on the road. The odds of all three teams running the table seems... slim.
NEXT UP
Iowa wraps up the regular season at home against Nebraska on Sunday, March 5 at 1 PM CT. BTN will televise the game. Nebraska is 15-14 overall and 8-10 in the Big Ten as of this writing.
--------------------------------------------------------------------------------------------------------
• Talk about it inside The Premium Forum
• Follow us on Twitter: @IowaAwesome
• Like us on Facebook.