Iowa 93, Rutgers 82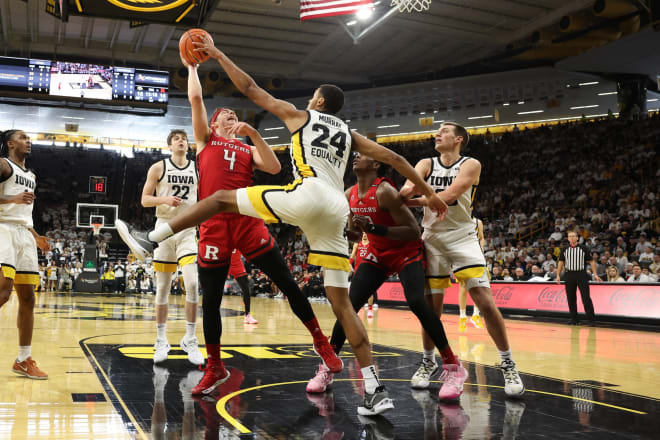 On an afternoon where the Hawkeyes were buoyed by the return of Patrick McCaffery, it was his brother Connor McCaffery who delivered a game-sealing sequence to help Iowa dispatch the visiting Rutgers Scarlet Knights, 93-82. The 93 points were by far the most Rutgers had allowed all season, up from the previous high of 76 they gave up... to Iowa on their home floor.
Kris Murray led all scorers with 24 points in the victory, with 16 from Ahron Ulis as he continues to make strides in Big Ten play.
Just like Iowa's successful trip to Piscataway a few weeks ago, the Hawkeyes' key to victory was their long-distance shooting. Patrick McCaffery drained all three of his deep attempts in his emotional return, and the Hawkeyes as a whole made 12 of their 24 attempts, which helped them maintain the lead for the entire second half.
Iowa also kept Rutgers in check by forcing a bevy of turnovers — 18 in all — and that opportunistic defense helped clinch the game in the closing minutes.
Tony Perkins snatched a rebound away from Clifford Omoruyi after a near-certain offensive rebound with the Scarlet Knights down only five points and gunning for a comeback, then on the next defensive possession Connor McCaffery deflected a high entry lob to Omoruyi, resulting in a Perkins steal, then McCaffery nailed a three on the other end to push the lead back to 10 points with a minute left.
Few were happier about the game-sealing three than Riley Mulvey:
Iowa had a 13-point lead early in the second half and had kept it at or near double digits for most of the first 10 minutes of the second half. But Aundre Hyatt went on a tear, matching Iowa's long-distance shooting and racking up 16 points (all in the second half) to bring the game back to a competitive pace.
Rutgers was also led by Omoruyi, who shook off some mid-game pain in his ribcage to deliver 15 points and eight rebounds. Omoruyi also blocked three shots and altered several more at the rim, as Iowa went just 10-for-20 on layups for the game.
STEPPING UP
It's never a surprise when Kris Murray leads this Iowa team in scoring, but the contributions behind him looked a little different -- a blessing, especially with Filip Rebraca fouling out after battling through frustration for seven points and six rebounds in the game.
As mentioned earlier, Ulis added 16 points in the victory, including 12 in the first half; his 16 were just one off of his career high, which he set... in the previous game against Michigan State. It's Ulis' third consecutive game scoring in double digits, while he had just one such game against a Big Ten opponent in his career prior to the streak.
Patrick McCaffery finished with nine points, all coming on his 3-for-3 shooting from deep. Even as Iowa won by double digits, with Rutgers cutting the lead to five or fewer points multiple times in the second half, it's safe to say Iowa needed every bit of contribution it got from the returning junior — to say nothing of the relief of having their teammate back from his struggles and ready to contribute.
Last, freshman Josh Dix continued to impress with eight points, an assist and a block in just 11 minutes of bench work. It's hard to believe at times, but Dix is just 12 months removed from a grisly broken leg that ended his high school career and left substantial doubt as to how much he could contribute at a level as high as Iowa's, and how quickly. Instead, not only is Dix playing as a true freshman, but he's proving that no moment is too big, no light too bright for him.
FREE THROWS
The charity stripe, which had been less than kind to Iowa in Thursday's loss to Michigan State, ended up being one of the Hawkeyes' biggest strengths on Sunday. Iowa went 29-for-34 from the line, including a clutch 5-for-6 for Rebraca and 7-for-9 for Murray. The Hawkeyes' ability to convert on these scoring opportunities chastened the physical Rutgers defense and kept the Scarlet Knights from the emotional boost of fully erasing their deficit in the second half.
NEXT UP
Iowa finally faces Northwestern on Tuesday, January 31, in a game that was postponed after the Wildcats were unable to meet minimum availability requirements due to injuries and COVID.
That game will tip off at 8:00 pm Tuesday night on the Big Ten Network. After Iowa's victory over Rutgers, Northwestern has taken sole possession of second place in the hotly competitive Big Ten, so this is another opportunity for the Hawkeyes to register a quality win and continue to roil the standings in the middle of the conference.