Iowa, Ferentz Extend Contract Through 2012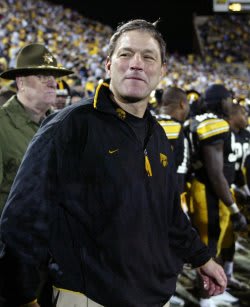 IOWA CITY - Kirk Ferentz, head coach of the University of Iowa Hawkeye football team - and the winner of the 2004 Dave McClain Big Ten Coach of the Year award - which claimed a share of the Big Ten Conference championship for the 2004 season, has signed an extension of his contract that will keep him on the UI campus the through June 2012.
Under the new agreement, Ferentz's base salary will be $1.2 million. The agreement provides for a guaranteed base salary increase on July 1 after any season that results in bowl game participation and in which the team graduation rate is 55 percent or higher. In addition, Ferentz will qualify for a longevity bonus of $400,000 each year if he remains the Hawkeye coach as of June 1. Ferentz and the UI have agreed that there will be no renegotiation of the financial aspects of the contract for three years.
As with previous contracts, Ferentz's compensation will be paid entirely from football revenues and related gifts and earnings. No state appropriated funds from Iowa taxpayers will be used.
"I feel very fortunate to be at Iowa, and I deeply appreciate the University extending my contract," Ferentz said. "President Skorton and Bob Bowlsby have been very supportive of our efforts. I feel honored to be a coach at the University of Iowa. All of us on the staff are very excited about the future of our program."
"We are thrilled to extend Coach Ferentz's contract," said Bob Bowlsby, UI director of athletics. "Kirk and his staff have done a tremendous job of putting our student-athletes in a position to succeed. I believe Kirk represents the best qualities of intercollegiate athletics, and we are all proud to have him leading our football program."
"Last weekend's convincing win and Big Ten Conference co-championship are only the latest evidence of Coach Ferentz's talent," said UI President David Skorton. "I am also impressed that his student-athletes are succeeding in the classroom as well as on the football field. Coach Ferentz is not only a superb coach but also an excellent university citizen and a man of high integrity. We look forward to many more years of Kirk's leadership."
In addition to his base salary, guaranteed annual increases, and longevity bonuses, Ferentz can earn supplemental compensation if his team achieves a graduation rate above 70 percent, finishes in the Top 25 USA Today/ESPN Poll, wins or ties for the Big Ten Conference championship, wins a bowl game, and wins the national championship. Ferentz would also earn additional pay for being named Big Ten or national coach of the year.
Bowlsby noted that the UI football program revenues are critical to the financial security of the entire UI Athletics Department. Football and men's basketball directly or indirectly generate 94 percent of the department's revenue, which supports a total of 22 sports for women and men.
Kirk Ferentz and the Iowa Hawkeyes
• Kirk Ferentz has a 41-31 record in six years as head coach of the Iowa Hawkeyes.
• Iowa has won 37 games over the last four seasons, a total that ties for the most over any four-year span in UI football history. Iowa also won 37 games in 1984-87.
• Iowa will play in its fourth straight bowl game and third straight New Year's Day bowl game when it represents the Big Ten Conference in the 2005 Capital One Bowl on Jan. 1, 2005.
• Iowa won seven straight conference games to end the 2004 regular season and claim its second Big Ten championship in three seasons.
• The 2004 Iowa Hawkeyes become only the third Iowa team to record at least seven consecutive home victories (1991 - 7, 2002 - 8).
• Iowa has won the Big Ten outright or shared conference titles 11 times, the fifth highest total in league history.
• Iowa extended its home winning streak to 18 with its season-ending victory over Wisconsin. The 18-game home winning streak, dating back to 2002, is a Kinnick Stadium record and ranks fourth nationally among Division I-A schools.