Iowa WBB Full Schedule Analysis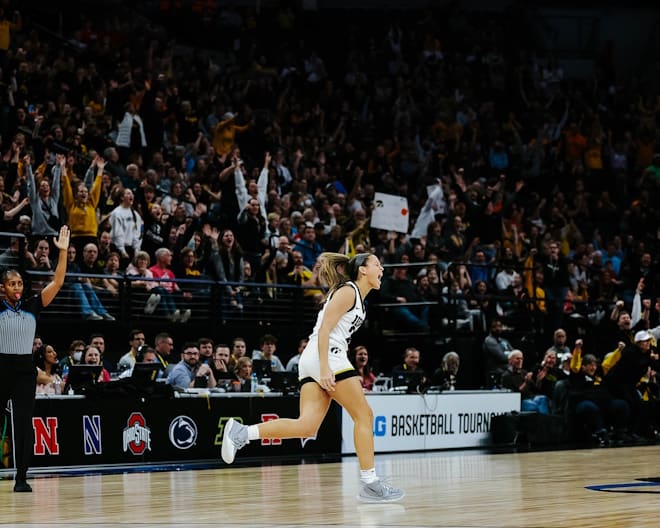 In 2022-23 Iowa faced its most difficult regular season schedule in recent memory. The Hawkeyes played three Top 12 teams in their non-conference slate, then faced three teams that became Top 4 seeds in the NCAA Tournament a combined five times in Big Ten play.
That schedule led to some tough regular season moments, but also prepared Iowa well to go on major runs in the Big Ten Tournament (which they won) and NCAA Tournament (where they were runners-up).
Iowa's schedule should be tough again this year, though perhaps not quite as difficult as last year's gauntlet.
NON-CONFERENCE SCHEDULE
11/6/23 vs. Fairleigh Dickinson
11/9/23 vs. Virginia Tech (Ally Tipoff in Charlotte)
11/12/23 at Northern Iowa
11/16/23 vs. Kansas State
11/19/23 vs. Drake
11/24/23 vs. Purdue-Fort Wayne (Gulf Coast Showcase)
11/25/23 vs. Delaware or Florida Gulf Coast (Gulf Coast Showcase)
11/26/23 vs. Third game in Gulf Coast Showcase
12/2/23 vs. Bowling Green
12/6/23 at Iowa State
12/16/23 vs. Cleveland State
12/21/23 vs. Loyola-Chicago
At first glance, this schedule doesn't have quite the same juice as last year's non-conference slate. Virginia Tech is the only team listed that is likely to be ranked in the Top 10.
But the Gulf Coast Showcase could be a sneakily good event. Kansas State and North Carolina are on the other side of the bracket, and both are projected as Top 6 seeds in the NCAA Tournament by ESPN. With a good start, either could be ranked in the Top 20 -- or higher -- come late November when they could face Iowa in the Showcase championship.
Northern Iowa and Florida Gulf Coast are also projected to win their conferences by ESPN and won't be guaranteed victories.
The big difference between last year and this year is Iowa State. The Cyclones were a Top 10 team during the Cy-Hawk game last year, but aren't even projected to make the NCAA Tournament by ESPN this year.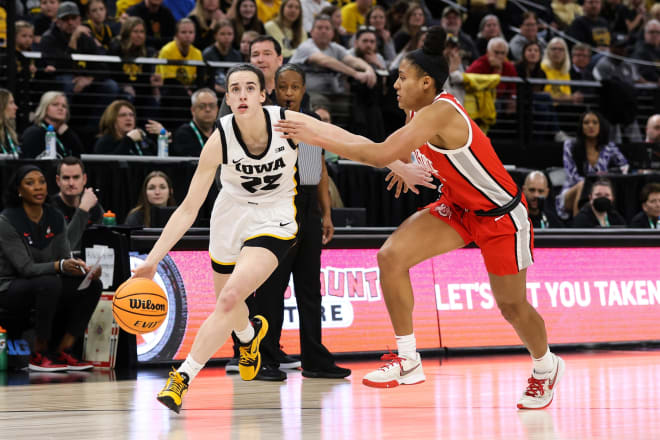 BIG TEN TEAMS PROJECTED FOR THE NCAA TOURNAMENT
CONFERENCE SCHEDULE
12/10/23: @ Wisconsin
12/30/23: vs. Minnesota
1/2/24: vs. Michigan State
1/5/24: @ Rutgers
1/10/24: @ Purdue
1/13/24: vs. Indiana
1/16/24: vs. Wisconsin
1/21/24: @ Ohio State
1/27/24: vs. Nebraska
1/31/24: @ Northwestern
2/3/24: @ Maryland
2/8/24: vs. Penn State
2/11/24: @ Nebraska
2/15/24: vs. Michigan
2/22/24: @ Indiana
2/25/24: vs. Illinois
2/28/24: @ Minnesota
3/3/24: vs. Ohio State
FIRST TWO GAMES
The first two games of Iowa's conference schedule always have major trap potential. The first is usually scheduled in early December right after Iowa's rivalry game against Iowa State. Coming off the emotions of that game, Iowa is often at risk of coming out flat.
The second game this year comes on December 30th just after Iowa's nine-day holiday break. That is the longest stretch Iowa has off over the course of the regular season. Rust from the long layoff is always possible.
This year, Iowa appears fortunate. Wisconsin and Minnesota are projected to finish towards the bottom of the conference. Even with a sluggish start, Iowa should be able to beat both and avoid the potential trap.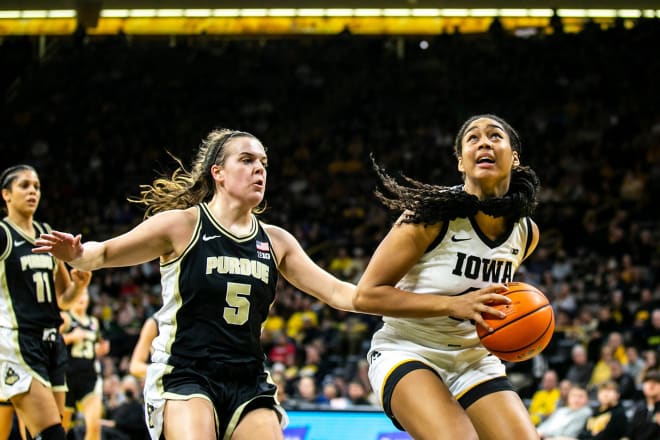 LACK OF TRAP GAMES
In the past couple years, Iowa has often faced several trap games before or after a major stretch. This year, there don't appear to be too many obvious trap games on the schedule. Iowa's game at Purdue on January 10th -- just three days before Iowa plays Indiana at home -- is the only one that stands out.
Part of that is the nature of the Big Ten itself. Teams at the bottom of the conference have been so bad in recent years that they really haven't had much of a chance of upsetting the elite teams in the league.
MARQUEE HOME AND AWAY SERIES
Last year, Iowa had memorable home and away matchups against Indiana and Maryland. Some of those games were closer than others, but the home team notably won all four games.
This year, Iowa could have more memorable home and away series. Indiana and Ohio State both project as two of the top three teams in the conference, and Iowa will play them four times in the regular season.
Iowa's home and away with Nebraska could also be intriguing. Two years ago, Nebraska looked like a borderline Top 25 team on the rise. Last year, the Huskers returned most of the nucleus of that team but regressed heavily and missed the NCAA Tournament. If Nebraska can rebound again this year, the two teams could return to the close battles of the recent past.
AN EASIER AWAY SLATE
Last year, Iowa played almost every top Big Ten team on the road. The Hawkeyes had home and away series with Indiana and Maryland, then played Ohio State, Michigan, and Illinois only away from Carver-Hawkeye Arena.
This year, that largely flips. Maryland is a road-only opponent for the Hawkeyes, but Iowa's game against Illinois and Michigan are both at home.
That flip could be crucial. Last year, Iowa finished just a game behind Indiana for the regular season conference title. One key missed opportunity that stands out was Iowa's January 1 loss at Illinois. Had that game been at home last year, Iowa might well have been able to earn a share of the conference title and repeat as regular season conference champions.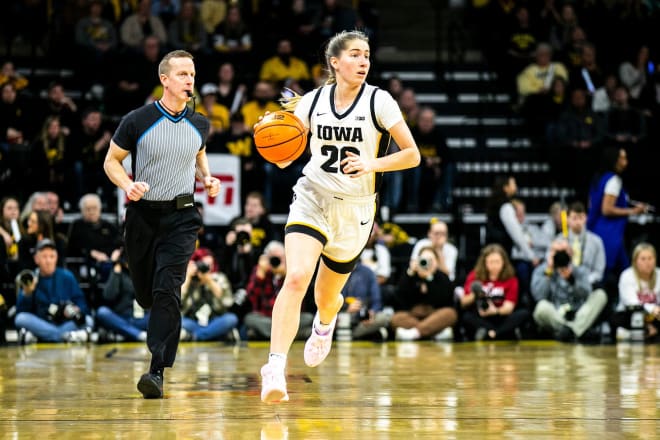 HARDEST STRETCH
Iowa's most-challenging stretch of games in the conference schedule looks to be between February 11th and February 25th. Each of Iowa's four opponents in that run -- away to Nebraska, home to Michigan, away to Indiana, and home to Illinois -- is likely to make the NCAA Tournament. Iowa's February 22nd game at Indiana might be the toughest game the Hawkeyes face all season.
INTERESTING WEEKEND GAMES
Iowa was also fortunate in drawing a favorable lineup of weekend conference games. Iowa has five conference home games scheduled on a weekend. Four of the five are against projected NCAA Tournament teams: Indiana (1/13), Nebraska (1/27), Illinois (2/25), and Ohio State (3/3).
THE BIG ENDING
Iowa's last two season-ending home games have produced some of the most memorable moments in program history.
Two years ago, Iowa beat #5 Michigan 104-80 to secure a share of the regular season Big Ten title.
Last year? Well, you probably remember last year:
This year, Iowa wraps up the regular season a home game against Ohio State. There is a very good chance that the regular season Big Ten title will once again be on the line in that game.