Kicker Lucas Amaya walking on at Iowa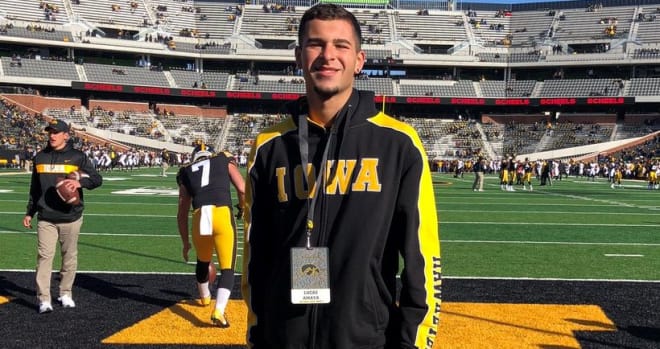 Kicker Lucas Amaya has made his college decision. The 6-foot-3, 205-pound Wisconsin native will be playing for the Hawkeyes after accepting a preferred walk-on opportunity from the Iowa coaching staff.
"I also looked at South Dakota and Minnesota-Duluth, but Iowa was where I wanted to be and belonged," said Amaya. "The atmosphere and the culture is just amazing. The coaching staff at Iowa makes every player feel like family and that's what I love about it."
Amaya, who made 8/11 field goals with a long of 44 yards at Muskego this past season, hopes to come in and compete for a spot next year with Iowa losing starter Miguel Recinos due to graduation.
"I'm a pure kicker," Amaya said. "I do kick offs and field goals. I'm coming in as a preferred walk-on, but I'm going to try and earn my spot on the team and I'll be working hard every day up until training camp to do so."
See highlights from Amaya's senior year at Muskego in the video below.

Iowa's Class of 2019 walk-ons:
Lucas Amaya - 6-foot-3, 205-pound K from Muskego, WI (Muskego)
Nick DeJong - 6-foot-6, 260-pound OL from Pella, IA (Pella)
Zach Kluver - 6-foot-2, 205-pound LS from Ankeny, IA (Centennial)
Taylor Fox - 6-foot-3, 265-pound OL from Winthrop, IA (East Buchanan)