PREVIEW: Iowa vs North Carolina (NCAA Tourney Elimination Game)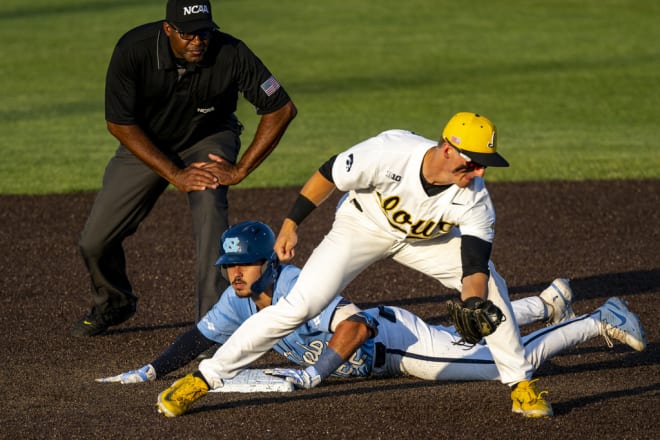 WHO: North Carolina Tar Heels (36-23 overall; 14-14 ACC; regional 3-seed)
WHEN: 11:00 AM CT (Sunday, June 4, 2023)
WHERE: Bob Warn Field (Terre Haute, IN)
TV: none
RADIO: Hawkeye Radio Network (John Leo and John Evans) | YouTube
MOBILE: www.espn.com/app
ONLINE: ESPN+ (Sam Ravech and Danan Hughes)
FOLLOW: @IowaAwesome | @UIBaseball | @IowaonBTN

NORTH CAROLINA TAR HEELS
Obviously most of the information from our first North Carolina preview still holds true for this game. Iowa narrowly held off a furious comeback bid by North Carolina in the first game on Friday night, allowing three runs in the ninth inning before getting a pair of strikeouts to end the UNC threat.
North Carolina beat Wright State in an elimination game yesterday to advance to this game. The Tar Heels beat the Raiders 5-0, with most of the scoring coming from a 3-run home run from Mac Horvath in the seventh inning.
Max Carlson and Dalton Pence combined to hold Wright State to a single hit over nine innings and no runs. Carlson issued just two walks in his 6.2 innings of work, striking out five batters. Pence pitched the final 2.1 innings and allowed no hits or walks.
PROBABLE PITCHING MATCHUP
IOWA: Ty Langenberg (6-3, 4.06 ERA, 1.49 WHIP, .278 opp BA, 80 K, 30 BB)
UNC: Connor Bovair (4-4, 5.57 ERA, 1.40 WHIP, .266 opp BA, 57 K, 22 BB)
Bovair is the only one of UNC's primary starters who hasn't pitched during the NCAA Regional so far. Jake Knapp got the start against Iowa on Friday night, while Max Carlson was excellent in shutting down Wright State in UNC's win on Saturday. Bovair has started 14 games this season and has seen the most action of any UNC pitcher (72.2 innings).
Similarly, Langenberg is the only one of Iowa's three primary starters who hasn't pitched yet during the NCAA Regional. Langenberg has been excellent late in the season, particularly in the Big Ten Tournament, when he threw 7 shutout innings in Iowa's semifinal win over MIchigan, holding the Wolverines to just two hits. Iowa could really use a repeat performance like that from Langenberg today.
HITTERS TO KNOW
Overall, the preview information on UNC's hitters is the same as it was on Friday. Mac Horvath, UNC's top hitter, had a terrible game against Iowa (four strikeouts), and he was just 1/4 on Saturday, that one hit was the biggest of the game (a three-run home run). He's still a very dangerous hitter, even if he is just 1/8 in the Regional so far.
UNC got 8 hits against Wright State in their win yesterday, with six different batters chipping in. RF Casey Cook and 3B Johnny Castagnozzi each went 2/3 at the plate in that game.
Iowa's hitters haven't really gotten off the mark in the NCAA Regional, especially when it comes to extra base hits. The Hawkeyes have just three extra base hits total (all doubles), two from Sam Hojnar and one from Cade Moss. Raider Tello rebounded from an 0/5 effort against UNC on Friday with a 3/4 effort against Indiana State on Saturday, one of the few bright spots at the plate for Iowa.
WHAT'S AT STAKE
Iowa's margin of error in the NCAA Regional was erased by the eighth inning collapse against Indiana State on Saturday night. They're in win-or-the-season-is-over mode for the rest of the weekend. In order to advance out of the regional now, Iowa will have to win three consecutive games: against North Carolina this afternoon, against Indiana State tonight, and then another game against Indiana State on Monday.