Re-Ranking Recruiting Classes: 1999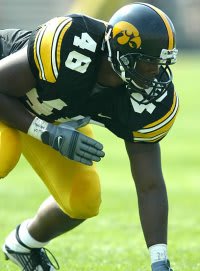 During the off season from Hawkeye sports, we like to take a look back at some interesting aspects of Iowa athletics. Nothing gets great discussions going like recruiting, so we are taking a look back at the recruiting classes during the Ferentz era. Early on Ferentz proved he could take diamonds in the rough and make them into stars. One player in the 1999 class that proved that fact is Robert Gallery, who ended his career as an All American.
Sam Aiello- OL Carol Stream, IL
Sam Aiello arrived at Iowa in 1999 as an all-state offensive lineman from Streamwood High School in Carol Stream, Illinois. He was redshirted as a freshman in 2000, but quickly found his way into the starting lineup during his first year in action – starting four games at right tackle and one game at right guard. He did not start a single game in 2002 but saw the field in each contest that season. He rebounded his senior year, missing only the season opener against Miami(OH). From there he closed out his collegiate career starting every game that remained at right tackle.
Fred Barr- LB Fort Lauderdale, FL
Original Rating: *** [High]
Fred Barr signed on with the Hawkeyes after being named Broward County's Defensive Player of the year his senior year and selected to the all-state team the year prior. In high school Barr set his high school's record for most tackles in a season his senior year, and at Iowa he continued his knack for swallowing up ball-carriers. He finished his career with the fourth most tackles of any Hawkeye, and was named first team all-Big Ten by the media and coaches his senior year
Jon Beutjer QB Wheaton, IL
If fans' disdain was a measuring tool for success, Jon Beutjer might have ended his collegiate career as one of the most prolific passers in Big Ten history. Instead he came to Iowa City as a high decorated high school quarterback and left as not much more. He transferred from Iowa to the University of Illinois after the 2000 season, and played two season where injuries limited him to 18 games over three seasons.
A.J. Blazek OL Wichita, KS
A.J. Blazek came to Iowa out of Butler County Community College in Kansas as a junior. He began his career quickly, starting the first three games of the 1999 season and saw action in two more. He became an integral part of the Hawkeye offensive line his senior year, starting all 12 games and earning the Hustle Award for offense and the Iron Hawk award, in addition to being named honorable mention all-Big Ten. Blazek served as a graduate assistant for the Hawkeyes following his playing career.
Kory Borchers OL Akron, IA
Kory Borchers signed with the home state Hawkeyes out of LeMars High School after being named to several class 3A all-state teams. He was redshirted his freshmen year, and only saw the field the following year vs. Ohio State. Throughout his career Borchers was a consistent contributor to the offensive line and special teams units, and started the final three games for the Hawkeyes during the 2001 campaign.
Maurice Brown WR Fort Lauderdale, FL
Maurice "MO" Brown came to Iowa out of Florida powerhouse St. Thomas Aquinas High School after winning the 5A class title his senior year. He redshirted his Freshmen year and his stats in the two years that followed, but exploded his junior and senior years to combine with C.J. Jones for Iowa's best wide out duo in the Ferentz era. He set the Iowa touchdown reception mark with 11 his junior year, and while his senior year could not live up the previous year, he had already provided fans with one of the greatest single season performances a wide receiver has ever had in the Black and Gold.
Actual Rating: *** [high]
Edgar Cervantes LB Maywood, CA
Edgar Cervantes started his career at Iowa listed as a linebacker, but his greatest contributions to the team came in his role as fullback. Throughout his career he gave the Hawkeyes a tough presence at the position, as evidenced by him being rewarded with the Coaches Appreciation Award for offense in 2003, as well as a precursor to the "next-man in" philosophy that Ferentz would adopt the following year. Whether it was a grind it out two yard burst or a safety valve for the quarterback, Cervantes was always available for his team.
Colin Cole DL Fort Lauderdale, FL
Colin Cole came out of South Plantation High School with second team All-State honors on his resume. He would leave Iowa with many more. Cole played in nine games in 2000 as a true freshman and played in 11 games the following year. He became a full time starter at Defensive End his junior year, where he was name honorable mention All-Big Ten. He was named a second team All-American by two publications his senior year, and finished his career with 47 tackles for loss, 23 sacks, and 23 hurries.
Jared Clauss DL West Des Moines, IA
Jared Claus came to the Hawkeyes from Valley High School as an all-state performer, and even garnered Mid-West All-American honors from Super Prep. He finally became a regular in the starting lineup in the 2002 season and was an honorable mention All-Big ten performer after compiling 10 tackles for loss and six quarterback sacks. His performance junior year earned him special mention preseason All-American honors from The Sporting News. Following his senior season, Clauss was drafted by the Tennessee Titans in the 7th round.
Actual Rating: *** (high)
Derrick Davison LB Cincinatti, OH
Derrick Davison's slaloming football career took him from Cincinatti, Ohio to the North Dakota College of Science from which he arrived at Iowa. He was a Running Back in high school, and despite never playing on the opposite side of the line of scrimmage there he was moved to Linebacker once at Iowa. During the 1999 season he started five games, but was mainly a special teams contributor throughout his time at Iowa.
Adam Densmore OL Boulder, CO
Adam Densmore arrived Iowa City, IA out of Boulder High school as one of the top offensive line prospects in the county – considered by Tom Lemming to be among the top 200 players in the country. In his career at Iowa, Densmore played very little in Kinnick Stadium, redhsirting his freshmen year and playing sparingly in only five games over the rest of his career.
Robert Gallery TE Masonville, IA
While he needs no introduction now, Robert Gallery was a relative unknown when he arrived at Iowa as a Tight End from East Buchanan High School. Thankfully, he was transitioned from Tight End to Offensive Tackle where he remains without peers in the Ferentz era. He was nominated to uncountable amounts of All-American teams, and won the Outland Trophy after a senior campaign where he allowed only one sack. He will remain forever as one of the greatest players in Iowa Hawkeye football history.
Aaron Greving- RB Ames, IA
Aaron Greving came to Iowa from Ames High school as a Super Prep All-American as well as the Gatorade Circle of Champions State Player of the Year. His career highlight came in the Alamo Bowl where he started for an injured Ladell Betts and took home MVP honors, rushing for 115 yards and a touchdown in the Hawkeye's last second victory. His remaining career was shortened by an ankle injury and the arrival of Fred Russell. He left during the 2002 season.
Howard Hodges DE/OLB Copperas Cove, TX
Like Gallery, Hodges signed on with Ferentz as an under recruited Linebacker-End hybrid who earned himself honorable mention All-State honors at Copperas Cove High School. By 2002 he was starting at Defensive End and was named first team All-Big Ten for his efforts. The best was yet to come for the preseason All-American and Outland Trophy prospect. He accumulated 12 sacks and 13 tackles for loss that year, and five year tenure as a Hawkeye with 21 sacks and 26 tackles for loss.
Jory Helms DL Chicago, IL
Jory Helms was lightly recruited as an All-Area prospect out of Leo High School when he signed with Iowa. He did not play at all his first two seasons, redshirting the first and unable to earn playing time the second. He saw very little of the field in his final three years as a hawkeye and finished his career with four tackles spread out over five years.
Erik Jensen- FB Appleton, WI
Erik Jensen signed with Iowa out of Appleton East High School as a Fullback, but the Super Prep and Prep Star All-American played as a Tight End for the Hawkeyes. He started his final two seasons at Iowa, and posted career highs of 16 receptions and 182 yards in his senior year.
Ramon Ochoa WR Maywood, CA
Ramon Ochoa arrived at Iowa from Bell High School with teammate Edgar Cervantes, and like his teammate he made little impact on the team until later in his career. By his senior year, Ochoa had developed into the team's leading receiver, snaring 34 passes for 477 yards and 6 touchdowns, but his value to the team was not limited to receiving. He set the school record for punt returns in a season and most punt return yards in a season, and scored at least one touchdown by rush, pass reception, and punt return.
Nick Rahfaldt OL Ames, IA
Nick Rahfaldt arrived at Iowa with his teammate Aaron Greving in 1999. While Greving's career can be considered short, the former Elite All-State lineman's was even shorter. After arriving in 1999 he was unable to even make it into the 2000 University of Iowa Hawkeyes football media guide.
Eric Rothwell OL McFarland, WI
Eric Rothwell left Wisconsin in favor of Iowa after being named to the All-State team his junior and senior years. It took him to his final season before he saw extensive starting time, but he served as a valuable member of Kirk Ferentz's 2003 offensive line. He started 12 of the 23 games the season and spent time on both sides of the Center before honing in on snapping duties himself for the final seven games of the year.
Cameron Smith- DB Chino Hills, CA
Cameron Smith came to Iowa from Mt. San Antonio Junior College after being named first team All-Conference both years he was there. He led his team with 6 interceptions his sophomore year and was listed as a starting Cornerback for the Hawkeyes in the spring of 2000. He was unable to secure the position going into the fall and his play was reserved mostly to special teams duties. Actual Rating: **
Chris Smith came to Iowa as a speedy prep quarterback from Paris High School, but his speed was desired elsewhere. He was switched over to the defensive side of the ball where he saw playing time in every season at safety, after redshirting in 1999. He never established himself as a full time starter, but started seven games in his final two seasons and got himself into nearly every game he was healthy his junior and senior year.
Note: Sean Monahan is a University of Iowa student and recruiting junkie who will be interning with HawkeyeReport.com. He will participate in several special projects this summer that we think you will enjoy.