Ready to report: Samson Evans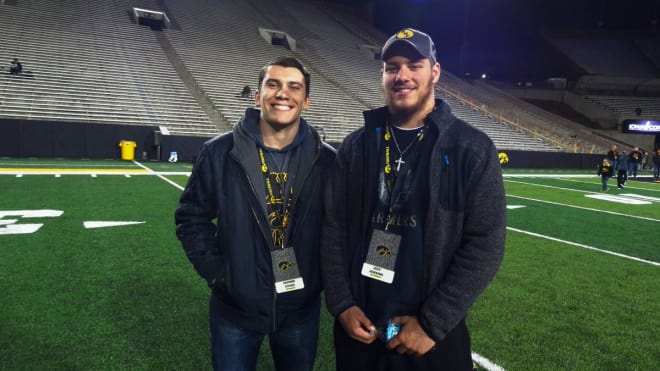 A do-it-all option quarterback in high school, Samson Evans will be making the transition to another position in college and is excited to get started at Iowa this summer. We caught up with the 6-foot-0, 207-pound Evans this week to talk about when he makes the move, what his goals are for his freshman year, and much more.
Q: When do you make the move to Iowa City this summer?
EVANS: I will be heading up to Iowa the weekend of June 8th for good.
Q: What are you looking forward to in starting workouts with the team?
EVANS: The biggest thing I'm looking forward to is getting to start the grind with my brothers in the weight room and creating lasting bonds.
Q: What is the latest you have heard on your position?
EVANS: I'll be starting at running back.
Q: What are your goals for your freshman year? Are you hoping to play or expecting to redshirt?
EVANS: My current goals for this season are to become the best player I can be and hopefully get into some games during the season. I want to be someone my teammates can rely on and someone my teammates can trust. I want to be the best teammate I can possibly be.
Q: What was it like visiting spring practice last month now that you are so close to being there?
EVANS: I was in attendance at the spring game and it was a ton of fun. My favorite part was sitting down with the running backs coach one-on-one and going through most of the basic run plays and pass protections. It was something I really enjoyed and can't wait to learn the rest when I get there. Being an option quarterback gives me a great understanding of all the reads and techniques I need to know while at running back.
Q: What will it mean to you to walk out of the tunnel at Kinnick Stadium for the first time?
EVANS: It will mean a ton to me. It will be a testament to all that I have worked for. But truly it will be an honor to wear the gold and black representing one of the best schools in country in front of thousands of fans.
Q: When you look back at everything, what was it about Iowa that made it the right place for you?
EVANS: The biggest thing for me about Iowa was they are all about the will to work for what you want and that's really how I am. I'm not a big vocal person, but when it comes down to the nitty gritty that's what I love most. I'm all about working hard on and off the field and with Iowa, they take great pride in everything they do. Also, the community atmosphere is like no other. I love how close the football players are with fans and the community.
Q: Have you found out what number you will be wearing in college and what is your current height and weight?
EVANS: They told me I would be wearing #22 as of now. I am 6 feet, about 207 pounds.
The Gatorade Player of the Year in the state of Illinois, Evans committed to Iowa on May 21, 2017, choosing the Hawkeyes over scholarship offers from Illinois, Minnesota, Iowa State, Indiana, Syracuse, Western Michigan, and Northern Illinois, among others.
As a senior, Evans led Crystal Lake Prairie Ridge to their second straight undefeated state championship, finishing the season with 2,101 rushing yards and 37 touchdowns on the ground.
See highlights from Evans' senior year at Prairie Ridge in the video below.