Tuesdays With Torbee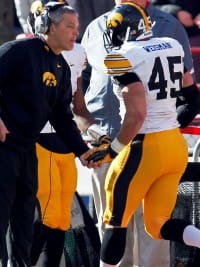 If post-Thanksgivings like this last one become the norm, we may have to start calling it Black and Gold Friday.
On the gridiron, basketball court and wrestling mat - victories kept piling up. If not for some insanely hot three-point shooting by Villanova (not to mention some questionable officiating and untimely free throw misses) in the Battle For Atlantis final, it was almost a perfect Iowa weekend.
And none of the venues were easy. A resurgent football team rolled into Lincoln and beat Nebraska for the first time in three decades. Both the men and women's basketball teams made championship games in far flung, exotic locations, with the ladies bringing home a championship and the men a runner's up trophy. In wrestling, the Hawkeye grapplers deflated Hilton Magic with relative ease.
What a difference a year makes.
It was a gloomy Thanksgiving on the sports front for Hawk fans last year. The basketball team had suffered back-to-back losses to Wichita State and Virginia Tech, raising doubts about the status of the Fran Turnaround. Football fans shivered through a wind-swept and uninspired 13-7 loss to the Cornhuskers, sinking the season record to a dismal 4-8. Kirk Ferentz's worst season since 2000 had even his ardent admirers wondering if the magic was gone and his critics ready to light the proverbial hot seat on fire.
In this space last year, I wrote that the 2013 football season would be critical for Kirk Ferentz's long-term legacy at Iowa. And while I expressed faith that he could engineer a third re-boot, I didn't see it being such a short, satisfying turnaround.
I would have been content with signs of progress. Heck, I predicted a .500 record, with a long-shot at 7-5 if things broke the right way. Instead, the trophy case holds three out of four rivalry trophies, and no team that beat Iowa last year was able to do so again this year. That's more than progress - that's a renaissance.
It's hard to look at next season's football schedule and not be salivating at the thought of a double-digit win season and being back in the national conversation.
Ohio State, Michigan State, Michigan and Penn State don't appear anywhere on the schedule, and in-division rivals Wisconsin and Nebraska have to come to Kinnick. The two "hardest" games - on paper - might be at Pittsburgh and at Minnesota. Hardly a murderer's row.
Now the question is can Iowa live up to expectations? The fan base will be expecting a lot coming off a surprise 8-4 season and a soft schedule. I'd be surprised if the media doesn't follow suit in the expectations game. We've seen more than a few seasons where Iowa surprises when no one expects much, but have they ever really performed up to pre-season accolades when they have them?
That would be a nice feature of Ferentz 3.0!
Meantime, on the basketball court, I think many thought Iowa would be 7-1 at this point. Most probably thought that lone loss would be to the Kansas Jayhawks, though.
Tough games loom in the non-conference against Notre Dame and a deserving Top 10 Iowa State squad. I think a split of those two games would be satisfactory, with a sweep surprisingly sweet.
While the loss to Villanova exposed some weaknesses, I was a bit surprised at the level of virtual hand-wringing on Hawkeye Report about what it means. Remember, folks, basketball is a marathon and not a sprint and November losses - while frustrating - aren't nearly as important as what you learn from them heading into conference play.
It's clear that this Iowa team has the tools to be a factor in the conference and on the national scene come March. Relax and enjoy the ride!
Now that the Hawkeyes have delivered a great Thanksgiving weekend of sports awesomeness, let's hope our Christmas gift is a New Year's Day bowl victory and a surging round ball team tearing through the Big Ten.
Follow me on Twitter @ToryBrecht and follow the 12 Saturdays Podcast @12Saturdays