Tuesdays With Torbee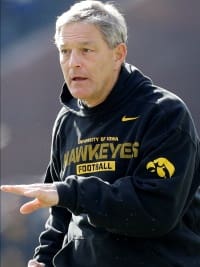 My wife made an interesting comment to me Sunday morning, a couple hours after my good friend and old college roommate headed back to Indianapolis after our annual Iowa football reunion weekend.
"You guys must not have been too upset about the game yesterday, you hardly talked about it all," she said.
Truth be told, we were plenty upset with how things unfolded at the Iowa-Wisconsin game in the moment. Watching an inept offense ruin one of the best defensive efforts by a Hawkeye team in years was certainly maddening. As was seeing Badger players put three separate balls on the turf, only to have them miraculously bounce back into their meaty, cheese-fed hands each time.
There was some cursing. There were some long faces and subdued sighs while eating wings at The Vine (at least until the post-game beers kicked in).
I don't know whether it's my advanced age (my wife will tell you it certainly is NOT growing maturity) or becoming numb to what have been an alarming number of Kinnick Stadium disappointments since 2010, but I am finding the length of time I'm upset by Iowa losses has shrunk from several days to about three hours after the final gun.
I think this is a good thing. But then I remember how being very upset turned into marginally upset to not caring at all about Iowa basketball losses during the Lickliter era. Fortunately, I don't think we're going to have a re-occurrence of that phenomena, however.
An intriguing question was posed on one of the Hawkeye Report message boards after Saturday's loss: If Iowa finishes with a 6-6 record, can this season be considered a success?
No one likes to see their favorite team lose. And fans of a football program that invests millions and millions into facilities, coaching, recruiting and all the other expenses of "big time" football can and should expect their team to finish above .500.
That said, I don't think you can look at that projected 6-6 record in a vacuum when determining its value as a success or a disappointment.
Turning around a foundering football program is a Herculean task. Now, we could spend a lot of time debating whether a program like Iowa should have ever found itself foundering in the first place, but that would be a waste of energy at this point.
The issues that sunk Iowa to 4-8 against a pretty easy schedule last year were literally years in the making. Some heavy attrition through injuries and transfers. A couple sub-par recruiting classes. Staff turnover.
The effort to undo those issues and get the program back in the right direction will also take several seasons, whether we as fans feel we deserve it or not. It's a simple numbers game. Unlike basketball, two or three instant impact kids or recruiting classes cannot make an instant impact. That's the bad news.
The good news is, Iowa already has a better record against a tougher schedule through nine games so far this season, with three more opportunities to tack on more wins. This is progress, by definition.
Now, do you call making progress "success"? I guess that depends on your personal evaluation.
I came into 2013 hoping and expecting Iowa to start turning things around and not look physically overmatched in games against Big Ten foes.
I think they've accomplished that for the most part. While the final score of the Wisconsin game looked lopsided, Iowa competed hard and did not look physically outclassed. There remain a lot of vexing issues on the offensive side of the ball that simply have to get better. However, a couple weeks ago we saw the offense play fairly well against a pretty stout OSU defense, while the defense couldn't manage to force a single punt. Even against Michigan State's vaunted and nationally ranked defense, the Iowa offense managed a couple touchdowns.
What is killing Iowa in these conference games against good opponents is the inability to get the offense and defense both playing well during the same game. We know each phase has the potential, but we've yet to see them do it in tandem. That's very frustrating, but not as bad as Iowa being completely uncompetitive in all phases as they were during several games last year (Penn State and Michigan in particular).
I predicted 6-6 pre-season and I honestly think Iowa will scramble to 7-5 before the season is all said and done.
To me, transitioning from a losing season where the team looked out-matched and non-competitive for pretty much the entire months of October and November into a program that is at least competitive and finishes .500 or better is a success, albeit not a resounding one.
Follow me on Twitter @ToryBrecht and follow the 12 Saturdays podcast @12Saturdays.