Tuesdays With Torbee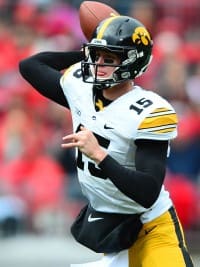 You can't win. You know that, don't you? It doesn't matter if you whip us, you'll still be where you were before, at the bottom. And we'll still be the lucky ones at the top with all the breaks. It doesn't matter. Greasers will still be Greasers and Socs will still be Socs. --The Outsiders
Like many angst-ridden, disaffected youths of the 1980s, I immediately fell in love with the S.E. Hinton novel The Outsiders from page one. The classic story of the hard-scrabble, disadvantaged greasers dusting themselves off and continuing to fight no matter how often they were beat down by their richer, better looking, alleged "betters" resonated with me far too much given my comfortable middle class background.
It is through this admittedly warped lens I have always viewed the Iowa/Ohio State football series. I think we all know who the Greasers and who the Socs are in this scenario.
You look at the series record, the national championships, the recruiting rankings, and you know the Hawkeyes are heading into a rumble outmatched and out-manned. But you watch anyway, knowing that every once in awhile, the scrappy good guys get one over on the privileged and arrogant antagonists.
For nearly an hour last Saturday, it looked like another one of those feel-good underdog stories might be in the offing. But since this is real life and not a novel or movie, the Buckeye's depth and talent overcame Iowa's grit. Well, that and a defense that couldn't manage to force a punt in an entire game of football.
Here's the thing, though. Iowa gave the hated Buckeyes as good or better a game than pre-season darlings Northwestern and Wisconsin. Like Hayden Fry, I don't relish moral victories. But I also know what my eyes tell me after several decades of watching football. And it's pretty much the same observation I've been making in this column all season: this is a much improved Iowa program.
I'm not naive, though. I recognize that there is a big talent disparity between the top teams in the Big 10 and the Hawkeyes right now. But the important thing is the bleeding from last year's disastrous season appears to have been stemmed. To use a (probably poor) medical metaphor, last season was a car wreck and we're seeing a team that is still working through some physical therapy, but is on the road to recovery.
This includes coaches and players. This past Saturday, the Hawkeyes had a solid strategic plan and executed it to the best of their ability. They played smash mouth football mixed in with the occasional flash of finesse. Think about this - Ohio State played a nearly flawless game of football with no turnovers, one major penalty, no special team miscues and zero punts - and only beat Iowa by 10.
There were several games last year where I felt like Iowa was completely outmatched physically by their opponent. I haven't felt that this year. Yes, the Hawkeyes are still lacking some big time playmakers. Yes, the defensive secondary is making mistakes and giving up some back-breaking plays. But they aren't getting pushed around anymore. To me, that's step one to getting back to the kind of football we've enjoyed for much of the Kirk Ferentz tenure.
Those Iowa teams that won 10-plus games and scored big time bowl victories didn't do it through being privileged or having a wealth of highly-regarded recruits. If you are waiting for the day that Iowa will be like an Ohio State or Alabama or USC - able to wrap up a top 10 recruiting class by just showing up and bringing in five-star high school All-Americans off the bench to replace injured players - you are going to be waiting in vain.
In the world of college football, Iowa is, has been and will always be Greasers. But who the hell would want to be a fan of the smarmy, entitled Socs anyway?
Follow me on Twitter @ToryBrecht and follow the 12Saturdays podcast @12Saturdays