Tuesdays With Torbee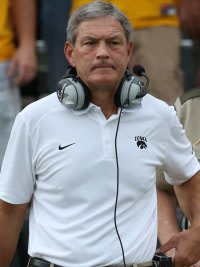 It's been another white knuckle start to an Iowa football season, and last Saturday's ugly-but-effective tussle with an outmatched Missouri State team did little to relieve the angst of Hawkeye fans.
Much like they did against Northern Illinois, the 2013 squad showed some flashes of competence - moving the ball up and down the field seemingly at will and proving to be a brick wall of defense for the entire first half. Alas, despite the good, there was also a lot of bad and ugly. In particular, drive-killing penalties, red zone incompetence, a missed field goal, a pick six and a suddenly Swiss cheese like secondary for a few minutes in the second half. Those issues - which plagued Iowa all last season - must have even the biggest optimists wondering if this team will ever learn how to stop stubbing its own toe.
One could argue that breaking an awful seven-game losing streak should be cause for celebration - regardless of how disjointed and ugly it looked - but I think Iowa fans were hoping to see a bigger beatdown of a clearly overmatched opponent.
Looking back at the game with a little less emotion, it is clear the outcome was never really in doubt. Yes, Iowa bumbled around a bit in the first half and looked half asleep. And yes, there was that two-minute or so period where Missouri State inexplicably climbed back into the game via a bad turnover and some bad defense. The way Iowa seized control back and drove right down to seal the game, however, assured me the team is at least starting to learn how to finish.
Now the question is: can they do that when it really matters and against a team of equal or close-to-equal ability? I'd say the jury is still out on that one.
I don't think it's hyperbolic to say this weekend's clash with Iowa State is a tipping point; absolutely for this particular season, but possibly for Kirk Ferentz legacy at Iowa. Losing three in a row to a hated in-state rival whose program, historically, has performed well below the level of Iowa is simply unacceptable.
Yes, this Hawkeye team is a bit short on experience. Yes, Jake Rudock will be making his first-ever road start. Yes, the game is in Ames and will be a hostile environment. Yes, Iowa State will play with the usual chip on its shoulder.
But now is the time for Iowa to do to Iowa State what Iowa State has done to it time after time: find a way to put its rocky start behind it and coalesce in the common purpose of putting the hurt on a rival.
I feel like there is a fair amount of disrespect for the Iowa program emanating from Ames this year. And one could argue - quite successfully - that Iowa has not EARNED respect. Now is the time to take it back.
If Iowa loses - for the third time in a row - to Iowa State, I think it's fair to say Coach Ferentz' seat will be hot. Sure, there's the buyout issue and all the years of goodwill built up, but a very large segment of the fan base will be in full-blown pitchfork, tar and feather mode if Iowa starts 1-2 against a slate of a MAC school, an FCS school and a Cyclone squad that was outplayed and handled by Northern Iowa.
And while I won't be wielding a metaphorical pitchfork myself, I can honestly say I understand why so many might. The Iowa football program has too much revenue, too fine of facilities, too loyal of a fan base and other genuine attributes to be a bottom feeder in the Big 10. Does a loss to Iowa State this Saturday guarantee bottom feeder status in the conference? Maybe not. But can you honestly see a silver lining if this game is dropped?
The eternal optimist in me fervently hopes that Iowa kept things basic and simple last week on purpose; the better to surprise Iowa State with some innovative new looks. It's not outside the realm of possibility, considering the game plan against Missouri State seemed much more vanilla than even the week prior against Northern Illinois.
Next week is a "prove it" week. Prove that the seeming upgrade in talent is real. Prove that we aren't headed for another lost season. Prove that the Hawkeyes have re-learned how to win.
Follow me on Twitter @ToryBrecht and follow the 12 Saturdays podcast @12Saturdays