Tuesdays with Torbee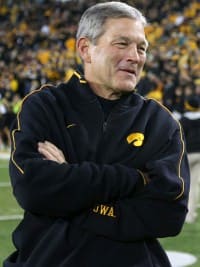 The systemic failure of the Iowa football team to be even remotely competitive against Penn State Saturday evoked an emotion in me I've never felt while watching a Hawkeye game: embarrassment.
The clown college performance on the Kinnick turf sparked other emotions as well: shock, frustration, irritation, disgust, bemusement. But all of those I expect from time-to-time while watching a Hawkeye team I'm in a one-sided, semi-dysfunctional relationship with.
Embarrassment is also an irrational reaction. I am not a player. I'm not on the coaching staff. Other than paying an absurd amount of money for season tickets (and an associated mandatory donation) I have no skin in the game.
And as I've said repeatedly in this space, hitching your emotional stability to the performance of college-aged athletes is psychological suicide.
In my defense, though, there were extenuating circumstances Saturday.
I served as an ambassador Saturday to a foreign-born friend who had never experienced the insanity of a college football game, let alone a frenzied night crowd in fabled Kinnick Stadium. My friend - who hails from South Africa and can educate you on the finer points of cricket, rugby, and the nocturnal danger posed by rhinos - had heard for more than a year about the intensity and sheer awesomeness of gameday in Iowa City from me.
Things started out great. We tailgated hard, with my friend marveling at the beer consumption prowess of Iowa fans. The weather was gorgeous. Back in Black blared. The swarm swarmed. Fireworks shot off.
Then the balloon deflated. No, the balloon blew up like the Hindenburg on steroids.
Here is where I'd normally list the litany of failure perpetuated by the woeful Hawkeye team. The fact every facet of the team - both lines, the special teams, the running backs, the receivers, the quarterback (oh my, the quarterback) - were atrocious would be a logical place to start.
But no, I don't have the energy to relive that waking nightmare. A pretty good team destroyed a pretty bad team. Period, the end.
What I want to talk about is the power of affinity. I felt legitimate shame as the Hawkeye team bumbled, fumbled and failed. I cringed and winced when the crowd lustily booed James Vandenberg, Kirk Ferentz and the whole wretched mess as the team jogged in for halftime.
At least twice, I apologized to my South African guest. Again, I don't know why. I'm not a player, I'm not a coach. But my passion for the Hawkeyes is strong enough that I felt a sense of failure and shame merely WATCHING the proceedings.
So here is the philosophical conundrum. Is this affinity good or bad?
We've established it's irrational, but it's also what fills the Iowa athletic department coffers. It's illogical, but it's what fills the stands and pays coach salaries and funds scholarships.
There's been a lot of debate about booing since Saturday's debacle ended. From a personal standpoint, I can't bring myself to boo players playing for free. That said, boos are better than apathy. Iowa fans saw how quickly not caring resulted in even worse performance with its basketball program before Fran McCaffery arrived.
Iowa football is not there yet. And Kirk Ferentz - he of the only undefeated Big 10 season in the modern era and the program's only BCS bowl win in more than 50 years - has much more leeway than a lot of coaches in similar positions. But the feel-good capital he has amassed is not inexhaustible.
If boos turn to empty seats and unanswered fundraising calls, the landscape can suddenly change.
After the Central Michigan meltdown, I said it was premature to call any single game a program turning point. And I am a firm believer in the old adage that teams are never as bad as they look in a horrible defeat or as good as they look in a dominating victory.
But the worst loss in Kinnick since 1999 - one that makes diehards apologize to the guests they bring to the game - suggests the malaise may be deeper than anyone wants to believe.
Everyone knew this year was a rebuilding year. However, it's not irrational for Iowa fans to bristle when it appears a razing rather than a rebuilding may be in order more than 12 years into a coach's tenure.
The future has looked bleak at several points in Kirk Ferentz' tenure at Iowa. Each time, he has stubbornly stuck to course and righted the ship. But right now, it sure feels like there's a lot more bailing than sailing.
Follow me on Twitter @ToryBrecht and follow the 12 Saturdays podcast on Twitter @12Saturdays