Tuesdays with Torbee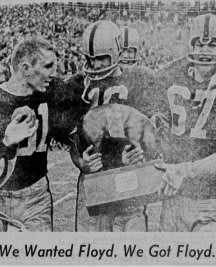 "A prize of war rested in the dressing room last night. Floyd of Rosedale, the bronze statue of a pig, came to Iowa for a year... and according to Captain Erwin Prasse, the pig will be polished and placed in a place of honor." - Daily Iowan, Nov. 19, 1939
Sometimes it takes a symbol to put things in perspective.
A much-missed sense of giddiness spread from an agitated Hawkeye sideline up through the stands filled with fans as the game clock wound toward zero Saturday. All eyes were on the pig.
Worries about the trajectory of the Iowa program and where it stands in the big picture of college football were shoved to the back of the mind, at least for an afternoon. Joy returned to Iowa City in the form of metallic pork, grasped by sweaty hands.
An empty trophy case is empty no longer, and that matters. Rivalry matters.
"With the Hawks' amazing upset of the Golden Gophers, Floyd of Rosedale, the traditional bronze pig given to the winner of the Minnesota-Iowa game each year, returned to Hawkeyeland. And were the players happy? Oh brother. They could hardly speak. --The Daily Iowan, Nov. 13, 1947
It's easy as fans to place too much emphasis on the big picture. And there are certainly many, many questions about how good this team, this season, can be. But Iowa and Minnesota have been battling for Floyd for more than 70 years. Regional rivalries steeped in geographic, cultural and historic animosity are at the heart of what makes college football so great.
The modern era of BCS positioning and shifting "mega" conferences has diluted that greatness, , but that passion still burbles under the surface. We saw that Saturday on a sun-drenched Kinnick field.
We heard it when the Hawkeye faithful kept up the I-O-W-A chant long after the flags were folded following their third touchdown and a television timeout. We heard it in one of the most rousing renditions of "In Heaven There is No Beer" belted out in years. We heard it in the excited voices of the Iowa players interviewed after the game.
"If there was only one game I could win all season, I would choose Iowa," --Minnesota Coach Murray Warmath, Nov. 9, 1957.
I'll probably be accused of overstating the importance of a single victory over a not particularly strong opponent. But it sure felt to me that the season - and certainly fan sentiment - was at a tipping point prior to kickoff. Had Iowa struggled and lost yet another trophy game to a long-time foe, the grumbling and groaning would have become booing and serious questioning.
While the immediate future remains uncertain, demons were exorcised and the play of many young players - especially on the offensive and defensive lines - bodes well going forward.
The task now is for the Hawkeye team to build on the momentum and move forward confidently. The Big 10 is not particularly daunting this year, and despite having two unexpected losses, there remains a lot to play for.
"A jubilant Fry said Iowa's victory over Minnesota was his biggest win. 'As of this point - and we still have one game remaining - this has got to be number one,' he said. "It's the greatest ever." - The Daily Iowan, Nov. 25, 1985.
Fry made the above quote during a Rose Bowl season, in a game that came AFTER the epic #1 versus #2 slugfest victory over a Michigan team that had Iowa's number for seemingly forever.
Rivalries matter. Trophies matter. Symbols matter.
"We wanted Floyd. We got Floyd." - The Daily Iowan, Nov. 17, 1963.
Follow me on Twitter @ToryBrecht and follow the 12 Saturdays podcast on Twitter @12Saturdays