Tuesdays with Torbee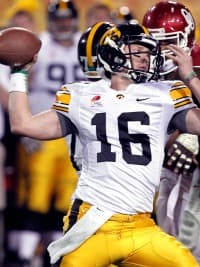 It was during the doggiest day of the dog days of this drought-plagued summer when this plaintive email arrived in my inbox from my long-time seatmate at Kinnick Stadium:
SUBJECT: Give Me 3 Reasons . . .
The body of the email read: . . . why this year's FB squad will be equal to (or better than) last year's. I can't think of a single one. I think we're in for a tough season. : (
Yes, a grown man (He's a man! He's 40!) had been reduced to a frowny emoticon in August, contemplating the upcoming Iowa Hawkeye season. Kind of hard to blame him after the steaming pile of mediocrity the Hawks gave fans for Christmas following last autumn's campaign, but still.
My seatmate, bless him, may not be cut out for the heartbreaking reality of being a college football fan. He's a whip-smart, analytical type, who doesn't do well operating on the heady fumes of false hope and mindless optimism. And I think that's why he subconsciously reaches out to me. Every summer, I'm a believer. Sure, some summers I believe more than others, but it's hard for me to predict doom and gloom before a single hike has happened.
So I hunched over the keyboard and pounded out my three reasons. And a couple weeks later, on the eve of what I think is the biggest mystery season in Kirk Ferentz' tenure, I still feel pretty good about my responses. Herewith:
• Easier schedule. The two real kicks in the groin for fans last year were the Minnesota and Iowa State games. Win those two (which were eminently winnable), the Hawkeyes finish 9-3 and the prospects of living through a rebuilding year don't seem so bad. But both those games were road games against fierce rivals. Now, that's not an excuse for losing - Iowa really gave those games away with terrible pay. However, it's a fact that Iowa State and Minnesota are much less likely to pull off upsets in Kinnick. Again, not impossible. But quite improbable and both squads needed near-miracles to accomplish the feat at home last season. Beyond the two Michigan schools and Nebraska, it's hard to see anything resembling "sure losses" with this slate.
• Senior quarterback. If you go back through the history of the Big 10, teams with a veteran, senior quarterback tend to perform extremely well and often carry their teams. James Vandenberg had 25 touchdowns against only seven interceptions last year, with over 3,000 yards passing. Those are well above-average stats for anyone, let alone a junior in his first year of starting. If he makes the strides typical of a senior at his position (particularly raising the level of his play on the road, which experience always helps) he very well may be the Big 10's best quarterback. I'll take my chances in any game if I have the league's best QB.
• New coordinators. Change alone means the offense and defense will be less predictable. I fully expect growing pains, particularly with the mix of new coaches and inexperienced players. But as a fan, I will gladly trade that for what, let's be honest, had gotten to be a pretty stale, predictable and often maddening sameness in play calling and strategies. It was frustrating reading opposing player quotes the past couple seasons stating they knew exactly what to expect from the Hawkeyes. I don't think we'll be reading that much this year, for better and for worse.
Item number one, the schedule, is why I think Iowa will have at least as good of a record as last year. That said, I think the actual talent on the field this season will be a notch below even 2011. But buoyed by a senior quarterback and some new coaching enthusiasm and ideas, I think anything below 7-5 would be big-time disappointing. I don't think the EXPERIENCED talent on this year's squad is as good as last season, and I'm terrified about the defensive line and running game, but I think the young talent is the best it's looked in a long time.
Now if they can cut down on attrition, get some good reps this year, this could be the first step on a very exciting journey over the next few years.
Follow me on Twitter @ToryBrecht
ADDITIONAL PROGRAMMING NOTE: The aforementioned seatmate referenced in this column and I will be debuting a new weekly podcast called The 12 Saturdays Podcast. It will be a fans-eye view of Iowa Football through what should be a roller-coaster season. You can follow us on Twitter @12Saturdays.