Tuesdays with Torbee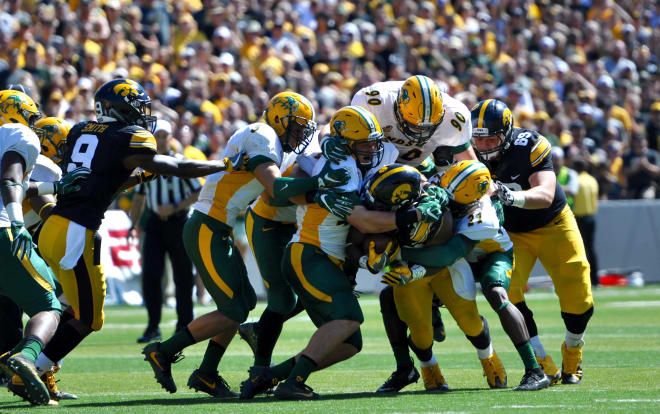 Bigger, faster, stronger can be undone quite quickly if the fourth adjective is sloppier.
That's the big takeaway lesson from last Saturday's demoralizing loss to the North Dakota State Bison.
Now, before I get into a fairly lengthy complaint session on Iowa's football failings from over the weekend, I want to first acknowledge the impressiveness of NDSU. Sure, we all said they'd be the best non-conference opponent Iowa faced, but I don't think many realized just how ingrained the winning culture is over there and how that would translate into their ability to not only compete with, but defeat, a Top 20 type FBS program. Simply put, the Bison are the real deal, their kids know how to play smart and aggressively, their coaching staff pushes the right buttons and their player development is probably – pound-for-pound – even better than Iowa's.
All that said, Iowa had no business losing Saturday.
A multi-million dollar coaching staff, with multi-million dollar brand new facilities, 30 more scholarships, and a boatload of higher-rated athletes from all corners of the country should never be in a position to fall to a small school with a bunch of one and two star recruits from three cold and snowy small states. NDSU's roster is almost exclusively made up of North Dakotans, Wisconsinites and Minnesotans, which would be a recipe for a world-class walleye fishing, hockey or lumberjacking program, but shouldn't be a football juggernaut.
For much of the first three quarters, Iowa did look to be the bigger, faster, stronger team. Although the running game never got much traction, likely due in part to two starting offensive linemen being out, there was time to pass, receivers were open and Iowa pretty much stymied the NDSU offense.
But the mistakes. Oh, the mistakes. The pick six, multiple dropped passes by wide open receivers, egregious penalties (especially the one that negated what would have set Iowa up with first-and goal and the chance at a two touchdown lead early in the third quarter) all conspired to do the absolutely, positively worst thing you can do when playing an inspired but out-manned opponent: keep them in the game and give them hope.
Honestly, this was the most disappointing aspect of a day full of disappointments for me. Everyone, and I mean EVERYONE, knows that the clichéd recipe for an upset is to turn the ball over, make a bunch of mistakes and let your underdog opponent hang around long enough to steal away a win at the end. And Iowa pretty much followed that script to a T. At times, it almost felt like Iowa was willingly playing the antagonist in another team's Hollywood scripted story.
My second biggest disappointment? The return of turtling, defensive, conservative Kirk Ferentz. Last week, with a big lead on Iowa State, Iowa kept chucking the ball long and keeping the foot on the gas to pour on points. And I know Coach Ferentz would say that every offensive drive has the goal of scoring points, but it sure felt like much of the play calling in the second half was made with the intent of burning the clock and escaping with a win. Nowhere was this horrible strategy more glaringly obvious than Iowa's last offensive possession.
I actually told my seatmate that it would have been better if NDSU had converted on its two-point conversion. At least then, it would have forced Iowa's hand with three full minutes left to actually, you know, TRY TO SCORE.
Instead, in what was staggeringly easy to predict, Old Kirk re-surfaced and decided – despite the fact Iowa had not opened any holes on offense all day – to ram LeShun Daniels (he of less than 35 rushing yards in the game) – into the middle of the line twice, setting up an utterly predictable third-and long passing play and subsequent sack.
Hey ho, that's football!
Look, I get the mindset that a Big 10 team should be able to run and salt a game away with the lead late in the fourth against an FCS school. But here's what drives me crazy – you just have to win or lose the damn game on the arm of your senior captain, team leader and potential All Big 10 quarterback's arm!! People like to say Kirk Ferentz is a Bill Belichick disciple, but I guarantee you that Belichick is going to let Tom Brady win or lose a game like that throwing. I can't speak for anyone but myself, but had Iowa gone down on a CJ interception or incompletion, I could have stomached it far, far better than the debacle that actually occurred.
So Saturday sucked and Iowa is clearly not a final four playoff caliber team. Is there still anything to play for?
Heck yes!
The Big 10 West remains ripe for the picking. Wisconsin struggled with a school I'd never even heard of, having to come from behind in the fourth quarter to beat Georgia Southern or Georgia State or something like that. Illinois got boat-raced (ha, get it, a rowing reference?) by Western Michigan. Northwestern managed to crawl to 1-2 by beating another team full of STEM nerds. I don't think Minnesota played (someone can fact check me on that, if they did play, it wasn't a game anyone bothered to talk about) and only Nebraska managed to notch a good win, holding off Oregon despite playing no defense. The 'huskers are clearly the team-to-beat right now in the West, but Iowa gets them at home in the last game of the season, and hopefully the Hawkeyes can improve on their lines by then and have a good shot.
On the plus side, I guess, we don't have to fight with national media pundits about getting the respect we think we so richly deserve. The Mighty Bison burst that bubble, and Iowa certainly deserved the loss.
My question is, will anyone, anywhere in FBS ever schedule those guys again? I sure as heck know I wouldn't.
Follow me on Twitter @ToryBrecht and @12Saturdays.