{{ timeAgo('2023-01-25 14:39:50 -0600') }}
football
Edit
University of Iowa Opens FLIGHT, an NIL Marketplace
On Wednesday, the University of Iowa announced FLIGHT, a marketplace to help its student-athletes capitalize on their name, image and likeness (NIL) rights with advertisers.
The marketplace, which is sponsored by NIL tech company Opendorse, connects fans and advertisers to the athletes by creating a profile page for each student-athlete, who can customize their profiles accordingly.
"With the addition of the Iowa Hawkeye NIL Marketplace, all our student-athletes have the option to explore NIL partnerships and benefit from those relationships," said Iowa athletic director Gary Barta in a news release. "Whether it is the Iowa Hawkeye NIL Marketplace or the Swarm Collective, I encourage our contributors to explore opportunities that support our student-athletes NIL endeavors."
HOW IT WORKS
The platform helps connect potential advertisers with University of Iowa student-athletes, including former Hawkeyes who have profiles on the site. Functionally, it resembles Cameo, the longtime video platform where users can commission short videos from celebrities.
Whereas Cameo limits its products to personalized videos, FLIGHT (along with other Opendorse platforms) also offers rates for in-person appearances, autographs, social media mentions or custom pitches.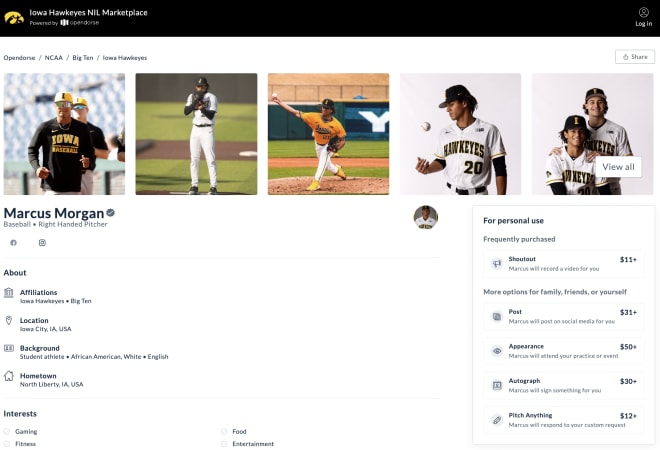 The platform helps facilitate these bookings by allowing users to purchase these NIL deals directly through the site, to be paid to the student-athlete upon completion of the request. FLIGHT and Opendorse also help the student-athletes manage requests, income and even tax considerations.
The new platform is the latest development in the rapidly growing world of NIL money being made available to athletes, and it also allows individual fans and smaller entities a direct avenue to conduct transactions with current and former Hawkeyes in a way that protects and benefits both parties.
The University of Iowa's NIL policy reads as follows:
"The University of Iowa Athletics Department understands the new dynamic of the student-athlete experience as legislation allowing student-athletes the ability to monetize their name, image and likeness (NIL) becomes a reality. In so doing, the UI Athletics Department confirms its role in educating our current student-athletes on the NCAA rules and regulations surrounding permissible use of their NIL. The purpose of the University of Iowa Athletics Name, Image, Likeness Policy is to ensure student- athletes are aware of NCAA rules and regulations, as well as Big Ten, state and federal regulations regarding NIL to protect their athletics eligibility."