Hawkeye Report Pick Six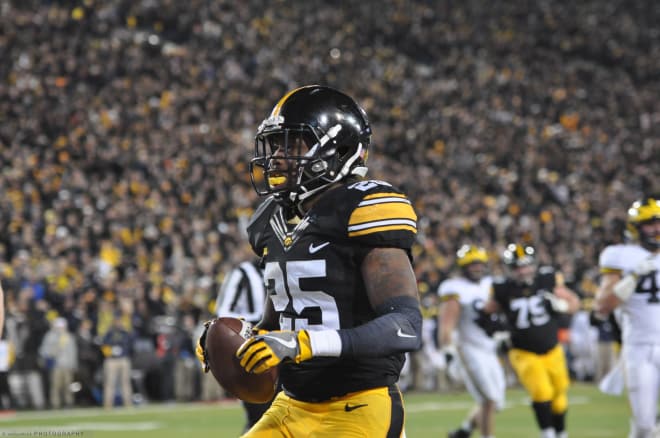 The college football season got started on Thursday night and the first weekend has some great games between some of the top programs in the country.
This year we have decided to have a little fun. Instead of our usual cast of characters just picking the Iowa game, we are going to expand it a bit and see who picks the most games right this season.
The games we will be picking this week are:
Florida State vs Alabama
Michigan vs. Florida

W. Virginia vs. Virginia Tech
Texas A&M vs. UCLA

Tennessee vs. Georgia Tech
Wyoming vs. Iowa
Our group of "experts" remains the same this year and from time to time we may throw in a few celebrity guest pickers along the way.
Mike Zierath
Roll Tide
Get'em Gators
Va Tech
UCLA
Rambling Wreck, Go Tech
Iowa wins a closely contested ball game through the first half, 35-14. Iowa's depth along both fronts wears down the Cowboys. My pick to click this week is TJ Hockenson, who I think will get loose more than a couple times!
Tom Kakert
Bama rolls over FSU
Is there anyone left to play for Florida? Give me the Harbaugh's
Virginia Tech
Chosen Rosen and UCLA
Georgia Tech
Iowa wins this one 34-17 and Akrum Wadley gets a pair of scores and goes for 150 on the ground.
Blair Sanderson
Alabama
Michigan
Virginia Tech
UCLA
Tennessee
Iowa 28, Wyoming 20. PTC is Anthony Nelson.
RDietz
Bama
Michigan
VA Tech
TAMU
Tenn
Iowa takes time to kick things in gear and eventually pulls away for a 37-17 win. PTC is Wadley with 2 TDs and 150 yards on the ground.
Torbee
Florida State shocks Alabama
Florida rolls Michigan
Virginia Tech nips W. Virginia
UCLA gets a home win over A&M
Tennessee rolls over Georgia Tech
Like I wrote in my Tuesday column, I am legit worried about how good Josh Allen is. That said, I still think Iowa is way too salty on both lines to let this one slip away like NDSU last year. I think Allen will have some success and elicit some oohs and ahhs, but ultimately, Iowa will ground and pound their way to a 35-17 victory. My pick-to-click is James Butler, who I think is going to really, really, really like running behind a massive and talented offensive line.
Lyle Hammes
Alabama over Florida State

Michigan over Florida (suspensions bite the Gators)

Virginia Tech over West Virginia

UCLA over Texas A&M

Tennessee over Georgia Tech

A solid Iowa ground game helps Nate (don't call me Nathan) Stanley settle in after some early game jitters. James Butler shows his value in game one by shouldering his share of the yardage and getting into the end zone at least once. Iowa 34 - Wyoming 20
John Kerth
Alabama over Florida State
Michigan over Florida
Virginia Tech over West Virginia
Texas A&M over UCLA
Tennessee over Georgia Tech
Josh Allen will be a test for what is essentially a new-look secondary for Iowa. Even though he lost his top receivers from last season, I expect Allen to get his yards. However, despite all the talk of Wyoming training at high altitude, I think the Hawkeyes wear them down before closing out a 37-24 victory. Matt VandeBerg has a nice return to game action, picking up 80 yards and a TD through the air to go along with a big punt return.

Matt Randazzo
Bama
Michigan
VA Tech
UCLA
Tennessee
Iowa 34-21. Wadley is the pick to click.