Jacob Bostick commits to Iowa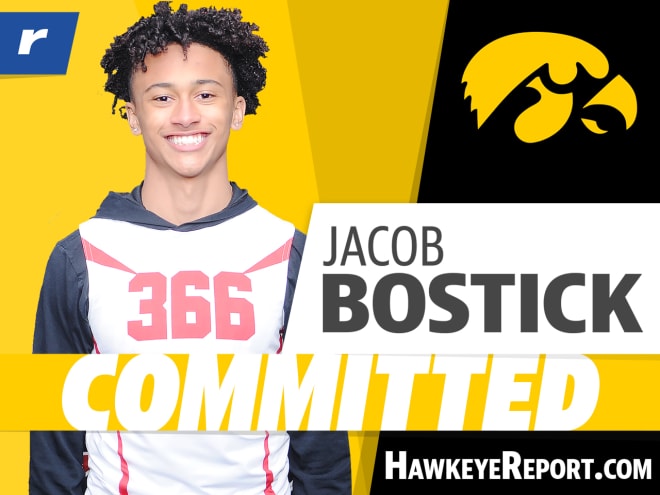 Wide receiver Jacob Bostick is going to be a Hawkeye. A few days after returning home from his official visit to Iowa, the 6-foot-2, 165-pound Illinois native officially announced his verbal commitment today.
"I committed to Iowa this past weekend," said Bostick. "I told Iowa I needed a couple days to call some people."
For Bostick, it was during his time in Iowa City that he found clarity and decided that was the place he wanted to call home for college.
"The day before we left the visit, I prayed that night," Bostick said. "That morning I got up early and went to my mom and dad. We had a conversation, they were happy with what I was thinking and we pulled it right then and there. I told the coaches that morning before we left."
A three-star prospect, Bostick chose Iowa over scholarship offers from Illinois, Louisville, Cincinnati, Pittsburgh, Kansas State, Air Force, Army, Navy, Bowling Green, Buffalo, Central Michigan, Eastern Michigan, Western Michigan, Kent State, Northern Illinois, Howard, South Dakota, Southern Illinois, Indiana State, and Illinois State.
"As far as Iowa goes, the recruiting process was phenomenal," said Bostick. "My family and I look for honesty, transparency and just consistency throughout the whole thing. We just wanted clear and concise communication. I definitely would say Iowa did a fantastic job on that."
Visiting Iowa City first for an unofficial visit and then returning for his official allowed Bostick to really build on his relationship with the Iowa coaches and players, which played a key role in his decision.
"When we came up for the official, I wanted to spend a lot of time with the players and build relationships with the coaches," Bostick said. "Shoutout to my guy Tyrone Tracy. He was my host and showed me a great time. Coach Copeland, Coach Brian Ferentz, Coach Ferentz and Coach Wallace as well, we had hour-long meetings with each of those guys on the visit."
"That stuff was the big stuff, and then it's Big Ten football," he said. "It was one of my dreams to go Division I since I was in fifth grade. The location is great. It's 3.5 hours from my home, so I know my family and my friends can still see me play. We know Iowa wins, so I couldn't be more happy to go to a team where the tradition is to win. Outside of that, I love the colors. I'm a big Pittsburgh Steelers fan, so when I got that black and yellow on, it was already set."
Overall, Bostick is commitment No. 7 for Iowa, joining Aaron Graves, Caden Crawford, Jack Dotzler, Jayden Montgomery, Kale Krogh, and Carson May in the Class of 2022 for the Hawkeyes. Now, his plan is to help get more recruits to join them.
"As soon as I commit, I plan to be the No. 1 recruiter and bring everyone else to Iowa with me," said Bostick. "All my buddies that came on the visit with me, I'm going to try to get them all – Aiden Laughery, my guy Christion Stokes, my man Brian Allen – I'm going to try and get all those guys."
As a junior, Bostick had 31 catches for 451 yards and nine touchdowns in six games for Palatine High School.
See highlights from Bostick's junior year in the video below.
Josh Helmholdt of Rivals.com contributed to this report.