Ezra Miller brings a lot to the table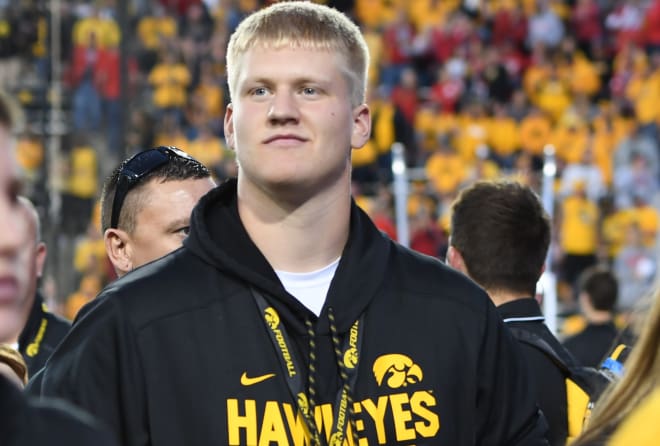 Ridge View offensive tackle Ezra Miller will be enrolling at Iowa for the second semester to get jump start his college career with the Hawkeyes. We caught up with his head football coach, Dale Tokheim, to talk to him about what Iowa is getting with this big man.
Q: What type of player has he been for you?
TOKHEIM: He has been the anchor on both the offensive and defensive line for the last two years. He is a leader during the season and out of season. He sets an example in the weight room for us along with fitness and conditioning in the off-season. He is also a vocal leader for us on the field who tries to motivate guys. In Class A football, we ran behind him a vast majority of the time.
Q: What are his main strengths at this point?
TOKHEIM: For his age, he has really good footwork and is very strong. I know they'll put him into the weight room, but he is a big, strong kid. He is quicker than what people think.
Q: What is he focused to get better at?
TOKHEIM: Some of his biggest strengths is that he is very intelligent and coachable, so he'll do whatever the Iowa coaches ask him to do. He has always worked on his footwork on his own. They gave him drills and told him these were some of the things he needed to work on. You would see him working on footwork on his own. I think he'll continue to listen to what they tell him to do and work hard at it. He is a very hard worker.
Q: When did the discussions start about him enrolling at Iowa early?
TOKHEIM: He has always been at least a three-sport athlete, so I am sure he and his folks talked about it with some of the coaches on their staff. He really felt it would give him an opportunity to learn the system and get in their workouts and drills. It would also give him an opportunity to see if he could compete for the two-deep roster. He talked about it I would say since last spring during track season. He talked to his counselors and needed to make sure he could get all his classes in. He took one class during the summer. We are in trimesters, so I think that helped him get things done early. He and his parents thought it all out. His dad is the principal at OA-BCIG, so they understand education. He is a very good student.
Q: How rare is it to see someone so mature at this age?
TOKHEIM: I think he is more mature than people realize. He is the youngest of three siblings and all of his brothers played college basketball. His dad is a principal, so he just grew up with an understanding of importance for education and working hard. I would say he is probably rare in that he has a 3.9 GPA and understand that there is more than just sports. Academics are very important to him. I taught him in junior high and he was very studious back then.
Q: When did you know he had a chance to be a special football player?
TOKHEIM: I have known him since he was in third grade. I have a son in his class. We all knew he had an opportunity to be someone who could play a college level sport. I would say in junior high. It wasn't really until he started going to all of those camps and competing with upperclassmen and holding his own as a freshman and sophomore that you knew this kid could go DI.
Q: Ezra mentioned that he was flagged for driving opponents beyond the play a few times during the season. Is this rule new and how was it handled?
TOKHEIM: It's not a new rule. If you are a long-ways away from the play, is it necessary? That is an interpretation from the refs, and to them, sometimes it would be unnecessary. He was finishing his blocks that were 20-30 yards away from the play. It was unfair because he never broke contact and never knocked the kid out of bounds. He doesn't know where the ball carrier is. It'd be different if he had broken contact and then re-initiated it. He could catch flack from other fans, coaches, and officials that felt it was unnecessary. He'd have a couple that were questionable. Sometimes we would think it was because he is 6-7, 315 pounds. He caught the eye of people more because of that.
Q: Did the rule come up during his junior year?
TOKHEIM: It did come up last year. He had over 100 pancake blocks in each of the last two years. Any time you are taking someone 20-30 yards away from the floor, the refs may feel it is unnecessary. They'll call it, especially when he is bigger than a lot of kids. I did see some other times from other teams when they would drive some of our kids 20-30 yards away from the play and it was never an issue. It did seem sometimes it was just because of his size that they might notice his blocks.
Q: How did the recruiting process go for him overall?
TOKHEIM: The first two years I wasn't involved with it because I only took over the job spring of his sophomore year. He had pretty much already narrowed it down to Iowa, Iowa State, and maybe one or two other schools. He had a lot of coaches calling and emailing us to setup visits to come to him. They all followed their rules and he had contact from schools all over the country. Ezra didn't enjoy all of that. He decided that he wanted to make a decision early. He told me that he really enjoyed Iowa. He loved the atmosphere and if you are an offensive lineman, the University of Iowa is a great place to go. He felt right there. He made the decision early to avoid having to hear from people all over. It was interesting because I would get a call or a text from a DI school out east or west. It was crazy that you have that at a Class A school, but Ezra deserved the attention.