Hawkeyes Add Football Recruit For 2004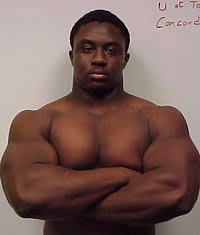 While most college football teams finished up their recruiting for 2004 in early February, the Iowa Hawkeyes have recently added a late signee to their class in Ettore Ewen from Tampa, Florida. The 6-foot and 280 pound defensive tackle is a state champion in wrestling as well as an outstanding student. After transferring to Tampa Wharton High School to play football his senior season, Ewen will be playing for the Hawkeyes this fall.
Q: When did you get the offer from Iowa?
EWEN: I received the offer on Wednesday, the 26th of May.
Q: Were you pretty surprised this late in the process?
EWEN: I was very surprised this late in the process. Most of the schools that were looking at me in January and February were 1AA and small Division 1 schools. Within the past month to month in a half I have received more interest. But, I was very surprised that a school the caliber of Iowa offered me.
Q: How did Iowa find you and were they in touch with you during the recruiting process?
EWEN: The first time I heard from anyone from the University of Iowa was when Coach Phil Parker was down recruiting juniors and that was in the beginning of May. He was in the weight room, where the coaches come to meet our high school coaches and he saw me working out. My coach introduced us and it went from there.
Q: Where were you headed before this happened?
EWEN: I was considering walking on at the University of Florida, where I had received an academic scholarship. That was my plan until Iowa stepped in.
Q: Being from Tampa and with Florida and Iowa involved, did you watch the Outback Bowl?
EWEN: I got an opportunity to see the game on TV and was very impressed by Iowa.
Q: What were your thoughts of Iowa at that point after watching them play?
EWEN: It was a school that I definitely thought highly of. The biggest problem was I just thought they would be out of my reach because I only played one year of high school football and that was my senior year. I never thought I would have the opportunity to play at a school like that. I was looking at trying to get into schools like Duke, Stanford, or small schools that were strong academically because I thought I had a better chance to get recruited by schools like that.
Q: How was your visit to Iowa?
EWEN: I went to Iowa and I was very impressed with the city. It left a very good impression on me. Everyone told me the biggest thing was the caliber of people and it was definitely true. The people that I met; the coaches, students, players were very friendly. I definitely enjoyed my visit and time in Iowa City.
Q: What position are you slated to play, defensive tackle?
EWEN: That is right, they have me slated to play defensive tackle. Not sure which side at this point.
Q: You only played one year of high school football? Why was that?
EWEN: I played four years of youth football a long time ago, but I went to a private school that did not offer high school football and then I transferred my senior year to a public school that did. Tampa Wharton is where I spent my senior year.
Q: Did you transfer so you could play football?
EWEN: I always really wanted to play football; it is something that I wanted to do. But, my parents really liked Tampa Prep because of academics. I went to Tampa Prep since my 6th grade year and I wrestled there. My junior year I won the state championship. Then I finally - due to finances and the desire to play football - I transferred to Wharton.
Q: Being a wrestler you were probably aware of Iowa in that regard as well?
EWEN: Definitely. I was very aware of Iowa's wrestling prowess. I did know some about some of the bigger named football players as well like Bob Sanders and Robert Gallery. I have always been a big college football fan, so I followed the Big Ten a little bit.
Q: Obviously you are very good student. What do you plan to study?
EWEN: Right now I am considering majoring in English and also pursuing course of study in Pre-Med. Hopefully one day I can be an orthopedic surgeon.
Q: Are you still kind of pinching yourself over getting the offer from a school like Iowa?
EWEN: I still am. It took me a little while and it was almost hard for me to believe that this opportunity would come along. I am definitely very thankful. I never thought I would get an opportunity at a school like Iowa or in the Big Ten.
Q: What is your GPA and what sort of test scores did you get?
EWEN: On my SAT's I got a 1350 and I finished with a weighted GPA of a 5.3, and un-weighted it was about a 3.6.
Q: What are your plans for the rest of the summer and when will you arrive on campus?
EWEN: I arrive on campus on July 11th, that is a Sunday and I start workouts on Monday. Right now I am training with one of the coaches at Wharton and trying to prepare myself for the 12th.
Q: What were your stats last year and any honors?
EWEN: Last year I made the Hillsborough County All Star team. As far as individual stats I had somewhere around 8 sacks and around 60 tackles. I played both ways and I started at left tackle in the All Star game.
Q: You sound like a high motor type of player. Is that a fair assessment?
EWEN: I think so. That it the way I want to play. I try to model myself after guys like John Randle, Bruce Smith, Chris Hovan, the guys who work very hard. I just try to go on the field, work very hard, and go full speed.
Q: Does your wrestling background help you on the football field?
EWEN: Most definitely, especially playing defensive tackle. You have to understand leverage, how to combat an opponent, and how to create space. I started wrestling because I could not play football and it was the most physical thing I could do. I think a lot of things that I used in wrestling have helped me in playing football.
Q: What are you current measurements? Is 6-foot and 280 accurate?
EWEN: Yes, that is accurate.
Q: What are you weight room numbers in terms of bench and your speed?
EWEN: On the bench, last time I tested it was 420. My 40, is hard to tell, but I did a hand timed 4.8. On the squat I was 610, and I have not done clean in a while.
For more information on Ettore Ewen and this breaking news, please pay a visit to the Hawkeye Lounge