In-state guard Nick Janowski has an 'amazing' visit to Wisconsin
The two schools Nick Janowski has been able to take unofficial visits to so far this fall hold a special place in his household.
Wisconsin, which hosted Janowski this past weekend, is the university his father graduated from. And earlier this fall, the in-state guard took a trip to his mother's alma mater, Marquette.
"I'm kind of in that I-94 rivalry because my mom went to school at Marquette and my dad went to Wisconsin," Janowski told BadgerBlitz.com. "Obviously I'm open to all options, but I always grew up watching Wisconsin more than Marquette. I really like both schools, though, and I loved the visits to each."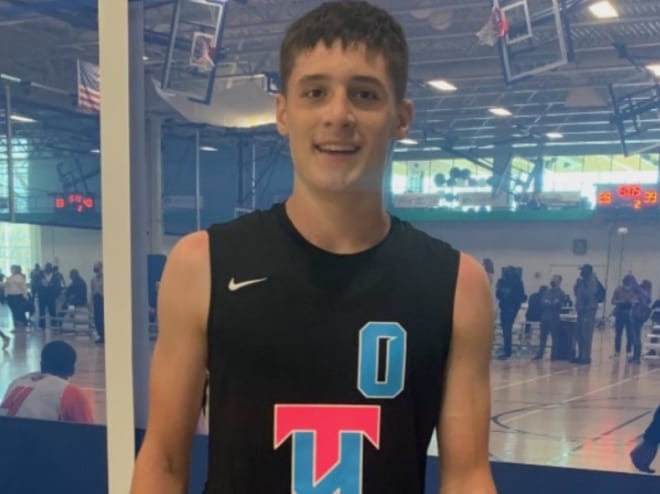 A 6-foot-4, 195-pound sophomore from Pewaukee High School, Janowski spent this past Saturday in Madison. He was able to attend a practice run by head coach Greg Gard before Wisconsin's night contest against Army at Camp Randall Stadium.
"It was an awesome visit," Janowski said. "Coach (Sharif) Chambliss and Coach Gard are the main ones recruiting me there. We started with a tour of the Kohl Center and then we listened to a Green Beret speech, which was amazing. He was one of the most motivating people I've ever heard in my life. After that we watched practice at the Kohl Center and then toured the whole campus. We went to the tailgating party for the alumni and went onto the field at the football game.
"The best part for me was watching practice and then getting on the field for the football game. I thought that was amazing."
So far in the 2024 class, the Badgers have sent out offers to Cooper Koch (Peoria, IL), JT Rock (Sioux Falls, SD), Daniel Freitag (Bloomington, MN), Kon Knueppel (Milwaukee, WI) and Jack Robison (Lakeville, MN). From that group, Knueppel and Janowski play together on the EYBL circuit with Phenom University.
"What Wisconsin has told me is that they want to get me back there for another visit," Janowski said. "Coach Chambliss and I were talking about coming to see me at an open gym again. Coach Chambliss was there last Tuesday, so I think him and Coach Gard will be back again before the season gets going.
"They watched me a bunch during the live period on the EYBL circuit and I think they were at almost every one of my games. So they've been saying that they love my game and that they'll continue to watch me. They love how I shoot, how I pass with confidence and my competitiveness, so we'll see what happens with an offer."
Heading into his sophomore season, Janowski, who recently debuted as the No. 27 player in the country, list scholarships from Georgia Tech, USC and Iowa State. Virginia, Iowa, Minnesota, Butler and Creighton, among others, are also showing interest.
"If you ask anyone who knows me, the first thing that they're going to say is that I'm confident," Janowski said. "So I always knew it was going to happen, but when you get those calls about the offers and stuff from big-time programs, you're just on cloud nine.
"I'm pretty sure I'll be getting out to Iowa State, and then I'm also in talks with both Iowa and Minnesota. Both schools came to our open gym and they said they want me to get on campus to see them. Nothing is official yet, but I'd like to see those schools if I'm able to. For the schools where I'll have to hop on a plane to get out there, I'll probably save those for official visits."
As a freshman, Janowski was a key part of Pewaukee's Division 2 state title team. With most of their core returning, including fellow Wisconsin target Milan Momcilovic, the Pirates have high expectations heading into the upcoming season.
"I think we definitely have a target on our back this season and there's already been a bunch of talking," Janowski said. "I'm a big fan of Michael Jordan and The Last Dance, and once the Detroit Pistons knew they couldn't get into the heads of the Chicago Bulls, it was over. And that's kind of what I have in my head going into this year.
"We've really just put our heads down and worked without listening to any of the outside noise. We know we can repeat and that's all that matters."