Northwestern 80, Iowa 60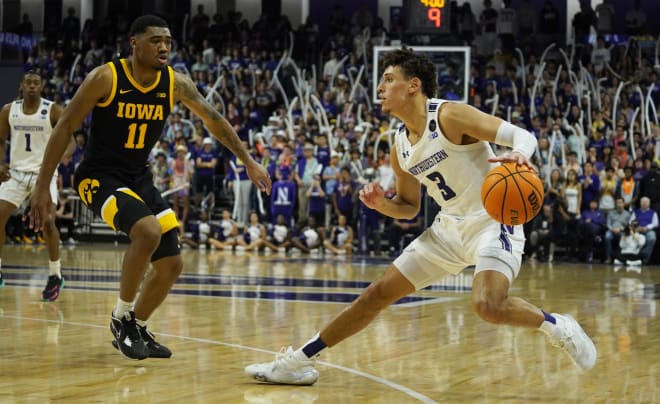 Iowa faced Northwestern in Evanston, IL on Sunday night with a chance to ascend to second place in the Big Ten standings with a victory. The Hawkeyes leave Northwestern with an ugly blowout loss and plenty of questions about their offensive performance away from Carver-Hawkeye Arena. Northwestern led from start to finish, blew the game open in the second half, and waltzed to an easy 80-60 victory.
RECAP
This game wasn't lost by Iowa in the first half -- but the Hawkeyes certainly dug themselves a very big hole in the first 20 minutes and left themselves a lot of work to do in the second half. Iowa looked flat and unenergetic, and struggled to get in sync on offense or defense in the early going. Northwestern jumped out to an 11-3 lead early on 3/4 shooting from 3-point range. Really, the main reason the game didn't get out of hand in the first half was because Northwestern's shooting cooled off a bit after that hot start -- the Wildcats shot 43% from the floor and 46% (6/13) from 3-point range.
They shot well enough to open up a 37-26 lead on Iowa at halftime, mainly because Iowa's shooting in the first half was absolutely dreadful. The Hawkeyes shot 31% from the floor and an improbably bad 12% (2/17) from behind the arc. Only a banked-in Ahron Ulis 3-pointer at the halftime buzzer kept Iowa from shooting 6% from deep for the half. Iowa was getting decent looks too, but nothing would fall.
With the 3s not falling, and Iowa also not able to get out in transition, the offense had few answers. The half-court offense lacked the flow and passing rhythm that we've seen in recent games. Obviously, Northwestern's defense deserves credit there as well -- the Wildcats were physical in the paint, closed out shots well, and got into the passing lanes. Five of Iowa's eight turnovers were Northwestern steals and the Wildcats scored 10 points off Iowa turnovers.
Still, an 11-point halftime deficit isn't insurmountable, so long as the Iowa offense could find a rhythm in the second half and the defense could get a few stops. As the final score suggests, that didn't really happen.
Iowa did start making a few more 2-point shots in the second half -- 13/18 (72%) inside the arc -- but the Hawkeyes never found their touch from range, going 1/7 on 3s after the break.
On defense, Iowa wasn't able to get enough stops to cut into Northwestern's lead; the Wildcats did a good job of matching Iowa bucket-for-bucket. Iowa never got the lead closer than seven points in the second half (47-40). And when they did cut the lead to 7, Northwestern immediately hit back with a wide-open three-pointer by Brooks Barnhizer to push the lead back to double digits.
Northwestern pushed the lead out to 16 points before Patrick McCaffery hit a 3-pointer to 59-46, though Northwestern got a Tydus Verhoeven dunk at the other end to restore a 15-point lead. That sequence was also where Fran McCaffery earned two technical fouls from head official Courtney Green -- one for leaving the designated coaching box and another for arguing about a call. McCaffery was upset that the officials had missed a 10-second violation by Northwestern on the Verhoeven dunk. Video replay proved that McCaffery was correct -- Northwestern didn't get the ball across mid-court in 10 seconds -- but that didn't undo the technical fouls.
Boo Buie made all four free throws and pushed Northwestern's lead to 19 points, effectively ending the game — even with over 7 minutes still to play.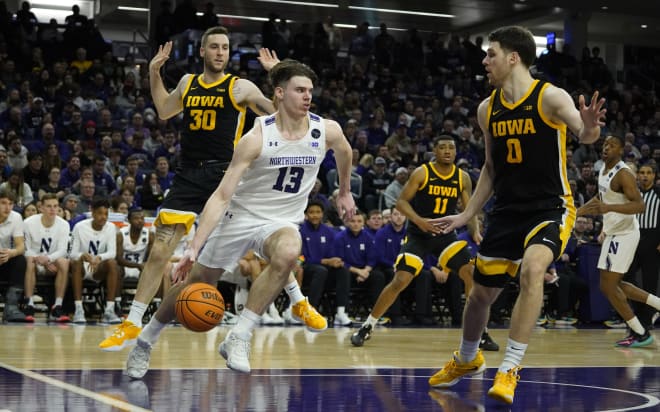 BOX SCORE
Kris Murray led Iowa with 14 points, albeit on 5/13 shooting (0/6 from deep), 5 rebounds, and 3 assists. Filip Rebraca had 10 points and 7 rebounds, though he also had 4 turnovers. Tony Perkins was the only other Iowa player in double figures with 11 points on 5/9 shooting, along with 5 rebounds, and 3 assists.
Bench scoring swung Northwestern's way in this game; Payton Sandfort outscored Northwestern's reserves by himself in the first Iowa-Northwestern game (20-19), but the Wildcats second unit outscored Iowa's backups 23-15. Sandfort had 9 points but was just 1/5 from 3-point range.
Iowa's guards actually played a bit better than they have in several road games this season -- Perkins, Ulis, and Sandfort all amanged to exceed their road game scoring average in Big Ten games, albeit only by a few points. But it was nowhere near enough to balance a brilliant game from Boo Buie (23 points, 8 assists, 4 rebounds) and or a worthy supporting effort from Ty Berry (16 points, 3 rebounds, 3 assists), especially with Murray and Rebraca being held under their season averages in this game.
THREE-POINT SHOOTING
If you wanted to look at just one stat to tell the story of this game, three-point shooting would probably do the job. Northwestern made 10/20 long range efforts, while Iowa went 3/24 from deep. That's a 21-point difference right there, in a game that Northwestern won by 20. To a certain extent, this was just the result of some outrageously bad luck. In Big Ten games, Northwestern ranks 11th in 3-point shooting and 7th in 3-point defense this season; they've been bad at making 3s and average at making opponents miss them.
That script was flipped in this game, but it's also in keeping with how Northwestern has played during its recent four-game (now five-game) winning streak. The Wildcats have now held four straight opponents to under 30% shooting from 3-point range.
The main concern from an Iowa standpoint about this 3-point shooting might be the lack of a Plan B on offense, especially in the first half, when Iowa just kept launching threes after hopeless threes. The Hawkeyes won't have many games this season when they shoot this badly from distance (hopefully). On one hand, most of the shots weren't actually bad looks; on the other hand, miss after miss turned into easy long rebounds for Northwestern and kept Iowa from developing any rhythm on offense. Of course, the Hawkeyes also struggled to get the ball into the post in the first half -- several of their 8 first half turnovers came from deflected or intercepted entry passes.
HOME VS AWAY
Iowa is 13-2 at home this season and now 4-8 away from Carver-Hawkeye Arena, including a 2-6 mark in Big Ten road games. At home, Iowa's offense has averaged over 89 ppg and shot better than 49% from the field. Entering this game Iowa was averaging just 69.9 ppg on the road and shooting 41% from the field. Today's game obviously isn't going to improve those numbers at all. If the Iowa offense can't find a way to generate offense and score more points away from the friendly confines of Carver-Hawkeye Arena, it's going to be very hard for Iowa to have success in March.
NEXT UP
Iowa stays on the road to play Wisconsin in Madison, WI on Wednesday, February 22 at 8 PM CT. BTN will televise the game. The Badgers are 15-11 overall this season and 7-9 in the Big Ten.