Tracy headed to Iowa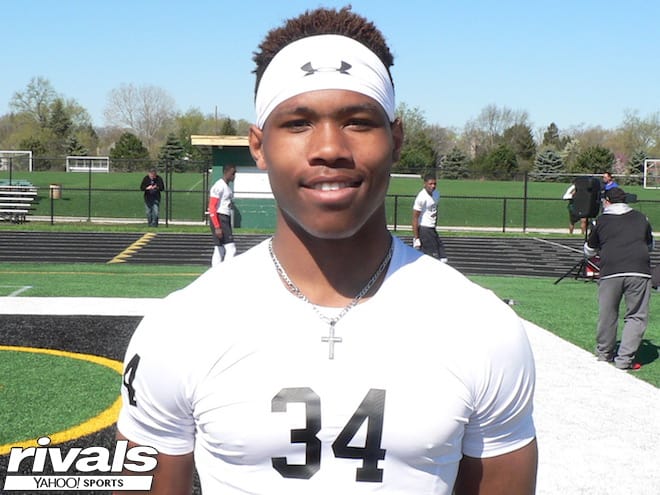 Versatile three-star prospect Tyrone Tracy Jr. has made his college decision. Tonight, the 6-foot-0, 187-pound Indianapolis native announced his verbal commitment to the Hawkeyes after building a close relationship with the Iowa coaching staff since last fall.
"I picked Iowa because of the coaches and how they act," said Tracy. "They are not fake coaches. By fake, I mean they don't act one way with family there and another when the parents are gone. They act the same 24/7."
"Also, I want to start and I have the opportunity to start there," Tracy continued.
Listed as an all-purpose back, Tracy actually projects at slot receiver for the Hawkeyes, which he feels will be a good fit as will his character in the Hawkeye football program.
"They see me fitting not only in the offense, but in Iowa City in general," Tracy said. "They don't look at recruits just because they are good. You have to have good character and be humble and everyone on the team is exactly that."
"But they see me as a wideout and slot, so I can run routes and I can run jet motion."
Tracy chose the Hawkeyes over scholarship offers from Louisville, Northwestern, Illinois, Cincinnati, Boston College, Western Michigan, Ball State, Bowling Green, Navy, Miami of Ohio, Central Michigan, and Indiana State.
"I'm just excited and relieved," said Tracy. "I wanted to get the stress off of me, so I can go into the season with my mind clear with no distractions."
The Indianapolis native is the fourth commitment for the Iowa coaching staff in the Class of 2018, joining Jeff Jenkins, Dillon Doyle, and Henry Geil.

This past season, as a junior, Tracy finished with 651 yards receiving, 296 yards rushing, and scored 13 touchdowns for Decatur Central High School.
See highlights from Tracy's junior year in the video below.