Zach Ortwerth a great fit for Iowa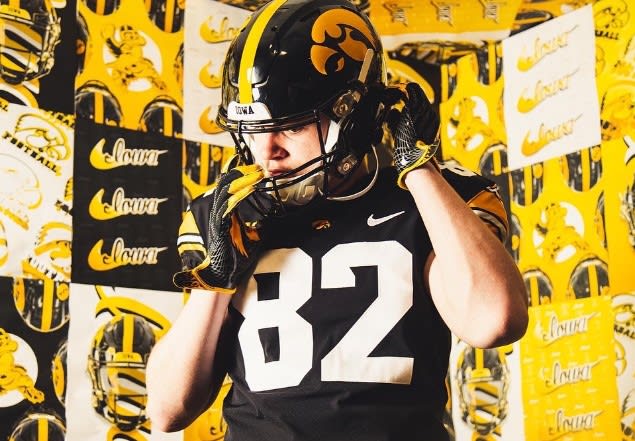 A tough, physical tight end with athleticism, Zach Ortwerth seems like a great fit for the Iowa Hawkeyes. After the 6-foot-5, 225-pound Ortwerth announced his commitment to Iowa this week, we caught up with St. Louis University High School coach Adam Cruz to learn more about the future Hawkeye, what led to his college decision, and much more.
Q: First, could you please tell us a little more about Zach and the type of player and person the Hawkeyes are getting with him?
CRUZ: Zach is a very tough, physical athlete. Whether on the football field or on the basketball court, he is a very hard-nosed player who goes full throttle all of the time. He is also super athletic for his frame and he moves incredibly well. As a person, he is a great, quiet leader. He was unanimously voted captain by his teammates and leads by example.
Q: In your role, what was Iowa like to deal with during the recruiting process and what do you think led things in their direction during his recruitment?
CRUZ: Iowa did a great job. Coach Woods did a great job of building a relationship between Zach and his family and the school, Coach Hodge made him feel comfortable in his development, and Coach Ferentz just made Zach feel like they were a great fit school, culture, and football wise.
Q: Zach is kind of rare anymore in that he's a tight end prospect that actually blocks in high school. Is that a role he seems to relish already?
CRUZ: Oh yes. He is a mean, physical blocker. He loves all things football.
Q: You mentioned his athleticism before. Could you please tell us more about his skill set on the field and athletic ability and size?
CRUZ: Zach plays every single snap for us except kickoff. He plays tight end all across the formation whether that's split out wide, in the backfield, or in-line. He starts at outside linebacker and plays on punt team, on kickoff return, and punt return. He has the capabilities to do all things football and gets to display it every Friday night. I always told recruiters that Zach is most impressive not on highlights, but watching play 1-170 because you get to see all the things he can do - block, catch, rush the passer, cover, and tackle.
Q: What are you expectations for Zach in his senior year at SLUH?
CRUZ: This will only be Zach's third full football season ever and his second on the varsity level, so I think he'll take a big leap. We're graduating Christopher Brooks, a Wisconsin signee, so there will be more options in the passing game and with our defensive graduations, we will need his leadership on that side of the ball as well as our defensive signal caller. As a leader and as captain, we have high expectations for Zach to lead our young team.
Q: Was his focus mostly on basketball before it turned to football?
CRUZ: Yeah, he grew up a basketball player. His first season of football was his freshman year of high school. He will be a four-year starter on our varsity basketball team.
Q: Did some of those basketball skills carry over to the football field?
CRUZ: Definitely - vertical leap, athleticism, footwork, all of it.
A three-star prospect, Ortwerth chose Iowa over scholarship offers from Wisconsin, Minnesota, Pittsburgh, Nebraska, Indiana, Illinois, Purdue, Louisville, West Virginia, Memphis, Connecticut, and Eastern Michigan.
As a junior, Ortwerth finished the season with 20 catches for 299 yards and five touchdowns for St. Louis University High School.
See highlights from Ortwerth's junior year in the video below.