Big Ten WBB Breakdown: Halfway Home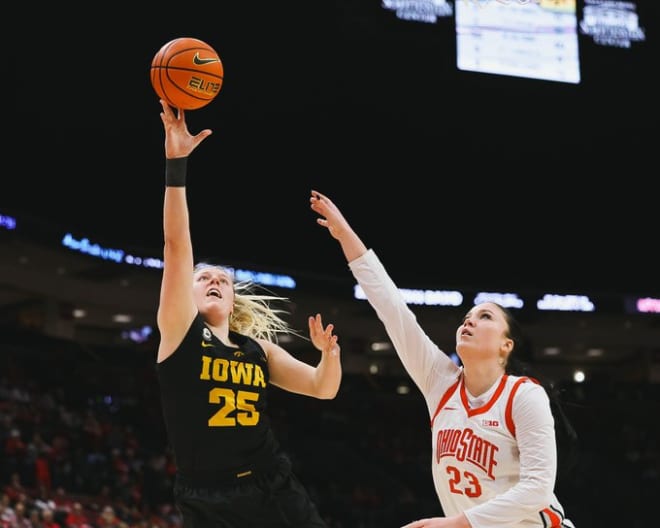 In my last Big Ten breakdown, just under three weeks ago, there were 7 teams that seemed to have some chance of winning a conference title. Ohio State and Indiana looked like the conference favorites. Iowa, Maryland, and Michigan were in that next tier of teams that still could win but seemed to have notable flaws. Illinois and Nebraska were in a third tier worth monitoring, but with the lowest chance of actually winning the title.
All things considered, that assessment held up pretty well. Six of those seven teams area still somewhat in the conference title race as we hit the halfway mark in the season. The lone exception is Nebraska; injuries and a tough schedule to begin conference play have plagued the Huskers and they sit just 4-5 in the Big Ten. They still have enough talent to challenge the other six top teams, but their chances of winning the conference at this point are so remote that I won't analyze them further.
Let's take a look at the other six teams:
#2 Ohio State—19-1 overall, 8-1 Big Ten
Games Left Against Top 6 (5): at Indiana; at Maryland; vs. Indiana; at Michigan; vs. Maryland
Ohio State is really missing Jacy Sheldon. Iowa's triangle-and-two was so effective against the Buckeyes because they only had two shooters of note in Taylor Mikesell and Rebeka Mikulasikova. Cotie McMahon and Taylor Thierry played well in the Iowa game, but just didn't have enough offense without their top two scorers contributing.
When Sheldon returns, she'll add a third good shooter to the mix, and Ohio State will be much more dangerous. Until then, I think you'll see teams experiment with the triangle-and-two more against the Buckeyes. They never really solved it in three quarters against Iowa.
Ohio State's remaining schedule is also fairly difficult with three big road trips remaining. If Sheldon comes back soon, they'll still compete for the Big Ten title, but if she's out for a couple weeks, I'm not sure Ohio State has enough to win it.
#6 Indiana—18-1 overall, 8-1 Big Ten
Games Left Against Top 6 (5): vs. Ohio State; vs. Iowa; at Ohio State; vs. Michigan; at Iowa
Grace Berger is back, and the timing couldn't be better for Indiana with the big matchup against Ohio State on Thursday. With Berger, the Hoosiers are an incredibly well-balanced team. Berger is a veteran scorer who is also one of the team's primary ball-handlers. The team has plenty of shooting with Sara Scalia, Sydney Parrish, and Yarden Garzon. And post Mackenzie Holmes would probably be conference player of the year if Caitlin Clark wasn't around.
Indiana's remaining schedule is difficult, but manageable. Three of the Hoosiers' five remaining big games are at home, and the trip to Ohio State doesn't look quite as daunting as it did to begin the week. I'd make Indiana a co-favorite with Iowa to win the conference at this point, and can certainly understand people that would make them the outright favorite.
#10 Iowa—16-4 overall, 8-1 Big Ten
Games Left Against Top 6 (4): vs. Maryland; at Indiana; at Maryland; vs. Indiana
In my last update, I thought Iowa had the toughest remaining schedule of all the top teams with four big road games against the conference's best. So far Iowa is 2-0 in those games with wins at Michigan and at Ohio State. Now Iowa's remaining schedule is arguably the easiest of all the top teams. It does have road trips to Maryland and Indiana, but also plays both at home.
Beyond the Top 6, Iowa also still has two games remaining against Nebraska. With the way the Huskers have struggled, Iowa will be favored in both, but Iowa was also a big favorite at Michigan State and was lucky to escape East Lansing with a win.
Overall, I'm bullish on Iowa's chances moving forward. Caitlin Clark is somehow still getting better. Monika Czinano is getting back into form (but really needs to stay out of foul trouble). Hannah Stuelke is emerging as the next great Iowa player. And the rest of Iowa's team is finding its role.
My biggest concerns now are twofold: 1) what is McKenna Warnock's health prognosis, and 2) can the coaches fit Stuelke, Warnock, and Czinano into the same lineup.
For 1, Iowa did beat Ohio State last night, but Warnock's shooting is crucial to Iowa being able to space the floor well offensively. She also often guards the other team's star forwards in Iowa's player defense and is one of Iowa's better rebounders. Iowa needs a healthy Warnock back to reach its full potential.
For 2, it's now clear that Stuelke needs to be getting 20+ minutes per game. Her rebounding and athleticism were difference-makers in the Ohio State game, and will be for the rest of the season. When Warnock was healthy, though, Stuelke really only served as the backup for Warnock and Czinano. I think moving forward the coaches will need to get Stuelke, Warnock, and Czinano all on the floor at the same time for at least a few minutes per game.
#10 Maryland—16-4 overall, 7-2 Big Ten
Games Left Against Top 6 (6): vs. Michigan; at Iowa; vs. Ohio State; vs. Illinois; vs. Iowa; at Ohio State
I'm still not really sure what to make of Maryland. The Terrapins' offense is still really good, but it is also down from where it was the past few seasons. Its defense also hasn't really improved much and remains a big weakness overall.
Then I look at what Angel Reese has done at LSU this year (admittedly against a very weak schedule) and wonder if something about Maryland's system, coaching, team, etc. was holding her back.
Maryland's results are also puzzling. They have one of the best wins in the country this year beating #7 Notre Dame at South Bend, then followed that with a 23-point loss to a disappointing Nebraska team. They scored 94 points in a home win over Michigan State, then followed that with 61 points in a loss at Indiana.
Looking at Maryland's remaining schedule, it faces the Top 6 teams more the rest of the year than any of the other Top 6 teams. That said, four of those six games are at home, so the Terps have plenty of opportunity to shake up the conference standings with big wins.
Overall, I don't think the Terps have a great chance to win the conference. They are already a game behind three very good teams, and the toughest part of their schedule is ahead of them. But they also have the potential to do a lot of damage if they get rolling.
#13 Michigan—16-4 overall, 6-3 Big Ten
Games Left Against Top 6 (4): at Maryland; vs. Illinois; at Indiana; vs. Ohio State
Frankly, I don't think Michigan has much of a chance to win the conference. They've played each of Iowa, Indiana, and Ohio State once and lost all three of those games (two of which were at home) by nine points. It certainly seems like Michigan is talented, but just a step below the conference's top teams.
Another problem for the Wolverines is that the conference champion may have three losses or fewer. If that's true, the Wolverines have to run the table to get a share of the title. Even if that number is optimistic, I'm very confident the conference champion won't have more than four losses. That would mean Michigan can only drop one more game. Michigan's remaining schedule is on the easier side for top teams, but the Wolverines have dug themselves a pretty deep hole.
#22 Illinois—16-4 overall, 6-3 Big Ten
Games Left Against Top 6 (2): at Michigan; at Maryland
For many of the same reasons as Michigan, I don't think that Illinois has much of a chance to win the conference title. The Illini would likely need to run the table or at most lose once to win a share of the conference title. They are certainly a talented team, but I don't think that is particularly likely.
Illinois' remaining schedule is notably easier than the rest of the top teams with one caveat: their two remaining games against the Top 6 are on the road. Both of those games will likely be projected as losses before they are played. Illinois also doesn't have an opportunity to influence the conference race by beating the top teams at home.