COMMIT: Iowa WBB Lands Top 60 Recruit Aaliyah Guyton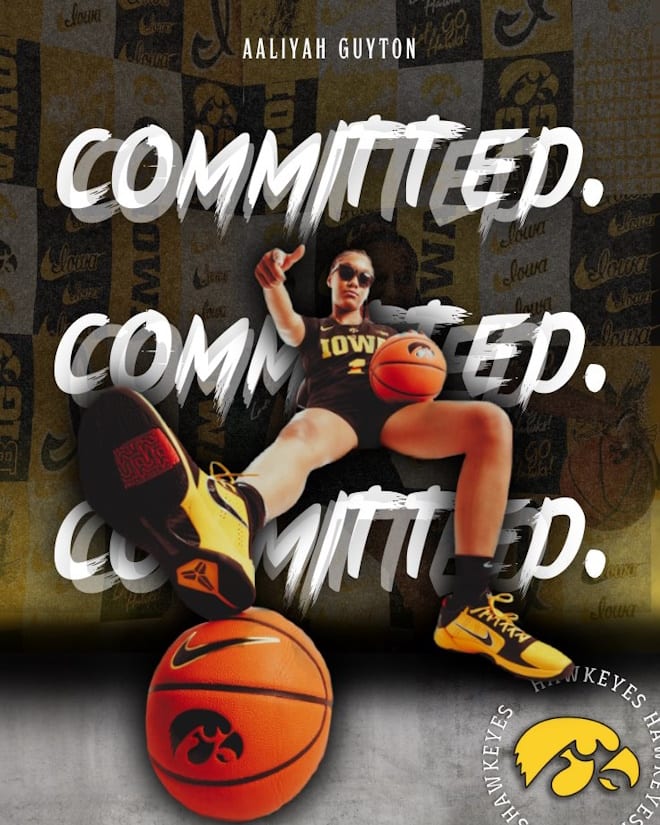 Aaliyah Guyton, a 5'8" point guard from Peoria, Illinois, became the fifth commit in Iowa's 2024 class Monday night, joining Callie Levin, Taylor Stremlow, Teagan Mallegni, and Ava Heiden.
Guyton, the daughter of former Indiana basketball player A.J. Guyton, is ranked 57th on ESPN's list of Top 100 recruits for the Class of 2024. She is the fourth member of the class ranked by ESPN, along with Heiden (36th), Mallegni (64th), and Stremlow (88th).
As a junior, Guyton averaged 21.6 points per game, 4.6 rebounds per game, and 3.8 assists per game.
FINAL FIVE
Guyton announced her final five schools back in mid-June and the options were all over the map in terms of recent success.
Pittsburgh has only made one NCAA Tournament in the last 14 seasons. The Panthers haven't won more than 13 games since 2015. Nebraska and Michigan State have both made the NCAA Tournament recently, but missed out last year. Michigan State has a new coach, and Nebraska's Amy Williams will probably be on the hot seat if she doesn't make the NCAA Tournament this season.
Iowa's biggest competition in landing Guyton was probably Illinois. The Illini are Guyton's home state school, and seem to be trending up. In coach Shauna Green's first season, she took Illinois from 7-20 to 22-10 and the NCAA Tournament.
PRIORITY TARGET
Guyton's offer list and ESPN ranking may not seem overwhelming, but Iowa clearly made her a priority late in the 2024 recruiting process.
At Guyton's first open gym a few weeks ago, Iowa had most of its staff present, including head coach Lisa Bluder and associate head coach Jan Jensen. Jensen herself was pretty thrilled with the commitment:
HOPING FOR HISTORY TO REPEAT 
Back in 2016, Iowa needed a point guard of the future. To fill that need, it turned to Kathleen Doyle, a point guard from Illinois who committed relatively late in the process.
Doyle didn't have an elite offer list. She was only ranked 97th on ESPN's Top 100 list.
But the Iowa coaches believed in her, and ultimately she proved she was much better than the industry thought. Doyle became a 4-year starter at Iowa and won Big Ten Player of the Year in 2020. She then spent one season in the WNBA.
Iowa will hope to strike gold with an Illinois point guard once again.
A RARE LATE SIGNING
PLENTY OF POINT GUARD OPTIONS
The Iowa coaches will soon face one of the toughest jobs a college coach has had: replacing Caitlin Clark's production at point guard. Thus far, it seems likely the coaches will try to do so internally.
In the 2023 and 2024 classes, Iowa has seven total commits. Four of the seven (Guyton, Levin, Stremlow, and Kennise Johnson) are listed as point guards.
While having that many options should give Iowa the best chance it can to find a quality replacement when Clark leaves, it also creates a roster crunch of sorts. Guyton, Levin, Stremlow, and Johnson are all probably limited to playing the 1 or 2 in college. Heiden will almost certainly spend most or all of her time at the 5. Ava Jones may never play in college. That leaves Mallegni as the only real option for the 3 or 4 positions in the classes of 2023 and 2024.
IMPACT ON THE CLASSES OF 2025 AND 2026
Iowa's roster crunch at the 1 and 2 positions could also impact some major recruits in the 2025 and 2026 classes. Iowa picked up a commitment from 2025 Top 20 recruit Journey Houston last month; she projects as a 3 (or smaller 4) in college.
Two of Iowa's top remaining targets in 2025 are Divine Bourrage and Addison Deal. Bourrage is ranked 9th in the class of 2025 by ESPN, while Deal is ranked 12th. Ordinarily, Iowa would want both players. But Bourrage's best position is the 1, and Deal's best position is likely the 2. With so many players limited to those positions already, it's not clear that Iowa would be able to take both -- or that either would have as much interest in Iowa with so much competition at their positions in the two classes ahead of them.
The story is similar in 2026, though being another year further out does give the situation more time to develop. Two of Iowa's top targets are Maddyn Greenway and Jenica Lewis. Greenway is ranked 16th in the class of 2026 by ESPN, while Lewis is ranked 23rd. Both are likely limited to the 1 and 2 positions in college.
2024-25 SCHOLARSHIP CRUNCH
The big question on everyone's mind heading into the 2023-2024 season is whether or not it be Clark's last in Iowa City. Clark was the #1 overall pick in a recent WNBA mock draft done by ESPN, and would likely become one of the league's brightest stars from the moment she steps foot on the court.
That said, Clark loves playing for Iowa and has consistently left open the possibility that she would use her extra COVID season to play as a super senior in 2024-25. With Guyton's commitment, Iowa would technically at its scholarship limit for 2024-25 without counting Clark.
In women's basketball, teams may have 15 scholarship players on roster. Iowa has 14 scholarship players for the 2023-24 season. Three of those players (Kate Martin, Gabbie Marshall, and Molly Davis) will exhaust their eligibility after this season.
Iowa's Class of 2024 has five commits in it, meaning that if Clark used her COVID year and everyone else from the 2023-24 team returned, Iowa would be at 16 scholarship players and over the scholarship limit.
Ultimately, if Clark wanted to return, the situation would find a way to work itself out. In the transfer portal era, teams should generally expect transfers out in most off-seasons, especially when their rosters are at or close to the limit. Ava Jones will also be further into her rehab and will have a better idea about whether she can play again or whether a medical scholarship would make more sense.